Claypool struggles as UCLA loses to Irvine in a close 2-1 game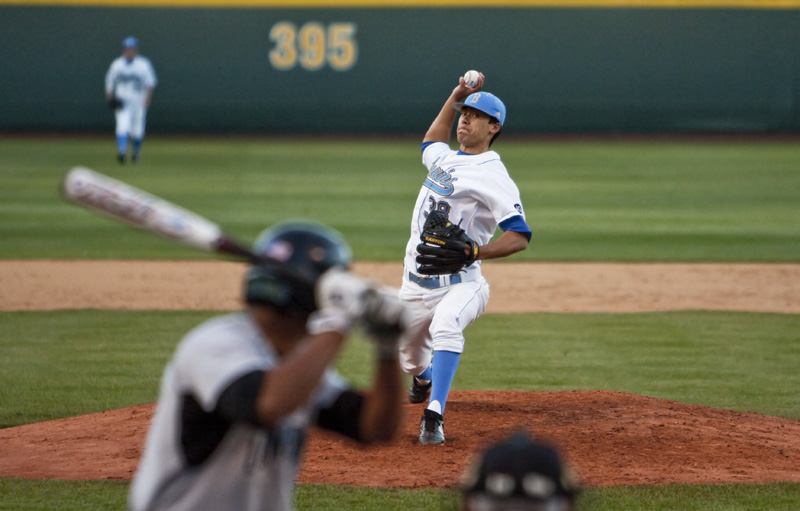 Senior right-handed pitcher Garett Claypool throws against Long Beach State during UCLA's April loss against the Dirtbags.
IRVINE ""mdash; Garett Claypool felt like he had his best stuff on Tuesday night, he just couldn't locate like he usually does.
The senior pitcher tested his stuff in the fifth inning against UC Irvine's Jeff Cusick "" one of the top hitters in the nation "" but the usually pinpoint command was not all there.
The bad combination "" great hitter, bad location "" turned out to be the difference in a 2-1 UCLA loss to UC Irvine before 1,172 at Anteater Ballpark on Tuesday night.
Cusick doubled in two; Claypool suffered his second defeat of the season.
"I wasn't very sharp," Claypool said. "My stuff was good, but my fastball was wild. I was going too deep into counts."
UCLA (34-11) lost only its third game away from Jackie Robinson Stadium and finished a five-game road swing with a 4-1 record.
For the most part, Claypool contained an Irvine lineup that left dents all over Cal Poly San Luis Obispo's Baggett Stadium in an 18-13 win Sunday afternoon.
He gave up the two runs in six innings, scattering six hits and striking out five "" a line that was similar to what he posted in a 4-1 win over the Anteaters two weeks prior. On April 27, Claypool limited Irvine to a run on six hits in a career-high seven and two-thirds innings.
This time, Irvine struck once and didn't have to again.
Claypool had enough to get of jams early, stranding five runners in the first three frames. It finally caught up with him in the fifth when Cusick "" a .398 hitter heading into Tuesday "" lined a two-out, two-run double to left-center to hand the Anteaters (30-16) the lead.
"Cusick is a good hitter," Claypool said. "We felt like we could get him out."
Shortly thereafter, UCLA coach John Savage was ejected for continuing to argue with the umpire over an earlier call.
Claypool was victimized by a lack of accuracy, falling behind in the count 3-0 before throwing a strike. With third base unoccupied, he still had an opportunity to avoid Cusick by walking him, but instead opted to go after the out "" which did not surprise Irvine coach Mike Gillespie.
"Claypool has been dominant against everybody," Gillespie said. "We've been his victim before. I would have been surprised if they had not pitched to him."
Claypool saw it the same way.
"If I would have executed my pitches a little better, we could have had him," Claypool said. "He's seen me a few times and he was on my fastball."