Bruin baseball recovers from weekend losses with road win at Pepperdine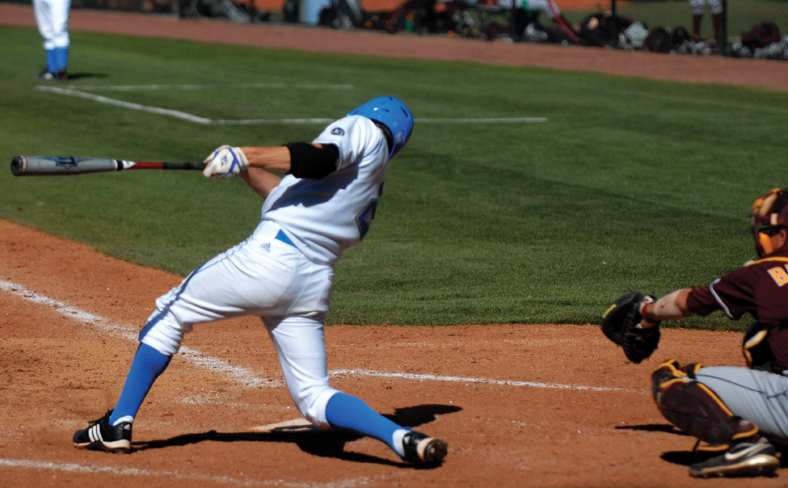 Junior infielder Niko Gallego at bat against the Sun Devils during UCLA's weekend series against ASU. The Bruins returned to winning form against Pepperdine.
There's nothing like a day at the beach to get back into the swing of things.
Coming off a rather forgettable weekend at home, a getaway turned out to be exactly what the UCLA baseball team needed, as the Bruins beat Pepperdine 5-1 in Malibu on Tuesday afternoon.
"We didn't carry any of the bad energy over," said junior shortstop Niko Gallego, referring to UCLA's three losses at the hands of then-No. 3 Arizona State last weekend. "We played like the old Bruins, like the Bruins that we know."
After collecting a combined 21 hits in the three losses to ASU, UCLA's batters had their day in the sun Tuesday. The No. 12-ranked Bruins (31-10) cranked 15 hits "" the most for the team in over a month.
"It was a tough weekend," coach John Savage said. "We needed a rebound and I thought the players came out with a lot of energy."
All but one UCLA batter had at least one hit — a far cry from what happened over the weekend.
"It reconfirms that we're a good team," Savage said. "Whenever you get beat like that you question yourself a little bit."
Lately, there's been no questioning senior right-hander Garett Claypool, who did what he usually does on Tuesdays.
Claypool matched the offensive effort with six and one-third innings of one-run ball "" a stellar performance that lowered his earned-run average to a team-best 2.02. After giving up a leadoff home run, Claypool allowed just two more hits, two walks and struck out five to improve his record to a team-leading 7-1.
Trailing 1-0 in the fourth inning, UCLA notched a pair of two-out runs with four consecutive singles.
Gallego started the rally with a single to left field before freshman infielders Cody Regis and Trevor Brown and sophomore catcher Steve Rodriguez each singled.
The Bruins added three more in the following inning to claim the eventual 5-1 advantage.
Freshman outfielder Beau Amaral, who led the way by going 3 for 3 at the plate, doubled to lead off and came around to score on a single by junior outfielder Brett Krill.
Three batters later, Gallego singled again, this time to score two runs and give the Bruins a comfortable four-run lead.
Relievers Erik Goeddel and Dan Klein combined for two and two-thirds scoreless innings out of the bullpen. Goeddel struck out five of the six batters he faced.
With the win, UCLA swept Pepperdine (13-23) for the first time since 2007 and improved its non-conference record to 24-2.
Clearly, UCLA was a different team Tuesday.
"It felt good to get back out there and get another streak going," Gallego said. "It's great to get that winning feeling back in your system and know that your team can still do it. We always know that, but it's reassuring when you win a game."