Men's volleyball coach Al Scates optimistic about next season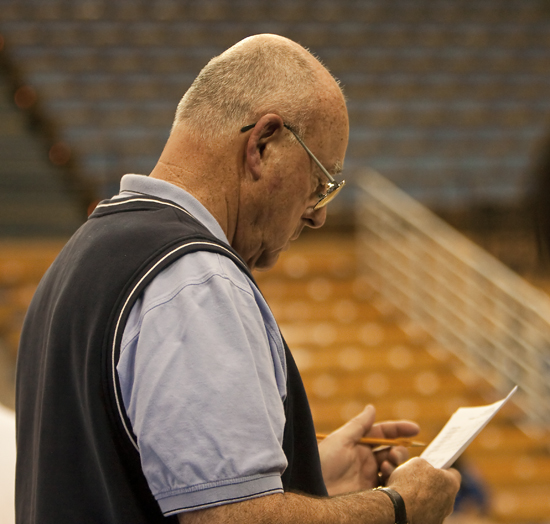 Men's volleyball coach Al Scates will rely on a large group of returning players next season to help bounce the Bruins back after this season's disappointing end.
Al Scates has some high hopes for his team's future.
After a disappointing season in which the men's volleyball team lost in the first round of the conference tournament and lost to Pacific, a team that was winless in the Mountain Pacific Sports Federation for more than two years, UCLA's 70-year-old coach is quite optimistic. The team will also lose its best player to graduation.
Maybe it has to do with the upcoming maturation of his prized quick hitters, Nick Vogel and Thomas Amberg.
Or maybe it's the 7-foot outside hitter joining next year's team.
Perhaps it has to do with his hopes for the Bruins' setter of the future, Scott Vegas.
"We've always had a strong blocker (at setter) during our championship years," Scates said.
And he'll get just that with Vegas, who has three years of eligibility remaining. When Scates inserted Vegas against Brigham Young on Saturday, the redshirt freshman went up against BYU's senior outside hitter Andrew Stewart and stuffed the Cougars' top hitter.
It's this kind of blocking that Scates is looking for in a setter; he tried it this season by switching sophomore Kyle Caldwell to setter. His 6-foot-8-inch frame was an imposing figure for opponents, but academic ineligibility kept Caldwell sidelined this quarter. Scates said he would love to have Caldwell back, but right now, Vegas is at the top of his depth chart.
And though Vegas' setting is not up to par for Scates' standards, the 48-year coach is confident in Vegas' ability to improve his setting in the offseason.
As for the 7-footer coming to supplement Scates' outside hitting corps, Robert Page of Rochester, New York, could not be joining the Bruins at a better time. This past season's senior captain, outside hitter Garrett Muagututia is graduating and leaving his role as the Bruins' top player.
"With the outside hitter situation, we have signed a 7-foot outside hitter who plays volleyball every day," Scates said. "He plays beach volleyball at every opportunity. He's playing in the USA junior indoor team this summer, and he's going to be a tremendous talent."
The Bruins were shaky at the second outside hitter spot this past season with Jeremy Casebeer being plagued with knee problems, but Page's experience with the junior national team will give the Bruins a much needed shot in the arm.
Scates also explained how next year's squad has a considerable group of returners, such as Vogel, Amberg and libero Thomas Hastings, who will be a senior next year.
"We have quite a nucleus coming back," Scates said. "Hastings is really, really improving at libero. He will probably be the best libero in the league next year."