A shaky UCLA men's volleyball squad heads to Utah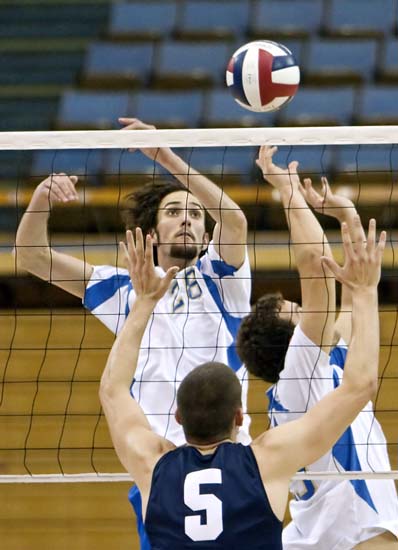 Sophomore quick hitter Nick Vogel and the Bruins will face BYU Saturday.
One would think that Al Scates has seen it all.
The coach of the men's volleyball team has 1,201 career victories and 19 NCAA Championships under his belt, but even he admits that this season's swings are unlike any he's seen before.
Scates effectively put his team's up-and-down season into a few words.
"This is a unique team," he said. "This is a team that can be national champions or lose to Pacific."
Scates was referring to the Bruins' loss to Mountain Pacific Sports Federation cellar-dweller Pacific last weekend in UCLA's season finale.
The surprising three-set loss came one day after the team beat top-ranked Stanford.
This trend of beating the top teams and losing to the bottom of the pack has characterized the entire season, but the Bruins are now focusing on their postseason, traveling to BYU this weekend for their Saturday night MPSF quarterfinal match.
Sophomore quick hitter Nick Vogel said the No. 7 Bruins are looking forward to continuing playing their best volleyball against the best teams.
"I guess that's good going into the postseason considering everybody's ranked higher than us except for (No. 8 seed) Irvine, so I think it's good, it's going to be a definite challenge for our entire team, and we thrive off the challenge," said Vogel.
No. 2 BYU comes into the postseason with wins in 11 of their last 12 games; the only loss during that period was their season finale against No. 3 CSU Northridge. BYU ended the season as the best blocking team in the MPSF, with 3.61 blocks per set, and sophomore middle blockers Futi Tavana and Russell Lavaja rank first and third respectively in blocks per set.
Vogel said the Bruins are getting prepared for what they'll see on Saturday.
"We've been working every day hitting against a block, and just different ways of hitting around it and dealing with that," Vogel said. "And also we've been studying how they block and where they like to position themselves, so we're running our offense accordingly."
The Bruins and Cougars split their season series at Pauley Pavilion in late January. After winning in three sets in the first match, the Bruins lost in five sets in the last match.
The Bruins won the blocking battle against the Cougars in that series, and Scates is confident that his team will block well this weekend.
"Some of our worst blocking was against the weaker teams and some of our best blocking was against the stronger teams," Scates said. "That's what happened against BYU … I think we'll be fine."
The Bruins' path through the playoffs will keep them entirely on the road, but so far, that hasn't been much of a problem.
The team went 8-6 on the road during the regular season, and senior setter Kevin Ker hopes to keep on winning away from Pauley Pavilion starting this weekend.
"We love going and playing on the road," Ker said.
"We love feeding off of the other crowd's energy and, you know, hopefully we can continue on with our good road wins this year."