Coulter proves to be quite the comedian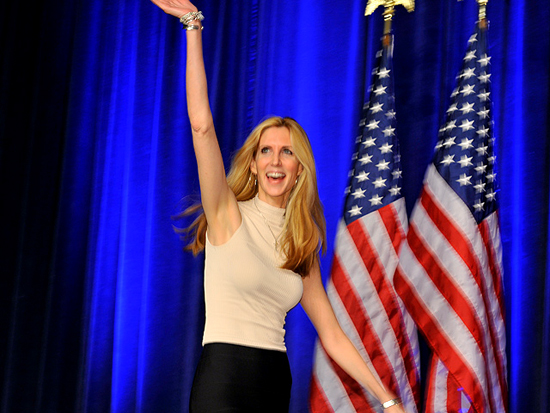 Bruin Republicans presented "Why Liberals Are Wrong About Everything" with conservative commentator Ann Coulter.
Ann Coulter is a joke. And jokes are what she told to a less-than-full crowd in Ackerman Grand Ballroom.
Her lecture, "Why Liberals Are Wrong About Everything," elicited laughter and rightly so, as Coulter is a professional comedian parading as a serious political pundit. Coulter is a self-described polemicist, meaning one who asserts a singular argument and avoids trying to find common ground. To call Ann Coulter a polemicist, however, would be a giving her too much credit. It may appear that she meets the definition quite perfectly, but she's missing one key component: intellectual integrity.
Sitting in the beautiful ballroom, two rows from the very front, I wondered to myself what type of UCLA student would attend such a mockery of intellect. Directly in front of me were men and women in suits befitting any politician: members of the Bruin Republicans.
To my right were liberals, seemingly present only to be gripped by frustration as Coulter criticized all that they hold dear. The majority of them, I would venture to guess, attended for the same reason I did, to see the spectacle, have a few laughs and hear a political comedian and celebrity.
I'm not trying to criticize Coulter by calling her a comedian, for she is quite an entertaining one. I would pay to see her solely attempt a stand-up routine. She would fit right in as a political writer for Saturday Night Live or a conservative version of The Daily Show, and her books read similarly to her lecture.
Unfortunately, Coulter is a comedian who also has a serious political agenda. While likening Obama to a baby or talking rather vividly about Bill Clinton's unethical actions in the Oval Office, Coulter simultaneously tries to tell the audience that liberals truly are wrong about everything.
Furthermore, she asserts that every sane and logical American who cares about the future of the country should quite clearly be voting Republican. Granted, we're all college students, and jokes about oral sex are sure to give way to some level of good feelings towards Coulter, but when the same person attempts to tell us seriously how America ought to be run, extreme caution must be employed.
In the "lecture," which itself is a misrepresentation of what Coulter peddles, she did a historical analysis of the missteps of the Democratic Party starting from Jimmy Carter and ending with Obama. Much of the talk was devoted to how liberals have messed up health care, and how Coulter herself already knows exactly how to solve the problem: the free market.
Coulter went on to dismiss the "myth" that Wall Street and Republicans are best friends, instead asserting that Obama and Democrats enjoy the most campaign contributions from Wall Street and how the bailout is simply a product of this engagement.
In reality, though, most of her talk was devoid of content, full of cheap shots, one-liners and admittedly smart quips, which is exactly what one would expect from a late-night talk show host.
Maybe Coulter is right. Maybe liberals truly are wrong about everything, but anyone going into her lecture who's not already a convert will seriously question the validity of anything she says after her gross generalizations about the Muslim world's stance toward gay people, the ability of single mothers or gay couples to raise a child and whether or not liberals are religious.
Other outrageous ideas Coulter has voiced in the past, which she spared the UCLA audience from witnessing, include her wish that women "" especially single women "" be banned from voting in America, her reasoning being that every election would have gone in the Republicans' favor if single mothers and most women were not allowed to vote.
Another example of sheer ridiculousness on Coulter's part was her assertion that Muslims shouldn't be allowed on airplanes, and that they should "take a camel" instead. Finally, Coulter is guilty of publicly using a gay slur "" I'm sure you can guess which "" to describe John Edwards.
This is the problem with Coulter simultaneously trying to be a comedian and a political pundit. She says these outrageous and ridiculous things which a comedian may very well get away with, but at the same time, has a legion of followers who believe that her policy suggestions would be effective and will save America from liberals. It's absolute absurdity.
In fact, the only times throughout the entire lecture when I wasn't smiling was when Coulter turned serious. During these times, which mostly came during the Q&A session: Instead of doing what she's best at, Coulter attempted to be a serious political thinker.
It's the same reason why Al Franken makes a bad politician, why Michael Moore should stick to making documentaries and why Keith Olbermann should stick to being a liberal Bill O'Reilly.
No matter the validity of these people's statements and viewpoints, no matter the content of their argument, they are good at what they do: entertainment. As someone who disagreed with almost 80 percent of what Coulter had to say, the evening was still a chance to see a great political comedian.
Regardless, the major disappointment of the evening, other than the brevity of Coulter's lecture, was the lack of dialogue between Coulter and her assuredly numerous detractors here on campus.
A surprising number of conservative students attended the event, to the point where only one questioner had the wherewithal to question Coulter's extreme partisanship and ideology. Applause followed every punch line thrashing Democrats, and other than the aforementioned seething attendees, boos and hisses were kept to a minimum, reserved only for the most outrageous of Coulter's remarks. It proved quite clearly that not everyone at UCLA is a liberal.
Although Ann Coulter may have left UCLA, hopefully a chuckle or two will remain in the minds of those who attended to see the spectacle of a funny woman who should not be taken seriously.
If you actually took Coulter seriously, e-mail Salim at [email protected] Send general comments to [email protected]