Senior Garrett Muagututia leads UCLA men's volleyball to championship tournament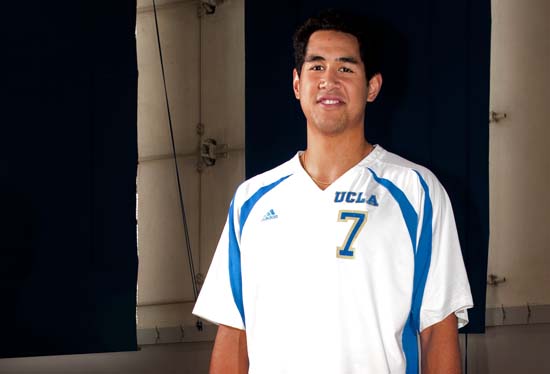 At the end of practice, the men's volleyball team is taking part in a heated scrimmage. The players' shouts of satisfaction or frustration and the squeaking of their shoes against the Pauley Pavilion hardwood convey how intense these scrimmages can get.
Amid it all, Garrett Muagututia seems to be having a ball. When he's not firing a laser service ace or kill past the net, he walks around the court cracking jokes and giving words of encouragement, with a swagger that comes with being the go-to guy.
The senior outside hitter is winding down the last year of an exceptional career at UCLA. At the start of this season, he had the 10th most kills in UCLA history and is also in the school record books for digs. Coach Al Scates considers Muagututia one of the few all-around skilled players he has coached.
"He can do everything," Scates said. "He's a digger, a setter, a blocker, a passer, a hitter. He can do it all. He's the only five-tool player on the team that can just do everything, and those guys are rare … if he gets hot at the end hitting, along with the other stuff he does, it's going to be a huge plus for us."
The Bruins have had an up-and-down season and enter the Mountain Pacific Sports Federation Tournament Saturday as the seventh seed. Muagututia says he is ready to put in the work to advance past the first round of the postseason for the first time in his career and try to win an NCAA championship.
"Obviously that would probably be the best thing," Muagututia said of getting past the first round. "But I think the most important is that we just give it our all as a team … if it doesn't work out, it's not meant to be, but I hope it does."
A fork in the road
Seeing Muagututia slam away kills in the Bruin uniform has become commonplace, but there was a possibility that none of it would unfold this way.
Muagututia could have found himself playing in Pauley, but with a different ball and wearing different sneakers.
Coming out of high school, Muagututia was recruited to play volleyball and basketball for UCLA. He said he chose volleyball because of his natural talent in the sport.
"I wasn't necessarily ready for "" my work ethic wasn't, I think "" where it needed to be in order for me to play basketball and succeed," Muagututia said. "And then I was always gifted in the volleyball area, so I think I just kind of went that way."
Muagututia chose to come to UCLA despite missing out on the experience other recruits got to enjoy. He had to come late to a weekend recruiting visit and missed a party for recruits. Despite the lack of excitement, he enjoyed just hanging out and spending time with former Bruin libero Tony Ker.
"I'm a very easygoing guy," Muagututia said. "You don't have to entertain me, I'll entertain myself. I'm perfectly fine with just sitting there, just watching TV, you know, playing my ukulele, singing or something. So I think that really kind of fit in to my personality."
A home away from home
Coming from a big but tight-knit family, Muagututia's mother Kathy said her son felt at home surrounded by UCLA's diverse and robust student body.
"When he came here, he visited, he came home and said, "˜This feels like home,'" Kathy said. "Big atmosphere, lots of people, lots of friends. He comes from a big family. Both sides' parents, so I think that's what drew him here: differences and lots of people."
The feeling of being at home was a mutual one. Assistant coach Brian Rofer said he felt comfortable talking with Muagututia's family during the recruiting process.
"His family is wonderful," Rofer said. "That made it extremely easy. Talking to his parents and his family and you feel right at home talking to them, and it was just letting them know that we only wanted the best for him here. They knew that he'd get a great education here and playing for one of the top programs. Whether or not he was going to contribute on the court really wasn't a question."
Muagututia's home away from home houses 19 national championships and is run by Scates, the most successful collegiate volleyball coach. Despite entering such a prestigious program, Muagututia wasn't timid and made a commitment to success.
"I guess my thing was don't be intimidated by anything," Muagututia said. "Never back down. I've always learned that from my dad and my brothers and my mom too. Never give up, even if things don't seem like they're going to go well, you never know, you've got to keep fighting."
Upon hearing the coaching staff talk about its impressions of Muagututia when he came in as a freshman, it's easy to understand why he wasn't scared. Scates said Muagututia's success was no surprise.
"We knew we had something special from the first day," Scates said. "He's been a four-year starter in our program. He's just a great team player. He's a leader, and I hope we can make it happen for him his senior year."
Muagututia made an immediate impact in his first season and was Second Team All-American and All-MPSF in 2008. As a young player, Muagututia said he led by example, but lacked the experience to be the unquestioned leader. In his third year, Muagututia started to evolve into his current role of team leader. He said that, this year, he made the jump from letting his play do the talking, to being the unquestioned leader.
"It happened gradually, but I think after last year, I knew coming into this year that I was going to have to take that extra step, that next step and not only lead by example, but be the captain basically," Muagututia said. "And I think I wanted to last year, but I don't think I was ready, and then this year I was ready for that leadership role."
Rofer says the team depends on Muagututia when they need a play, sometimes to a fault.
"I think with Garrett, he's very quiet, he's not going to be a guy yelling and screaming at these guys, but he'll let them know when they're not carrying their weight," Rofer said.
Rofer also said that even when it may not be the best move, the players rely on Muagututia as the playmaker. "But they respect him so much that they know that he's going to do it for them, and he wants the ball in those situations," Rofer said.
When the motivator of the Bruins needs to be pushed, he says he can rely on his family to do the job.
"Outside of God they mean everything to me," Muagututia said of his family. "They've been my support factor from day one. I think they're the ones that keep me sane. Every time I want to just yell at somebody or something, they're the ones that calm me down, or to tell me, "˜You know what, you're not doing your job, you need to step it up.'"
During his journey, Muagututia has made sure to tell his family about the lessons he's learned along the way. It's his way of giving back, which he does along with his two brothers "" older brother Grant and younger brother Myles"" who have excelled in athletics on their own journeys. Myles is a rising sophomore on Stanford's football team. Kathy Muagututia says she appreciates her sons giving back to the family by describing their different experiences.
"They come back and they talk about what they learned, who they met, what they learned and how it's different, and great-different and not-so-great different, and then when they go and meet other people they give back to them as far as what they know," Kathy Muagututia said. "They share knowledge, they share experience, and they're able to understand better different people's lives, and not judge but just understand and love and grow and care."
Garrett Muagututia stresses the importance of education to his younger brother and cousins and tells them about the importance of putting the "student" in "student-athlete."
"Sports will come, especially if you're athletic, sports will come," Muagututia said. "Often times, my cousins will try to just go straight for athletics, and "˜If I'm good in basketball I'll just go to the NBA or if I'm good in football I'll just go to the NFL,' but my thing is like, no, not necessarily because you've still got to pass classes, you know, and you've still got to get into college in order to do what you want."
Leaving behind a legacy
Even after he moves on to the next part of the ride, Muagututia's passion will remain with the team. Freshman opposite Jonathan Bridgeman, who has made significant contributions his first year, will remember Muagututia's love of the game.
"I can tell he really likes the game and he shows it when he plays. He's just always out there to do his best, and that's one of the best things you can get from him," Bridgeman said.
Scates also thinks players can learn from the effort Muagututia shows.
"In practice we have a floor almost as big as Pauley Pavilion in the (Student Activities Center) gym when we set up one court, and he's flying all over that gym every day, and other people are getting better at defense," Scates said. "They're embarrassed not to try like he does, so we're seeing more and more guys stretch out and get closer to their potential."
Regardless of whether the journey ends in Palo Alto with a national championship, Muagututia can say that he enjoyed the ride.
"No regrets," he said. "No regrets at all."