Student volunteers should pursue interests, not material incentives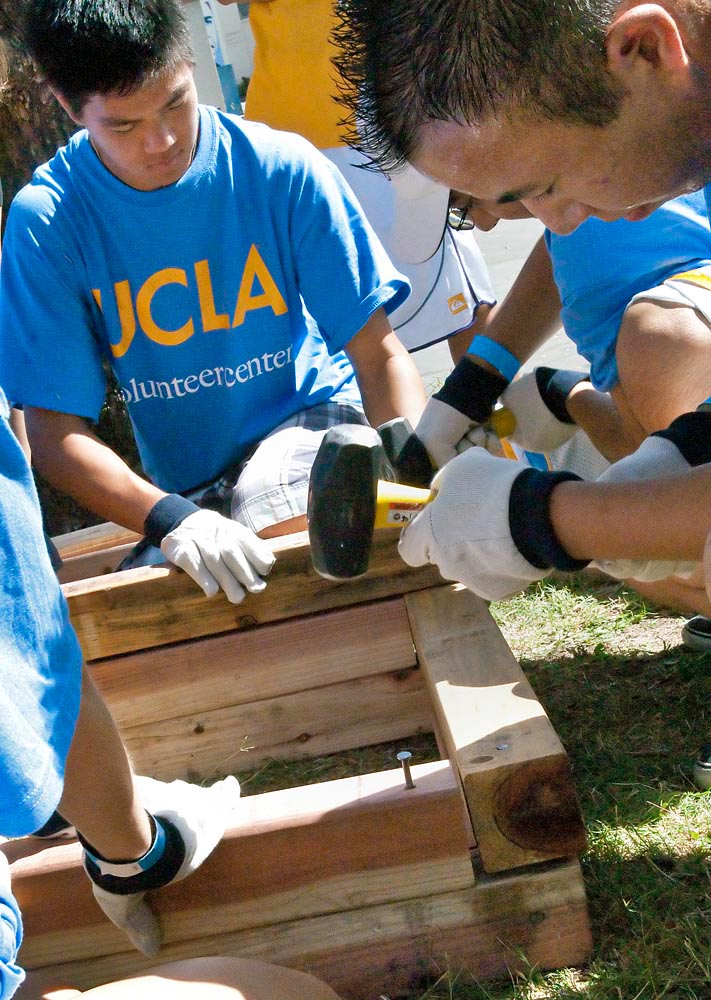 University High School was one of a number of locations where students were bused for Volunteer Day on Sept. 22, 2009. Nearly 500 students worked at University High School, where they participated in projects such as building benches.
Somewhere between my sophomore year of high school and my third year of college, I have successfully transformed myself on paper. I am now a well-rounded and generic individual. Graduate school, here I come.
Whatever path we take after college, as students, we mold our identities on resumes and applications in an attempt to embody a "well-rounded" image. On paper, our names are attached to and defined by our grades and extracurricular activities. After we hit the submit button, we can only hope that we come across as well-rounded individuals.
UCLA is a great place to further our involvement in extracurricular activities. There are roughly 950 registered organizations, turning Bruin Walk into a swirl of fliers and voices, which all assert some unique purpose. In the virtual world, degree counselors periodically send e-mails regarding internship opportunities, and the recently created UCLA Volunteer Center has sent out and organized two large events.
The center's website has a calendar filled with volunteer opportunities in the local community. Between that and clubs, volunteering at UCLA has become easier than ever.
But volunteering has also increasingly become an incentive-based activity. The desire to embody an idealized concept of a well-rounded individual has compelled students to volunteer, and with such shallow motivation, the concept readily lends itself to embrace other incentives. Volunteers are enticed through material benefits, such as free stuff and fun opportunities. While I don't particularly like that the concept of volunteerism is becoming muddled with self-interest, I can't condemn it. People are volunteering, and the community is rewarded, regardless of the incentive.
The problem is that this incentivized volunteering has contributed to inequality. Volunteers are attracted to particular organizations that offer many benefits and neglect others that do not.
On Saturday, in an attempt to legitimize postponing studying for midterms, I participated in the Westwood Organized MEGA Project. Roughly 350 of us painted lampposts, gardened and removed graffiti and stickers. Westwood looked great afterward, and I felt like I made a difference. I also didn't mind the free shirt, hat, bag, movie ticket and food, which was provided through grant money and business donations.
For some of the students there, the free goodies made the difference in determining if they would attend the event. One student said she wouldn't have come this week because of midterms, but the free stuff made a difference. Another talked about how he was on the fence, and the free items pushed him over. Though these students' intentions were positive, free items played a role in getting many students to the event.
Another UCLA event has used incentives to attract large amounts of volunteers. The Los Angeles Times Festival of Books, advertising free shirts, potential duties of leadership roles and close proximity to authors, is maxed out on needed volunteers.
Incentivizing has contributed to a disparity in active volunteer membership. Volunteer-based organizations that are too poor or too small to create or receive grants and donated gifts cannot attract the same volunteer base. While the Festival of Books receives more than enough volunteers, a follow-up event to WOMP scheduled for early May won't be able ask its downtown business community for donations so soon. Volunteer Center Executive Director Antoinette Mongelli said that the event likely won't receive the 350-volunteer success of WOMP.
UCLA clubs also share in the problems of inequality. Without the funds to offer members free gifts (with the exception of pizza parties at the first meeting, which I am writing off as the vast equalizer of clubs), most clubs' only way to attract membership is to offer their ideological purpose and the name of their club to attach to an individual's resume. But ideology often isn't enough to spur active participation, and membership frequently separates into the ideologically committed and those whose presence simply graces the club's e-mail roster.
Incentive-based volunteering has created expectations among volunteers. When motivations are large, the objective of volunteering "" which is to volunteer "" is achieved. When incentives are smaller, it can lead us to do the bare minimum, putting our names on club sign-ups without actually committing to volunteer.
Perhaps those without material benefits to offer should shore up the ideological aspects of their organizations, incentivizing thoughts to compete with material benefits. Perhaps what is really needed is an overhaul of the social importance of materialism and a deeper investigation into the incentives that a "well-rounded" image purports.
We gorge ourselves on free stuff and spineless signings on club rosters. Our interpretation of a well-rounded individual has lent itself to a general propensity to volunteer, but also to a fine line between the action of volunteering and what it takes to entice us to make a commitment.
It's a sad and hollow thing to realize that a line exists either way.
E-mail Schneck at [email protected] Send general comments to [email protected]