Men's volleyball tied for No. 7 ranking with UC Irvine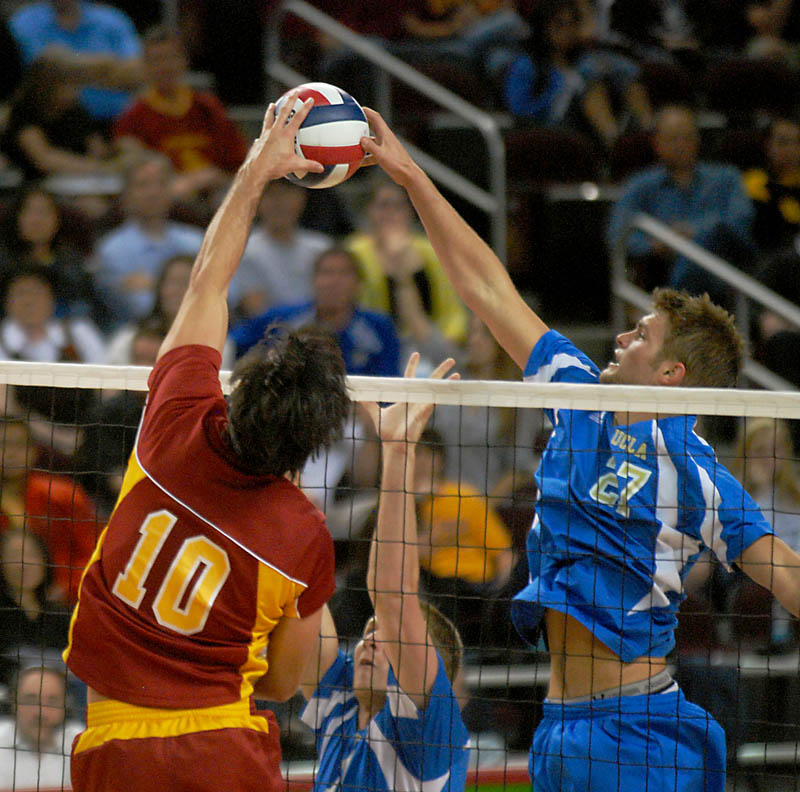 Redshirt sophomore outside hitter Ryal Jagd blocks a spike from USC's setter Riley McKibbin during the Bruins' 3-0 loss at USC's Galen Center. The Bruins enter the MPSF Tournament as the No. 7 seed, one below the Trojans.
All eight teams are among the top seven in the nation.
Oddly enough, with the Mountain Pacific Sports Federation, that makes sense.
In this weekend's MPSF men's volleyball tournament, all eight teams in the league are ranked No. 7 or higher by the American Volleyball Coaches Association's national poll. That played out because of the point distribution that led to a tie for No. 7 between UCLA and UC Irvine.
Both teams squeaked their way into the tournament, with the 19-time NCAA champion Bruins finishing with a mere 11-11 record, while the defending national champion Anteaters finished below .500, with a 10-12 mark.
All the while, Stanford, which has not been to a national championship since winning it all in 1997, is having a remarkable season, despite suffering a five-set loss at Pauley Pavilion on Friday.
The No. 1 Cardinal enters the tournament as the top seed and has a comfortable road ahead of it.
Barring an opening-round upset to the Anteaters, Stanford will play every match, including the NCAA Championships, on its home court.
Here's a look at the full breakdown of the MPSF Tournament.
No. 8 UC Irvine at No. 1 Stanford
The Cardinal has taken both of the teams' meetings this season, but this matchup presents an interesting duel. UCI will visit the team that hasn't been to the championships in more than a decade, with the latter being a heavy favorite.
No. 5 Pepperdine at No. 4 Hawai'i
Bad news for the Waves is that they're on the road to open the tournament. Bright side is they're going to be in Hawaii for the weekend. The Warriors and Waves split their season series, but Hawai'i is always a tough cookie at home.
No. 6 USC at No. 3 Cal State Northridge
The Matadors own the season series and have home-court advantage Saturday. And with their big middle blocker Kevin McKniff leading the conference with a .502 hitting percentage, USC's defense will certainly have its hands full.
The biggest question here is probably how many Trojan fans will fit inside the 1,600 seat Matadome.
No. 7 UCLA at No. 2 Brigham Young
BYU is one of the few highly ranked teams UCLA has not struggled against this season. UCLA split its series against BYU this year with both matches being played at Pauley Pavilion. With the high altitude in Provo, Utah, UCLA cannot rely on its powerful servers and will have to change its playing style.