High school students from the Los Angeles Unified School District visit UCLA for Exploring Computer Science Day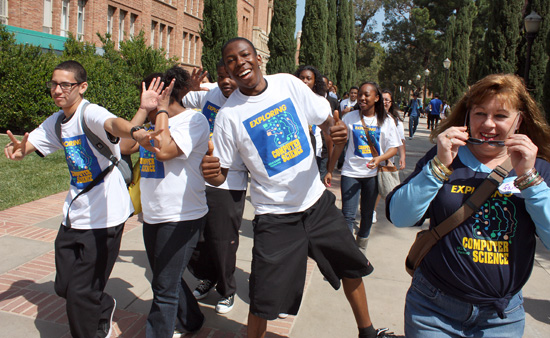 courtesy of JOHN LANDA
High school students enrolled in Exploring Computer Science visited campus on Thursday. The course was created by UCLA and the Los Angeles Unified School District.
Until this semester, high school junior Sharon Friedman used her computer to do homework and socialize with friends.
But when she started taking Exploring Computer Science, a class created by UCLA in partnership with the Los Angeles Unified School District, she began to see that computers are more than just a portal to the Internet.
"I never realized you could make games using a computer," the Hollywood High School student said, adding that she created her own version of Pacman during one unit of the course.
From 2000 to 2004, a UCLA research team investigated why so few females, blacks and Latinos were learning computer science at the high school level.
Out of this research, a team of UCLA-based experts in education and computer science worked with LAUSD, one of the most diverse districts in the country, to build the course Exploring Computer Science.
"I came to this concerned about educational equity and about equal access to knowledge. Computer science is one of those fields in which there is so much inequity in access," said Jane Margolis, a co-leader of the project and senior researcher at the Graduate School of Education and Information Studies.
The class was piloted in the district during the last school year, and now 16 high schools offer the course, Margolis said. On Thursday, about 600 students enrolled in the course visited UCLA for a field trip, Exploring Computer Science Day.
During the trip, students toured the campus in addition to attending presentations by Google, Disney and UCLA's Center for Embedded Network Sensing.
Elizabeth Marquez, a senior at Hollywood High School, said she enjoyed the robotics presentation by Spelman College, a historically black women's college in Georgia, because it showed that women and computer science are not mutually exclusive.
"It is said that mostly boys lean toward that field of study, and they wanted to prove it wrong," Marquez said.
In addition to the underrepresentation of women and minorities in computer science, Chris Stephenson, executive director of the Computer Science Teachers Association, is also worried about the decreasing number of high schools nationwide that offer courses in the subject.
"The picture right now is very scary," Stephenson said. "Students falsely believe there are no jobs in computing due to the previous dot-com bust, and that's absolutely not true."
Though other programs are working on building new curriculums for computer science classes, Exploring Computer Science is unique because it combines intervention in schools with solid research, Stephenson said.
Before Exploring Computer Science, many introductory computer courses in the district were too basic, Margolis said.
"Kids that come from more privileged homes get the software, the computers to tinker with, the robotics kits," Margolis said. "And then they come to schools, and there's (Advanced Placement) Computer Science for them but nothing for the rest of the kids, except for introductory courses about WordPerfect and word processing."
The new pre-AP course aims to introduce students to the various uses of computer science, such as robotics and Web design.
For example, Marquez and Friedman are currently collaborating on a computer game based on the show "SpongeBob SquarePants" about catching jellyfish.
"I look forward to the class; you know you're going to have fun in that hour," Marquez said.
John Landa, who teaches the class at South East High School, had one student who built her own version of "Guitar Hero." In order to grade the game, Landa had to play it.
"It was definitely more fun than grading math tests," said Landa, a former math teacher.
During an upcoming unit of the class, students will use Android phones donated by Google and technology created at UCLA's Center for Embedded Networked Sensing to gather scientific data.
Students will record locations where they feel tense and where they feel happy with the center's Stresschill smart-phone application. They can then analyze their individual data, their class's data and eventually the data of the entire school district, said Deborah Estrin, director of the center.
"They will explore correlations, trends, patterns, anomalies," Estrin said. "(The unit) teaches students to engage with data, statistics and computing."
The course also emphasizes the critical thinking skills computer scientists utilize even when they are not working with technology.
"Problem solving and logical thinking happen across all sciences when you're trying to take a large problem and break it down into discrete units," Margolis said. "What issue should you tackle first, what follows what? That kind of thinking is at the heart (of the course)."
High school computer science complements college computer science, Stephenson said. Many university students will not consider taking a class in the field if they have not had previous exposure, he said, adding that computer science in colleges is also on the decline.
Computer science professor David Smallberg said some students in his introductory classes at UCLA have a distorted perception of the field.
"What we find with our incoming freshmen is that some have a pretty good idea of what the field is about, and some really don't," Smallberg said. "They have a fairly narrow view based on (the idea that) it has to do with computer games, or it has to do with another particular area."