Baseball powerhouses UCLA, Vanderbilt gear up for battle in Dodgertown Classic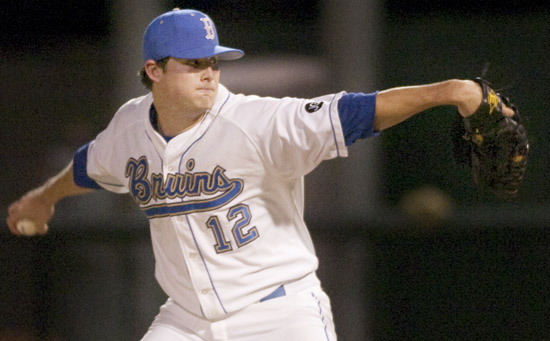 February 25, 2010 9:52 pm
Don't look now, but the UCLA baseball team might be on to something.
All that talk about the Bruins being one-dimensional with pitching being the obvious strong point seems to have been put to rest after they put up 50 runs in their first four games. To put that into perspective, UCLA didn't score its 50th run until its 10th game last spring.
The tale has been different early on. The Bruins are 4-0 and have beaten their opponents by an average margin of nearly 10 runs per game.
Games against Southern and Bethune Cookman offer some doubt, but it's hard to ignore what UCLA did against the Big West's Cal State Northridge (14-5 win) and Long Beach State (10-1 win).
Things may become clearer tonight, as the Bruins face perennial powerhouse Vanderbilt at Jackie Robinson Stadium in the first game of the weekend's Dodgertown Classic.
"It's a huge weekend," junior outfielder Brett Krill said, who is on fire with a .636 average thus far. "It's really a national stage. We're off to a great start, and people are starting to talk, but this weekend is big for us."
As far as Friday night duels go, it doesn't get much bigger than tonight's battle between star hurlers Gerrit Cole of UCLA and Vanderbilt's Sonny Gray. Cole and Gray, both sophomore right-handers and highly regarded pro prospects, are familiar with each other after spending last summer together as part of the U.S. Collegiate National Team.
Cole cruised against Southern last Friday, tossing six innings and striking out nine of the 20 batters he faced. Gray allowed three hits and struck out eight in eight scoreless innings for Vanderbilt (4-0).
"I focus on my guy," said UCLA sophomore catcher Steve Rodriguez, who has belted a team-high four home runs. "I have to make sure Cole's not too amped up and stays within himself. He has the stuff to get anyone out in the country. As long as he doesn't try to overdo it, he'll be fine."
Cole took it easy last Friday in preparation for tonight's highly anticipated duel. He threw just 81 pitches and exited the game with an 11-run lead.
"I tried to get balls hit in play to keep the pitch count down," Cole said afterward.
Coach John Savage liked what he saw.
"He pitched under control and threw strikes," Savage said. "He threw a lot of fastballs and went right after guys because of our lead."
UCLA's surprising offense, which is hitting .393, will face a prominent pitcher for the first time this season.
"All of us try to put together quality at-bats "" that's our No. 1 goal," Krill said. "It's about wearing Gray down. He's a great pitcher, we know who he is. But as long as we compete, stay within ourselves and stick to our plan, I think we'll be fine."
UCLA welcomes Oklahoma State (0-0) for a 2 p.m. game on Saturday, and then heads to Dodger Stadium on Sunday for a 2 p.m. game against crosstown rival USC (3-1).
"We're taking it one game at a time, but it's hard to ignore," Rodriguez said.
"It's exciting," Krill said. "We're not looking ahead, but there's going to be a lot of people there. Playing at Dodger Stadium "" it doesn't get any better than that."