Bruins off to a winning start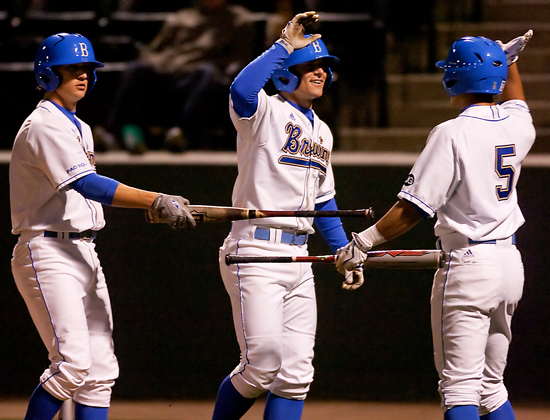 UCLA players celebrate after scoring one of their many runs in Friday's 16-2 victory over Southern. After crossing the plate a combined 40 times this weekend "" and winning all three of their games "" the Bruins will visit Long Beach State tonight. Senior Garett Claypool will be on the mound for UCLA.
February 23, 2010 5:07 am
It would have been reasonable to think that the UCLA baseball team would win its three games last weekend.
That happened "" the latest victory coming Sunday against Cal State Northridge by the way of a good old-fashioned 14-5 thumping.
Thinking that the Bruins' offense would tear the seams off the baseball would have been farfetched.
But that happened too "" the evidence lying in UCLA's combined 40 runs and 43 hits in the three wins.
"Not to say we're pulling all the right strings, but I think it's just really a credit to our depth," coach John Savage said. "Our main goal was to bring in a bunch of left-handed hitters, and I think you can tell that it wears pitchers down when you have so much versatility."
Redshirt senior Blair Dunlap, UCLA's leadoff batter who went 3-for-4 in Friday's 16-2 win over Southern, lined the first pitch he saw toward the Eucalyptus trees beyond the left field fence for a home run.
The next night, freshman outfielder Beau Amaral "" one of the left-handed hitters Savage enjoys raving about "" displaced Dunlap atop the order.
That's the kind of depth UCLA (3-0) has this season "" at least through the first weekend.
"I like (batting leadoff)," said Amaral, who was 4-for-5 Sunday with a game-tying two-run blast in the fourth inning. "I like having the first at-bat of the game. Wherever the coaches want me, I'll be ready for it."
And when talking about depth, senior right-hander Garett Claypool should be the first player brought up.
Claypool was drafted by the Oakland Athletics in the 32nd round last June after going 2-1 with a 3.46 earned-run average. Yet, due to UCLA's solid weekend rotation of sophomores Gerrit Cole and Trevor Bauer and junior Rob Rasmussen, Claypool has been relegated to the midweek role he thrived in last spring.
He will take the hill to start tonight's game at Long Beach State (1-2).
"He came back for his senior year because he wants to go to Omaha," Savage said of Claypool. "He's willing to take that midweek role and run with it. He wants to be the best Tuesday guy in the country. He's another guy that's being unselfish."
Claypool will have the support of a UCLA lineup that has been unselfish too.
Collectively, the Bruins are hitting .398 through three games. UCLA is clearly much more patient at the plate than it has been in recent years.
It seems as if every batter has taken the same scrappy approach, whether that means waiting for the perfect pitch or making the opposing pitcher work by fouling off multiple offerings. The Bruins have hit 28 singles and drawn 18 walks.
Freshman outfielder Cody Keefer "" yet another of Savage's prized left-handed batters "" already has six walks.
"It depends on the situation, obviously, but we're usually just sitting on one pitch and we take anything else until we get that," said No. 3 batter Tyler Rahmatulla, a sophomore infielder who has five hits, four runs batted in and three walks. "We've worked on that all fall and winter "" just being really disciplined."
But wait, there's more.
Quite opposite to the "grinder" mentality the team has adopted, these youthful Bruins have shown the capacity to hit the long ball.
UCLA has cranked nine home runs "" three of those coming off of No. 9 hitter Steve Rodriguez's bat. The sophomore catcher, known mostly for his defensive skills, throwing arm and ability to handle the pitching staff, belted two all of last season.
"We've always had a lot of big-name players, big prospects and stuff like that," senior Justin Uribe said. "This team is a little different … I think a lot of guys are stepping up, and hopefully they can continue to step up. We're going to scrap."