UCLA women's tennis team silences LMU Lions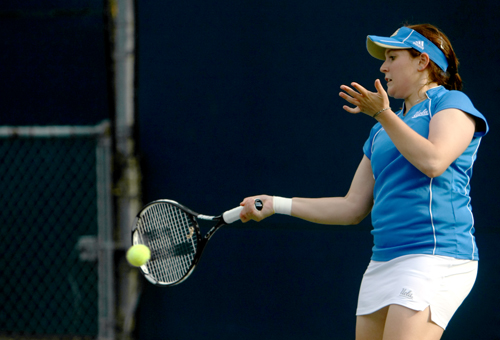 Playing in the No. 2 singles spot, junior Noelle Hickey rallies to beat the Lions' Jane Pringle during UCLA's 7-0 shutout against LMU at home Thursday.
February 18, 2010 9:22 pm
UCLA junior Maya Johansson found herself staring down a 1-2 deficit in the first set of her No. 4 singles match during the Bruins' encounter with the Loyola Marymount Lions on Thursday.
This may seem like a nondescript occasion, but it was the only point at which any Bruin trailed on the day.
The No. 4 Bruins (8-1) demolished the Lions (1-4) 7-0 at the Los Angeles Tennis Center, firing on all cylinders from the start of doubles play until the end of Johansson's match.
"Our expectations are definitely high," UCLA coach Stella Sampras Webster said. "When you're (ranked) fourth in the country, you're expected to win 7-0."
And with high expectations to live up to, the onslaught commenced immediately. The nation's No. 11 doubles team of UCLA senior Yasmin Schnack and junior Andrea Remynse put an 8-0 win over LMU's Bliss Nixon and Jasmin Heckel.
Junior Noelle Hickey and sophomore Nina Pantic soon followed suit at court No. 2 with an 8-1 win, and UCLA's No. 3 tandem of sophomore Carling Seguso and freshman Pamela Montez continued their hot streak with an 8-3 victory to sweep the doubles point.
Seguso and Montez have won all five of their doubles ties since being paired together against Rice two weeks ago.
The consistency of Seguso and Montez is a key factor going forward for Sampras Webster, who has been looking for a reliable doubles team at the No. 2 or 3 slot to complement Schnack and Remynse at No. 1.
"We're really excited about our third doubles team," Sampras Webster said. "I really believe (No. 2) doubles can get better."
Hickey was the first one to finish off her singles opponent, posting a 6-0, 6-2 victory over Jane Pringle at court No. 2. Sampras Webster rested Remynse, UCLA's usual No. 2 singles player.
"Indoors really helped us a lot," Hickey said. "We played extremely well, and our ranking has really moved up. I think we're pretty fit, and mentally we're really there. The desire is there, so that's helping our success a lot."
UCLA has one final tune-up before hosting two big home games against Pac-10 foes next week. The Bruins will play the Cal Poly San Luis Obispo Mustangs (3-1) at the LATC on Sunday at noon in preparation for their highly anticipated matchups with No. 2 California and No. 8 Stanford in the coming week. However, next week's games against the Bears and the Cardinal will not count toward official conference standings.
"We got slaughtered (against Cal and Stanford) last year, and we don't want that to happen again," Schnack said. "We're going in there for blood. We're going to die trying to win those matches."