Women's tennis glad to be home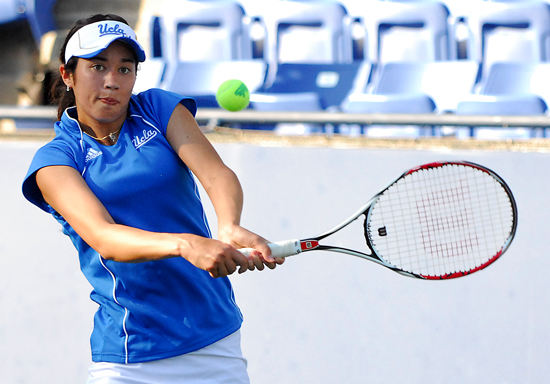 Coming off a 2-1 weekend at ITA National Indoors, Yasmin Schnack and the No. 12 Bruins face off against Loyola Marymount today at the Los Angeles Tennis Center.
February 17, 2010 10:11 pm
Sunshine, dry courts and not a cloud in the sky. These conditions have mostly evaded the UCLA women's tennis team since the start of the season.
Having been in Madison, Wis. last week at the ITA National Team Indoor Championship, the Bruins will play two non-conference matches at home this week. According to coach Stella Sampras Webster, these matches serve a very important purpose: "It's just getting outdoors again."
The No. 12 Bruins (7-1) will square off against Loyola Marymount (1-3) today and Cal Poly San Luis Obispo (3-1) on Sunday at the Los Angeles Tennis Center. The squad will use these matches to prepare for much bigger home matches the following week against a couple of top-10 opponents in No. 8 Stanford and No. 2 Cal.
"This is our first day of practice outdoors and to be able to play a couple matches before we play Cal (and) Stanford is great for us because we get to compete against teams that we should beat and build our confidence, build us into the season, and I think we should be ready for next weekend," Sampras Webster said. "It is a draining week being in Madison "" it's a long trip, long week to be away. So I know our team is a little tired, a little beat-up."
UCLA is coming off a 2-1 weekend in the National Indoors, in which the Bruins upset then-No. 6 Miami and then-No. 4 Florida but fell 4-3 to then-No. 2 Cal.
But Sampras Webster said that the Bruins gained a lot of confidence as a team, especially since the Bruins only needed to win one more singles match to beat the Bears in Madison. Two players, junior Maya Johansson and freshman Pamela Montez, went undefeated in their matches on the weekend.
"I think each player just saw what the competition's going to be like," Sampras Webster said. "I think it's just given the team belief that they are contenders. The coaching staff believes that we can contend, but for now, (for) the players to believe that is huge … the team has learned that we are not far off from being national champions and there is a lot of time.
"I know each team will be getting better from now till May, but I think it was very encouraging to see what our team is compared to the rest of the teams in the country."
The Bruins are taking a 17-0 all-time record against Loyola Marymount going into today's match. The Lions are coming off consecutive losses against UC Irvine and Cal Poly San Luis Obispo.
"We definitely know their team," Sampras Webster said. "I know their No. 1 player (Jasmin Heckel) has been doing well, so we're approaching it as playing another dual match as a team and getting used to playing doubles teams, playing together, getting more experience. That's the biggest thing we want right now: getting experience playing and improving every day, every match."