Volleyball and UCLA a Ker family tradition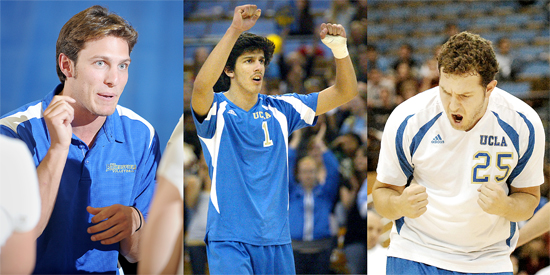 KIRBY LEE/image of sport, daily bruin file photo and MAYA SUGARMAN/daily bruin senior staff
From left to right, former UCLA libero and current assistant coach of the Cal State Bakersfield women's volleyball team Tony Ker, UCLA's Jamey Ker and senior setter Kevin Ker are each a part of the Ker legacy with Bruin volleyball. Their father, Walt Ker, founded the Cal State Northridge men's volleyball program and heads a top club squad.
By
Daily Bruin Staff
February 9, 2010 9:00 pm
Walt Ker was elated when his son won the 2006 NCAA Championship.
To see his oldest son, then-sophomore Tony, as UCLA's starting libero on the men's volleyball team win it all despite starting the season 8-10, Walt Ker was overjoyed. To top it all off, Walt Ker was sitting on the bench, coaching his 20-year-old.
Surprisingly, the Ker legacy had yet to be fully unravelled. The long-haired Tony, 23, has since graduated and is now an assistant coach for Cal State Bakersfield's women's volleyball team. His brother Kevin, 21, curly hair and all, is currently a senior setter for the Bruins. The youngest brother, Jamey, 19, is redshirting his second season at UCLA, after being thrust into the starting libero position in his freshman year.
For the brothers and their father, their volleyball legacy does not end with UCLA.
Walt Ker, the founder of Cal State Northridge's men's volleyball program and three-time National Champion with the women's team, also founded and still runs one of the most successful club volleyball programs in southern California, the Legacy Volleyball Club.
The club features 16 teams and has several ties to UCLA. All of the Ker boys coached for the club last year, but Tony is prohibited now due to NCAA restrictions. Walt Ker says he built the club on the principles of his hero, John Wooden.
"I want my players to know about Wooden and I want his legacy to be passed on to other generations, even though they're not basketball players," Walt Ker said. "I still think he's the greatest coach that ever lived and an amazing man."
The club's pyramid logo is broken into three pieces, representing the three Ker sons. Walt is adamant about keeping the business family-run. Kevin Ker and Jamey Ker coach teams in the club along with fellow UCLA players Teddy Goetz and Cooper O'Connor.
The road to UCLA
The Kers' journey to UCLA prominence had to begin somewhere.
Walt Ker and his wife, Cathy, accompanied Tony Ker on his recruiting visit to UCLA and Tony Ker made his decision fairly quickly.
"They showed me a video on the UCLA tradition and I walked out of the video and turned to my mom and said, "˜Mom, I don't even want to go on my other recruiting trips. I know I want to come to UCLA,'" Tony Ker said. "I ended up going on the other trips but I knew I was going to be a Bruin."
Tony Ker mentioned that his dad was very unbiased in the recruiting process, but Walt Ker remembers the challenge he faced in having to put his own feelings aside and let his son choose his own path. He was, however, very pleased with his son's decision.
"Secretly, and I never disclosed to him, I was always hoping he would go to UCLA because I grew up as a John Wooden worshiper," Walt Ker said. "But also because I coached against Al (Scates) for 10 years when I was at Northridge and the UCLA program had been the preeminent program year after year. So for my kid to be playing in Pauley Pavilion was so special for me. … In fact, the first time I saw Tony play, I broke down in tears because of everything that UCLA meant to me."
Walt Ker's hands-off approach continued with Kevin Ker and Jamey Ker, with both sons saying their decision to attend UCLA was all their own.
"Since both of my brothers were already here and my dad was coaching here at the time, I was able to talk to the coaches a lot and they seemed like they were the most interested in me," Jamey Ker said. "So I was really committed to coming here already."
UCLA Volleyball: A family affair
The 2006 season was a special one for the Bruins as well as the Kers.
Tony Ker had emerged as one of the top liberos in collegiate volleyball, and his father had come on mid-way though the season as the volunteer assistant coach. Walt Ker's arrival coincided with a 14-match winning streak that culminated in a the national title.
"I was the rabbit's foot when we went on that winning streak and that was really incredible," Walt Ker said. "I was sitting on the bench when we won the national championship as opposed to being up in the stands where I would have normally been as a dad."
Tony Ker admitted that it took him a while to fully appreciate the championship.
"I'll remember that day until the day I die but I was talking to one of my friends afterwards and he couldn't believe that I wasn't wearing my ring," Tony Ker said. "You just don't realize how awesome it is until you get away from it."
With Kevin's arrival to the Bruins in 2007, the brother began spending considerable time together on the court. Walt came back in 2008 for a second stint as the volunteer assistant, but saw his oldest son's career end with a disappointing quarterfinal loss to Pepperdine in Pauley Pavilion.
"Tony and I didn't get to play together a lot in high school but I had the opportunity to play with him here for two solid years. It's always fun to play with your siblings," Kevin Ker said.
The middle Ker has had to compete for playing time every year. He and former Bruin Matt Wade split time at setter the past three years and this year, Kyle Caldwell was moved over to setter after playing opposite last year.
"Ever since I got here, two guys are always competing for a spot," Kevin Ker said. "Coach will find someone else if you can't get the job done so it makes you play to the best of your ability every day."
Walt Ker applauds his son for staying positive throughout his career with the Bruins.
"I give Kevin an incredible amount of credit because he's been an amazing teammate," Walt Ker said. "He's always had an incredible attitude and I don't know if I can take much credit for that, it's just Kevin's nature."
Jamey Ker's introduction to the stage of UCLA volleyball was a bit different. When Tony Ker, the four-year starter and three-time defensive player of the year, had graduated and Tom Hastings, the projected starter for the season, ruled academically ineligible for Winter 2009, Jamey Ker was Scates' choice for libero. Jamey Ker is currently redshirting this season, in hopes of taking over at libero upon Hastings' graduation, but added he misses the frequent playing time with his older brother, Kevin Ker.
"I was looking at pictures the other day of me and Kevin hanging out and I had accepted the fact that I was redshirting but it made me miss it a little bit," Jamey Ker said. "Just hanging out with him was a lot of fun and our relationship just soared, and we were able to start becoming friends. Kevin and I haven't always been the closest but volleyball has really helped us to become closer."
Whether it's peppering the ball around in the front yard at their home in Valencia, playing intense games of Taboo as a family, or working on their rotations at practice in the SAC gym, the Kers are marked by their competitive nature that is not soon to disappear from UCLA volleyball, with Jamey Ker's departure at least three years away.
"You can pinch me because I've had three kids that got into UCLA," Walt Ker said. "That alone, is a great gift and I will never stop appreciating that. The fact that all three of them have been able to make the volleyball team is incredible. … And then the fact that all three of them have been able to contribute and play in the program, pinch me now, pinch me later because it's an incredible program to be a part of and all three boys have thrived within that program."
While the Ker family name might not show up on stat sheets in a couple years, the legacy they've left won't soon be forgotten.