Sifting out a second source of income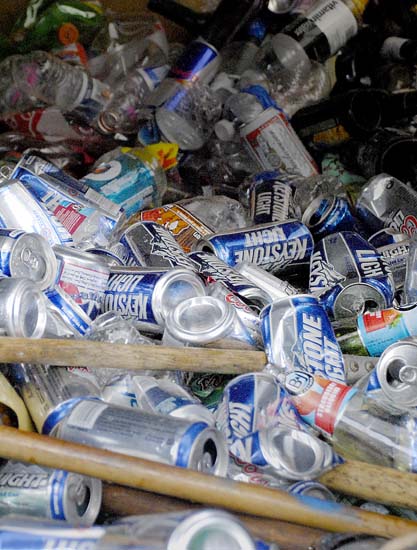 Leftover cans and bottles from weekly parties on Gayley and Landfair avenues fill the back of the minivan belonging to Mercedes and Marcos Garcia.
For most students, a 30-pack of Keystone Light is out of sight after a Friday night party.
But chances are, by Saturday morning it ends up in the trunk of someone's car long before it ever reaches a recycling center.
For Mercedes and Marcos Garcia, the weekly parties on Gayley and Landfair avenues mean another day of work and money.
The Los Angeles immigrant couple spends 12 hours at a time during the weekends, filling up their minivan with the remnants of past parties.
Whether it's Keystone or a Stella Artois, each can or bottle is a piece of income for the couple and their two children.
Originally a mechanic from Guatemala, Marcos Garcia now spends much of his time filtering through the dumpsters of fraternities and apartment complexes.
He and his wife weave through the neighborhood – one drives to a parking spot while the other hunts from one dumpster to the next, combing Westwood's streets for fresh stockpiles of recyclables.  
The Garcias, who scavenge to supplement their part-time work as housecleaners, can collect enough recyclables in three days' work to make roughly $300, a standard week's take from their side occupation.
And all of this from the Westwood area alone.
"Weekends, every time "" it's when many students drink. They drink a lot. But I only come to the university (to scavenge)," Marcos Garcia said in an interview that was later translated from Spanish.
He and his wife can often be found parked on Westwood's streets, in between apartment complexes and trash bins.
And they're not alone.
"There are many others here "" they're my competition. There are probably around 10, but since times are rough, there have been more. Probably around 15," he said.
Garcia explained that, while many of the people who collect recyclables in Westwood have chosen to do so because of recent unemployment, others come to the United States specifically for the opportunity to collect and redeem recycled materials.
"I've been working for a long time. The police know me, and the neighbors know me. And they don't say anything to me," he said. "The students aren't always good people and some of them are my friends, but I never have problems. Always positive," he said.
Garcia wasn't always a scavenger. He was originally a mechanic for AT&T in his home country of Guatemala. But as an undocumented citizen, unable to comply with the auto repair industry's strict regulations and regular inspections, Garcia was pushed into under-the-table work, such as scavenging.
For Raul Garcia, another scavenger in the North Village area, gathering recyclables was his answer to fewer work days. Three months ago, when his full-time construction job was cut to three days a week, he started collecting cans to compensate. And for him and his five children, that means an extra $300 a week.
"I used to make enough at my job. I work in demolition with big equipment. But now that the work has gone away, I have to find another way to make money. I have to do something "" I have five kids," Raul Garcia said in an interview that was later translated from Spanish.
He said it typically takes him eight hours to find $100 worth of glass, plastic and aluminum.
Unbothered by a bit of rain and cold, he worked alone for several hours on Saturday afternoon prior to and following the interview.
In Los Angeles County, scavenging recyclable materials is a misdemeanor offense, according to the Los Angeles County Code. If caught, violators can be prosecuted and can face fines of up to $500, six months of jail time or both.
Although it's not uncommon for residents to complain about those who trespass and go through others' waste, most fears stem from concerns about personal information from mail and the potential for identity theft, said Paul Neuman, a spokesman in the office of District 5 City Councilman Paul Koretz.
The university police do not often get calls of concerns or complaints about scavengers, said Nancy Greenstein, community services coordinator for university police. Still, the opinions of residents, property managers and police vary greatly on the topic of scavengers in Westwood.
"We had a trash room within a building. I don't know how he gets in, but he would go through our trash bin and get all the plastic and glass," said JC Brown, the manager of an apartment complex on the 600 block of Veteran Avenue, of a specific individual he has seen in his apartment building.
"I've always let him do it because he's always polite and kind, and he needs the money too. I haven't seen him in a while, but I've never had a complaint. I've been a manager here for two years."
Brown's hands-off approach is not uncommon; a number of landlords interviewed expressed apathy toward scavengers, stating that there are other chores and responsibilities that are far more important than worrying about what happens to the garbage on its way to the dump.
"I know a guy who comes in regularly. I don't know his name and I'm not sure how he gets in there, but he doesn't do anything wrong," said Gabi Neagu, manager at the Strathmore Towers Apartments on Landfair Avenue and Strathmore Drive. "There are some other people around who collect cans besides him, but they don't usually come to my building."
But not all managers and landlords are as passive when dealing with the recycling issue.
Al Keyser, property manager at Atrium Court on Strathmore Drive and Levering Avenue, said he has had repeated run-ins with people collecting cans in the basement of his building, especially late at night. He said he does not take the issue lightly.
"There's this one guy who … is a constant nuisance throughout the neighborhood. He goes through people's garage cabinets. We've had a problem with him getting into our building and getting into our dumpsters," said Keyser of a specific individual he has caught several times in his building's garage.
"He's not cool. I don't care what he does out on the street, but when he comes in my building he makes people uncomfortable. I have tenants who come home at night and go into the garage, and he's there digging through the dumpster. And girls especially have been upset and said, you know, "˜Who is this guy?'"
Keyser said he has had to chase scavengers off his property on multiple occasions, having only experienced moderate success in seeking aid from local police.
"Nobody seems to help because they don't think it's big enough. They're trying to do something about it, but there's not a lot they can do," he said, explaining that in many cases, scavengers are in and out before they can be reported. "He gets really loud and sort of hostile if you run him off the property. The guy is a big problem and I would rather not see him ever again."
And as far as garbage and recycling collection outfits go, there seems to be little concern for the scavenger issue.
"It doesn't affect us "" we're mostly a garbage company," said Carl Marderosian, an office manager at Southern California Disposal.
"But it wouldn't even affect a recycling company because it's all going to the same place."