UCLA men's volleyball gains confidence with recent wins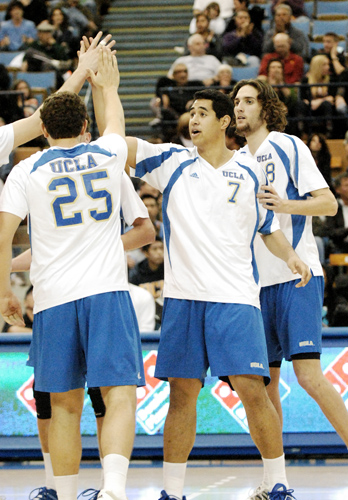 The UCLA men's volleyball team has finally gained some confidence.
After a rocky start to their 2010 campaign, the Bruins (6-5, 5-3 MPSF) have won three straight road matches, picking up key wins against then-No. 2 Cal State Northridge and a pair of wins in the rowdy Stan Sheriff Center at then-No. 6 Hawai'i, establishing themselves among the top squads in the MPSF. In Monday's AVCA coaches poll, UCLA rose to No. 3 in the national rankings and earned two first-place votes.
And this year's squad, assistant coach Brian Rofer said, is starting to look a lot like the "Bruin teams of old."
"They have this confidence now that they know they can win," Rofer said. "It's nice to walk into gyms and know that we're going to win."
Last season, with many of the team's major players seeing their first collegiate action, the Bruins were only 3-8 on road MPSF matches, often falling apart late to beatable teams. Coach Al Scates explained after Friday's win over Hawai'i that he is expecting his team to have a successful road season this year.
Nick Vogel, Thomas Amberg, Jack Polales and Kyle Caldwell are just a few of UCLA's sophomores to have seen significant playing time last year as freshmen. Rofer explained that the younger players came in last year with loads of experience from being the top club volleyball players in the nation. Upon arriving at the collegiate level, however, the younger players were humbled in the presence of veterans and were unable to accomplish everything they set out to.
With a year of experience under their belts, Rofer believes the team's younger players have started to take a bigger role in leading the team.
"They're all great players. It's just whether or not they want to believe they're great players," he said.
And despite a rough start to the Bruins' season, including a four-match losing streak in January, Rofer maintains the team has potential for a strong finish.
"In 2006, that team struggled in the beginning and they just played well in the end," Rofer said. "I think the younger guys on this team have that (competitiveness), and it's starting to show. If we continue that, we can be really good not just this season, but the next three or four years if we get the right players."
Vogel, the starting quick hitter, explained after Friday's win that this Bruin squad has matured from last season's dismal road team.
"I think we've adjusted to how to play on the road," Vogel said. "And road wins, they're big."
Vogel added that the Bruins' road success comes in part from feeding off the stadium's energy, whether it is on UCLA's side or not.
"We feed off the energy now," Vogel said. "We know that road wins are extremely important but we know how to handle ourselves in those tough situations."
And with more than 3,000 fans supporting Hawai'i last Thursday and Friday, and a nearly packed Matadome behind Cal State Northridge Jan. 22, the men's volleyball team has become accustomed to playing in loud gyms. For coach Scates, despite his team's winning streak, the home court advantage has been evident, with home teams winning some close calls.
"You expect to get a couple of calls that don't look right to you," Scates said. "There's always a couple of those because the crowd is going nuts and the ref doesn't "" I don't know. I mean, sometimes he can't see it."