Gymnasts set a new season record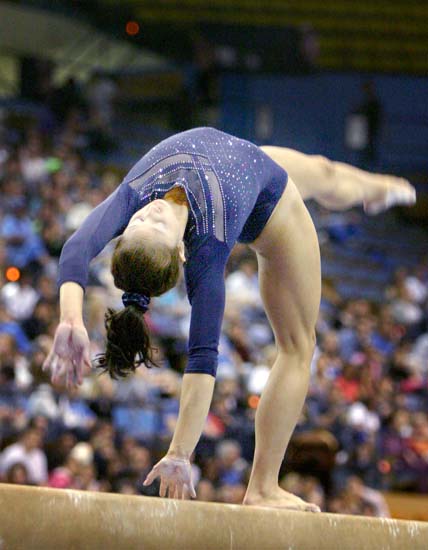 Sophomore Vanessa Zamarripa won the all-around during the Bruins' defeat of Arizona on Friday with a career-high 39.675. Zamarripa also won first place on bars and beam.
February 7, 2010 11:09 pm
Heading into its last rotation, the UCLA gymnastics team needed a solid score on balance beam to finally break its season-best team total of 196.600, established over a month ago.
Counting a fall on beam, which the team has been forced to do multiple times this season, would ruin the Bruins' chances to finally surpass the score they set in the season opener. However, all six competitors stood tall under the pressure, posting a solid score of 48.875 to easily lift No. 6 UCLA (6-1, 4-1 Pac-10) over No. 18 Arizona 196.725-193.800.
Not only did the Bruins set a new season record, but they hit 24 for 24 routines on the road for the first time this year. The Bruins' team total of 196.725 is a significant increase from their scores in their past two away meets, which were both less than 196.00.
But even with their success on the road, coach Valorie Kondos Field is not entirely satisfied with the team's execution on Friday night.
"Even if this was our highest score this season, we could have performed more sharply," she said. "Yes, we hit 24 for 24 routines, but we could have hit those routines much cleaner. We had some beautiful routines but also some that weren't so great, so we can definitely compete better."
UCLA defeated Arizona (2-3, 2-2) on every apparatus, scoring nearly evenly across all events. The Bruins had totals of more than 49.00 on vault, floor exercise and uneven bars. Although the almost equal distribution of the team's total score between all four events is a much desired sign of consistency, Kondos Field believes that the Bruins should still strive to score higher in particular events.
"Call (Friday's meet) consistent, but we could have done better on floor and beam," she said. "Half of (the gymnasts) hit well, and half of them didn't do so well. I don't want to set our standards so low. Our standards are not to hit good routines "" our standards are to hit great routines because we do it every day in practice."
Kondos Field referred to redshirt junior Brittani McCullough's floor routine and the overall performances of sophomores Elyse Hopfner-Hibbs and Vanessa Zamarripa as the main highlights of the competition. McCullough broke her career best on floor with a 9.925, and Hopfner-Hibbs set a new season record on vault with the same score.
Thanks to three scores of 9.90 or higher, Zamarripa set a new career record in the all-around with a total of 39.675.
"I did really well in bars and beam," said the sophomore, who scored 9.95 on both events. "There were a couple of little things that I could fix, but overall it was a good meet for me. I feel like I struggled a little on beam last year as a freshman, but I've gotten a 9.95 or higher two times so far this season, and the improvement was a personal highlight."
Senior Anna Li, who has competed four consecutive weeks in the all-around, had a rare break from competing in all four events this meet. Li, who scored a season-high 9.875 on vault, did not perform on floor against Arizona.
Returning to her home state, freshman Monique De La Torre competed in three events, scoring an impressive 9.875 on bars.
"It was definitely fun to be home and in front of a semi-home crowd," said the Glendale, Ariz., native.
De La Torre believes that UCLA competed well against Arizona but that the Bruins need to focus on performing in competition as they do in the gymnasium.
"The team had a good attitude tonight, and it was a lot of fun," she said. "We just need to improve by going bigger and hitting everything like we do in practice."