Tennis rallies against rain, rival Waves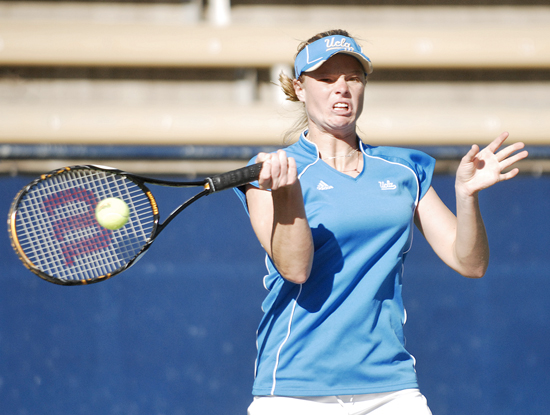 Junior Andrea Remynse, along with doubles partner Yasmin Schnack, the No. 10 doubles team, came back from a 2-5 deficit to win their match 8-5. UCLA went on to win 5-0.
January 27, 2010 10:33 pm
Over the past two weeks, rain has equaled frustration for the UCLA women's tennis team.
But on Wednesday, sans-rain equaled sans-disappointment for the No. 12 Bruins, who were finally able to get their regular season underway, and did so in style, defeating local rival Pepperdine 5-0 to take their first match of the season.
The Bruins were supposed to open their season last Tuesday against Cal Poly, but that match was rescheduled for a later date in the season due to rain. Then, UCLA's match against Pepperdine, originally scheduled to take place this Tuesday, was pushed to Wednesday due to another bout with inclement weather in Los Angeles.
And if anyone suspected that the Bruins might come out a tad bit rusty, they were correct. UCLA got off to a slow start in doubles play, trailing early in each of the three doubles contests. The No. 10 tandem of senior Yasmin Schnack and junior Andrea Remynse trailed 2-5 in their doubles contest before rallying off six straight points to win the match, 8-5.
"Well I think we came out a little shaky in the beginning but I think we put it together in the doubles," UCLA coach Stella Sampras Webster said after Wednesday's match. "It was kind of getting the jitters out, so I was pleased in the way that we finished our doubles."
With the combination of the rain and their schedule, UCLA has been effectively shelved for the past two weeks. The last action any Bruin saw was on Jan. 17, when Remynse and Schnack fell in the doubles final at the National Collegiate Tennis Classic in Palm Springs.
"I think it was just that we haven't competed for a couple weeks," Sampras Webster said. "Doubles is going to take some time to develop. Figuring out which doubles teams we're going to put together is going to be a big key for us. We're just trying to get them to compete every point, and focus on their games and developing their games."
But on Tuesday, after those jitters were shaken, the Bruins turned up the heat on the Waves, sweeping all three doubles matches after trailing in each. And once singles play began, UCLA seemed to have all the momentum, especially on courts one through three.
Schnack, who has occupied the No. 1 position for the Bruins for over a year, and Remynse, who plays No. 2 for UCLA, each won their first sets, 6-1. Junior transfer Noelle Hickey, playing in the third slot, won her initial set, 6-4.
"Our singles, I thought … courts one, two and three did really well in coming out strong and dictating and playing their games," Sampras Webster said. "I think everyone overall competed very well and that's what we're looking for, but we definitely have things we need to work on."
Despite the fact that they were anxious to get their regular season started, Wednesday's match proved to be vital for the Bruins, especially since during this upcoming weekend, a trip to the Women's National Team Indoors will be up for grabs.
Beginning tomorrow, the Bruins will be hosting the Team Indoor Qualifying tournament at the Los Angeles Tennis Center.
UCLA will take on UNLV Friday, and if they win, they will go up against an opponent to be determined with a chance to qualify for next month's Team Indoors at stake.
Coincidentally, it is very possible the Bruins could be facing the Waves if they get past the Runnin' Rebels. And according to Sampras Webster, her squad should gain some much-needed confidence against their rivals after Wednesday's convincing victory.
But Sampras Webster is also careful not to let her team get overconfident.
"Well, it should definitely give our team a lot of confidence knowing that we really didn't play our best tennis and it still looks like we dominated the match," Sampras Webster said. "But Pepperdine's going to come out with game plans, just like we're going to come out with game plans now that we know their players better."
The coach is confident that given the magnitude of winning two matches this weekend, her Bruins will come out ready to punch their cross-country tickets.
"We've got to expect Pepperdine to make some adjustments, and we're going to make some adjustments," Sampras Webster said. "At that point, the winner of that match gets to go to Madison, Wisconsin, so there's going to be a lot on the line for that. It should be interesting."