Students moving to the apartments should research, read lease carefully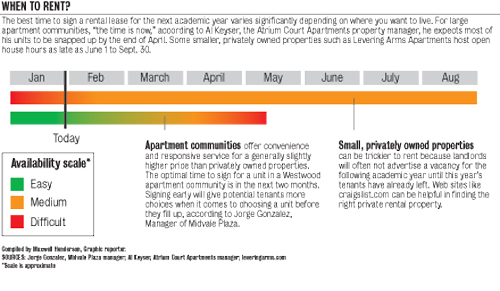 Moving out of the dorms and into an apartment can mark an exciting milestone in one's college experience.
But finding a place, signing leases and dealing with landlords can also generate stress.
Elizabeth Kemper, the director of UCLA Student Legal Services, said it is very important for students to make the effort to understand the lease they sign before doing so.
"(Students should) make sure they read everything before they sign it and know that they are bound by what they sign," Kemper said.
Alan Miller, property manager of B&B Management, also said most problems arise when students fail to read and understand the lease thoroughly.
For example, Miller said that often students do not know what to do when they want to get out of a lease.
"We get those questions every year. It's all in the lease, but oftentimes people don't review the lease or even keep a copy," Miller added.
He also said students should take care to evaluate the services available to them at their potential apartments.
"Sometimes people move in without having all of their questions answered and might expect different services than those provided," Miller said. "Make sure it has the amenities you are looking for before signing the lease."
Certain issues, such as the security deposit, often present more difficulties than others.
"When students are moving into an apartment, they can take steps that will help maximize the chance that they will get the deposit back when they leave," Kemper said.
She added that they should document the condition of the apartment by filling out a checklist provided by the landlord or compiling a letter with requested repairs and pre-existing conditions.
Paul Bergman, a professor emeritus of law at UCLA, also said he recommends students take photographs of the conditions of the apartment when moving in.
"Establishing a record is the best thing (students) can do if issues arise," he added.
Bergman also said some sort of record would be especially helpful for students who are forced to resolve issues with their landlords in small claims court. He added that students who take a case to small claims court represent themselves and can sue for up to $7,500, enough to cover most security deposits. Though many students may not be able to imagine a situation escalating to that extent, for some, the challenges of a difficult landlord are very much a reality.
Stephanie Doyle, fourth-year English and international development studies student, said her landlord seemed offended when she made an effort to read the lease thoroughly and asked to do a walk-through of the apartment before signing.
She also said that she experienced problems with her landlord being complacent and unwilling to fix problems such as poor water pressure in a timely manner.
"They know (students) are a transient population and the owners probably do not want the landlords to spend a lot of money on their tenants," Doyle said. "I knew I had to choose my battles."
But, she also said students should be aware of resources they have on campus and through the Los Angeles Housing Department to report problematic landlords anonymously.
She added that she would also advise students to talk to people living in their prospective buildings about the landlord before signing a lease.
"Make sure you investigate a landlord before you get in to these kinds of situations," Doyle said.
The schedule of the quarter system can also make finding housing difficult. And for students who do not live near UCLA year-round, subleasing can also complicate one's living situation.
"I strongly recommend using a sublease agreement and making it very clear how long the subtenant is supposed to be there and what the terms of sublease are," Kemper said.
She added that students should collect a deposit from those subleasing to ensure payment of any damages. Complications can arise for students looking for a place to temporarily stay.
"If trying to sublease, you want to make very sure that the landlord gave written permission "" otherwise you could find yourself being evicted as an unauthorized tenant," Kemper added.
Students do not have far to look to find resources to help with the complexities of apartment life. For example, UCLA Student Legal Services can prove very useful in answering student questions about apartments.
"I really think it's important for students to come see us if they have any questions or if there is a problem," Kemper said.