Haiti receives L.A. aid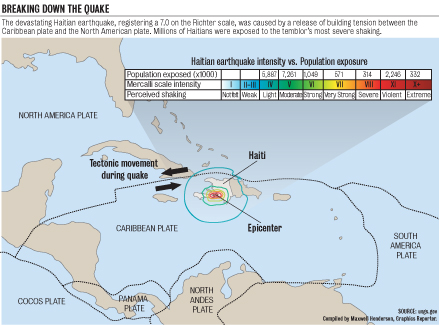 In the aftermath of last week's earthquake in Haiti, students and firefighters in the UCLA community are donating their time to help search for survivors and raise money for relief organizations.
Among them is Kimberly Adams, a graduate student in the UCLA School of Nursing, who traveled to Haiti over winter break and worked as a volunteer in an orphanage in Port-au-Prince.
Adams returned to Los Angeles on Jan. 3 when the destructive earthquake hit Haiti a week later, on Jan. 12. Upon hearing the news, she immediately began raising funds for medical supplies or medical supply donations through Child Hope International, an organization with which she has been involved for two years.
Adams' friend, Ashley Hapak, a registered nurse in the UCLA Medical Center's pediatric intensive care unit, is now working in the medical clinic at the orphanage in Haiti, assisting in relief efforts.
Hapak asked Adams to gather food and water, along with medical supplies like chewable Tylenol for kids, ibuprofen, plaster, gauze, lidocaine, duct tape, IV fluids and IV start kits.
Anyone who seeks to donate funds or medical supplies or sign up for volunteer services can do so through childhope.org, Adams said. All donations will be matched, she added.
Though there was some damage to the orphanage, it withstood the quake, and the 60 orphans housed there are now sleeping and living outside, Adams said.
Meanwhile, the orphanage has been converted to a medical center.
Adams is currently trying to take a leave of absence from school so she can help the victims in Haiti. The country holds a dear place in Adams' heart; she first learned of the Haitian orphanage through a family who attends her church. The family adopted children from Haiti.
Adams said she believes that it is her duty as a Christian to help the poor and the hungry, especially now in Haiti.
"We are very blessed, and it is time that we bless those that need it," she said. "Prayer changes things, and we are heavily praying for Haiti to be safe and hope the Lord will comfort them," she said.
UCLA graduate student Courtney Burks also joined the effort to help earthquake victims.
Burks is currently working on her master's thesis for the School of Public Health in the Dominican Republic.
To help, she created a blog through which people can submit PayPal donations, and she has raised more than $500 so far. Burks also solicited medical supplies to be sent to a Dominican organization that is transferring supplies to the Haitian border for relief efforts.
"I could not simply sit on the same island as Haiti and not do anything," she said.
Meanwhile, the Los Angeles County Fire Department has been working around the clock to help rescue victims in the earthquake's wake.
A team of 72 members, including firefighters, doctors, canine handlers and engineers, departed from Los Angeles on Jan. 13, battalion chief Thomas Ewald said.
One member of the team left for Washington, D.C., where he mans the communication unit between rescuers, the fire department and the state department, Ewald said.
The station in Los Angeles remains in constant contact with the deployed members.
"We talk to them every 20 minutes, and they give us a rundown of what is happening," Ewald said.
He added that individual members work between 16 and 20 hours a day.
So far, the Los Angeles County Fire Department is responsible for the rescue of eight Haitians, all of whom were found underneath the rubble of collapsed buildings, Ewald said. Among them were two 16-year-old women, two 30-year-old women and two 20-year-old men.
The Los Angeles County Fire Department, along with the Los Angeles Fire Department, represents the two emergency task forces centered in Los Angeles.
While the county department has been deployed to Haiti, the latter is standing by in California, fully prepared to leave in the case that they are needed, said Brian Humphrey, a Los Angeles Fire Department spokesman.
The Los Angeles County Fire Department received directions to prepare members for departure by the U.S. Agency for International Development, the lead agency in the state department that responds to foreign disasters, Ewald said.
Although the length of deployment is uncertain, Ewald said that they will continue to rescue victims into next week.
Anyone who seeks to donate funds or medical supplies or who wants to sign up for volunteer services can do so through childhope.org. All donations will be matched.