Los Angeles City Council congratulates UCLA Professor Cara Horowitz and students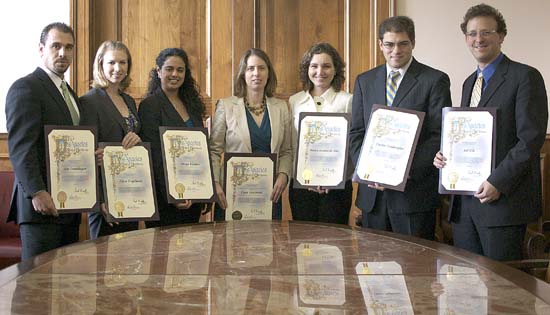 The Los Angeles City Council recognized UCLA Professor Cara Horowitz and six law students Friday for their participation in last month's Copenhagen conference.
The students were also praised for their active role in battling climate issues.
"The recognition is really for all of UCLA's recent work on climate, energy and sustainability issues," Horowitz said.
Dustin Maghamfar, a fourth-year law and public policy student, was one of the six students who attended the United Nations Climate Change Conference in Copenhagen, and he said the delegation of students was very fortunate to have taken the trip.
"It's an incredible honor and immensely flattering," Maghamfar said of the recognition given to the group.
Los Angeles City Councilmember Paul Koretz, who represents the fifth district, which includes UCLA, presented the award to the delegation of seven during a recent City Hall council meeting.
"I think it's wonderful that an important university has carried the mantle for a city that wants to participate and reduce global warming," said Koretz, who graduated from UCLA in 1979. "I'm excited that UCLA students and faculty have come back with a lot of good ideas."
Horowitz said the delegation's attendance at Copenhagen was not only to represent the school and the city, but also to come back with recommendations for what the city can do to avert further climate change.
"Copenhagen really inspired us to think more broadly about steps we can be taking in the city of Los Angeles, regionally, statewide and then nationally to address the climate crisis," Horowitz said.
She added that the group has developed and is continuing to develop specific recommendations for Los Angeles in an effort to advocate for statewide and nationwide climate legislation and other climate solutions.
Recommendations include providing safe, low-cost and low-carbon alternative transportation options and promoting public understanding of climate issues.
With the delegation back at UCLA, Horowitz said research at the law school and the UCLA Emmett Center on Climate Change and the Environment will continue.
"These students will hopefully go on and have careers, in some cases dedicated to solving some of these really vexing problems," Horowitz said.
Maghamfar, who is scheduled to graduate this year, is optimistic about the future of research in climate policy at UCLA.
"There are a lot of bright and committed environmental students at the law school who will step up and take our place and keep this going," Maghamfar said.
Horowitz also commented on the intent of continuing research on climate issues by UCLA students.
"(Climate policy) are issues we are very dedicated to, and we'll certainly continue working on them for years to come because unfortunately, I don't think the problem is going away anytime soon," she said.