UCLA alum Erica Mackey works to provide medical services, HIV education in Tanzania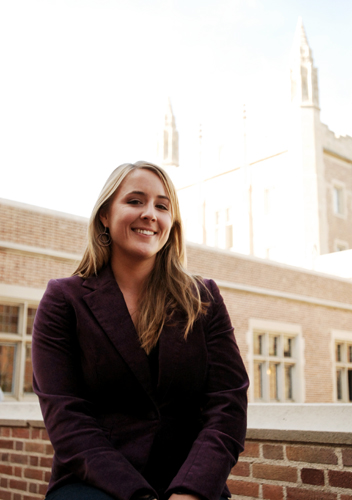 UCLA alumna Erica Mackey is the executive director of Support for International Change, an organization which does AIDS work in Tanzania.
UCLA alumna Erica Mackey always felt compassion for HIV and AIDS victims and traveled to Africa many times as a child.
But it was not until she took a three-month camping trip with her family across seven countries in sub-Saharan Africa during the fall of her third year that she truly felt the effects of the HIV epidemic on victims and their families and felt compelled to make a change in their lives.
Now the executive director of the Support for International Change organization, the 26 year-old leads a team of volunteers and Tanzanian staff members in their efforts to provide HIV education to villages in Tanzania, as well as testing, counseling services and access to free medication for victims and their families.
Co-founded in 2002 by Tina Wu, a current UCLA medical student, the organization offered its first volunteer opportunity to UCLA students in 2004. Mackey offered her services immediately.
The program has expanded recruitment from its original three schools "" UCLA, Stanford, and the University of Arizona "" to 15 schools across the U.S. and one in the United Kingdom.
"I joined the organization because I thought it was a great opportunity to get hands on experience in service programs and work with like-minded people and motivated students," Mackey said.
Her eight-week volunteer experience in Tanzania the summer after her third year showed her that solutions are tangible at both an individual and community level, she said.
As a volunteer, she led awareness campaigns in villages, working with a small team of four to five Tanzanian and American or British students to teach children and adults accurate HIV education and prevention, focusing on behavioral change as the key to prevention of the spread of disease.
"Tanzanian students work as teaching partners, helping to translate what we say and working very closely with us," said third-year student Stephanie Martinez, current UCLA coordinator of the organization, who volunteered in Tanzania last year.
Before beginning services, however, the volunteers undergo a 10-day training, where they learn Swahili from a local principal in the area, as well as information about Tanzanian village life and culture.
It was during this 10-day orientation that Martinez met Mackey.
"The training was very intense and Erica was one of the most enthusiastic people I ever met," the international development studies student said. "To me, she absolutely epitomizes what it means to be a true Bruin by dedicating her services to help fight this truly tragic epidemic."
After graduation, Mackey lived in Tanzania for two years, where she was volunteer program coordinator and district manager of the Babati region. In 2008, she was hired as the executive director of the organization.
As executive director, Mackey makes certain the organization's dual mission of mitigating the impact of HIV in undeserved communities and developing future leaders in global health are realized. Spending half of the year in Tanzania and the other half in the U.S., she coordinates all efforts between the U.S., United Kingdom and Tanzania, making sure there is enough money and resources for development and expansion and giving conference presentations, such as in the International AIDS Conference in Mexico City.
"I am particularly proud of the organization's growth since Erica has taken over," said current doctoral student Kim Yi Dionne who volunteered with Mackey and now teaches "Comparative Responses to AIDS in Africa" at UCLA. "She has really paid attention to what is needed in the region and changed the volunteering program structure to meet those needs."
And whereas during Yi Dionne's time in Tanzania, resources for testing were limited to one truck and one doctor, Mackey's hard work has expanded the pool of community workers and staff operating the organizations' programs, such as the motor testing unit which has tested some 22,000 community members thus far, she said.
Despite all her accomplishments, Mackey still holds a handful of goals close to heart.
"My longtime goal is to solidify the SIC's reputation in training the next generation of leaders in international development," she said. "We are getting there; we are a stepping stone for the Clinton Foundation and Partners in Health, as well as for alumna going to graduate schools."
Mackey finds inspiration to continue her work with the Support for International Change organization as she observes drastic changes in health of many Tanzanian villagers every day.
"I have seen people who were not able to leave their house or stand up start farming and working again," she said.