Alumna makes film debut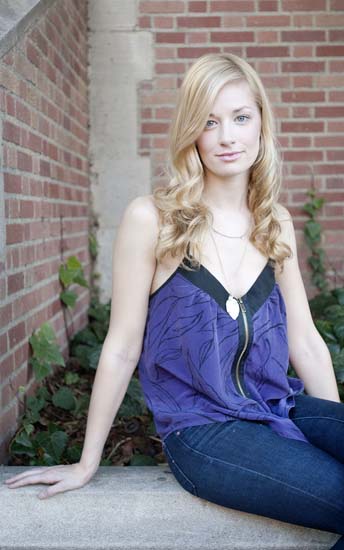 Beth Behrs, an alumna of the UCLA School of Theater, Film and Television, stars in her first film, "American Pie Presents: The Book of Love."
By her fourth birthday, Beth Behrs had already begun acting in theater productions.
"I watched "˜The Sound of Music' over and over, and I kept pointing at the screen, saying to my mom, "˜I want to do that. I want to do that,'" the UCLA alumna said.
At such a young age, she couldn't read yet, which complicated auditions.
"My mom whispered the lines to me, and I repeated them," Behrs said.
Her senior year at UCLA, she came full circle, catching up to her childhood in the "most amazing experience of her life" "" singing for Julie Andrews herself when she auditioned for the dame's Rodgers and Hammerstein U.S. tour that she was directing and starring in.
After graduating from the School of Theater, Film and Television in 2008, Behrs has continued on the career path she chose so early on, making her film debut in "American Pie Presents: The Book of Love," released on DVD on Dec. 22.
What drew her to the movie, Behrs said, were the film's strong female characters.
"They're more than just, well, naked," Behrs said. "They're real girls who are confused and conflicted and are experiencing real issues."
As the seventh in the series, which sprang up after the success of the first "American Pie" movie, "Book of Love" returns to the format of the awkwardly endearing original and attempts to be equal parts sweet and raunchy.
Set 10 years later at the same high school, the film follows the pursuits of three new bumbling teens who discover the infamous "Bible" stashed in the library during the first movie, only to find that it has been ruined. As a result, the friends embark on a quest to piece together the "Book of Love" in order to successfully lose their virginity.
"This movie has the heart of the first one, something which some of the other films in the series have kind of lost," Behrs said.
For Behrs, her first film is a marked departure from her previous work. After moving to San Francisco from Virginia, she studied at the American Conservatory Theater, going on to perform in dramatic works such as the musical "Dangling Conversations: The Music of Simon and Garfunkel," the play "Korczak's Children" and, during her time at UCLA, Tony Kushner's "A Bright Room Called Day."
"I grew up in theater, and it's where my heart and soul will always be, but I have such an appreciation for film now and I've grown to love them equally."
On the set of "Book of Love," Behrs' theater experience served her well, according to John Putch, the director.
"I liked that she was steeped in theater and had a great resume in the theatrical world, it lent itself to this style of material," Putch said.
To prepare for her first film role, Behrs consulted with her acting teacher at UCLA, Scott Conte, who she met her sophomore year and who she has continued to study with periodically.
"Thank God I went to UCLA and met Scott Conte," Behrs said. "Without him, I wouldn't be the actor I am today."
The two studied the script, with Conte guiding Behrs through what choices to make with each of her scenes and readying her for the new experience of shooting out of order.
"We talked about the arc of the character and her options in each scene," Conte said. "You want to do the extra, preparatory work first and know the entire story, like you would with a play."
He said he finds Behrs stands out from other actors.
"Beth cares about the pure skill level of acting and bringing as much emotional depth as possible."
Behrs' planning and additional study paid off in the eyes of Putch. "As the lead female, she was absolutely right on in terms of tone, and … she made intelligent choices," Putch said.
Conte and Putch both said that while the real challenge is perfecting the acting first, another obstacle is learning the technical aspect of working on a film, although it was almost no object for Behrs.
"She adapted very well," Putch said. "I think she's a brainiac or something."
The smart choices continue for Behrs, who is wrapping up filming her new comedy, "Serial Buddies," due for release later this year. Produced by Maria Menounos of "Access Hollywood" fame, the film revolves around four young blundering serial killers who have no idea what they're doing, according to Behrs, who plays the love interest of one of the killers.
As for the future, Behrs said she hopes for roles in film or television, perhaps a part similar to that of Betty Draper in "Mad Men," her favorite show at the moment. Classically trained as a singer, Behrs said she would like to incorporate that skill into her acting.
"If a musical or something like that comes along, then I'll do it, for sure."
Conte said he also holds high hopes for Behrs.
"Any actress who wants to have a great career has to be open to deepening her craft, or they don't evolve," Conte said. "Beth has the potential to do that."