Bruins get crucial sixth win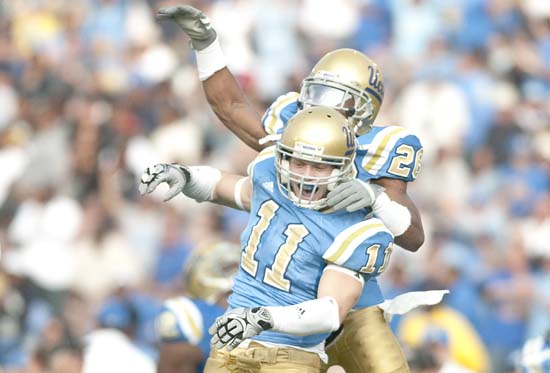 Linebacker Sean Westgate celebrates with cornerback Andrew Abbott after Westgate recovered a fumble by Arizona State returnman Jamal Miles on a kickoff return in the final two minutes of the second quarter of the Bruins' 23-13 defeat of Arizona State Saturday at the Rose Bowl. Westgate's recovery at ASU's 17-yard line led to a Kai Forbath field goal to end the half. The Bruins recovered five Arizona State fumbles.
Arizona State didn't even have the opportunity to finish their final series before the Rose Bowl patrons began to recite "" in full-blown roars "" "Beat 'SC!"
The succinct sounds of the chant eclipsed the expired time clock and spilled into the post-game celebration, where the UCLA football team crowded the northern sideline to rejoice in the victory with their fans.
Reggie Carter and Rahim Moore commandeered the spirit squad's microphone, saluting the allegiance of their loyal fans. UCLA coach Rick Neuheisel followed suit, taking the mic for his regular post-game speech, sharing their sentiment.
In a contest characterized by the ebb and flow of two established defenses, UCLA (6-5, 3-5 Pac-10) managed to undercut Arizona State (4-7, 2-6 Pac-10), 23-13 in the Bruins' third consecutive win.
The Bruins' sixth win, guaranteeing at least a .500 record enters their name into the discussion for a bowl berth.
"Number six was magic in that regard," said Neuheisel of meeting the bowl requirements.
Even with Saturday's win a Pac-10 bid may only come to fruition with a win next week at USC. At this point, UCLA can at least claim an at-large bid for the post-season.
"It definitely could have been a lot better, but it could have been a lot worse," said senior cornerback Alterraun Verner of the reprieve from pressure surrounding bowl eligibility offers.
Seven plays into the Senior Day game, Verner intercepted a Samson Szakacsy pass returning it 68 yards for UCLA's opening touchdown. Verner's pick six was his fourth in his UCLA career, a school record.
Sophomore Akeem Ayers added another six after scooping a forced fumble by defensive tackle Brian Price, putting UCLA ahead 17-7.
Ayers' recovery was just the first of five fumble recoveries for the Bruins. The Bruins committed no turnovers.
UCLA would not give up the lead from that point on, a credit to the power of its defensive unit but also to the blunders suffered by the ASU offense.
Szakacsy, in the first start of his career, had three fumbles and was sacked four times. ASU running back Dimitri Nance ran for 110 yards, but it was not enough to erase the Sun Devils' self-inflicted wounds.
"We weren't playing from behind, so we just needed to make a couple stops to win the game," Verner said.
Those stops were essential to ensuring a Bruin victory, as quarterback Kevin Prince and his unit were unable to sidestep the Sun Devil pass rush.
The UCLA offense failed, once again, to score a touchdown for the team. Kai Forbath scored three field goals, bringing his season total to a nation-leading 26.
Neuheisel said, in light of the Sun Devil pass rush, that he wanted to ensure his team got points out of their drives. A field goal would suffice.
"When we got a lead … we got conservative on third down," Neuheisel said. "At 20-7, three points was huge. We didn't want to take any risks."
Prince completed 15 of 31 pass attempts for 161 yards. He threw no interceptions and was not sacked.
Senior tailback Chane Moline, who has been earning more carries by the week, amassed 84 yards on the ground in his final home game as a Bruin. Moline has been a reliable asset for the Bruins, Neuheisel said, and it was time he got playing time on an every-down basis.
Offensive coordinator Norm Chow, while acknowledging the limited red zone presence of the Bruin offense, put the team's goals in context.
"At this point in time we're just trying to win the game," he said. "Our job was to change field position and our job was to not turn the ball over."
"We'll take a win anytime. At this point in time the little things mean absolutely nothing."