Calling all Consoles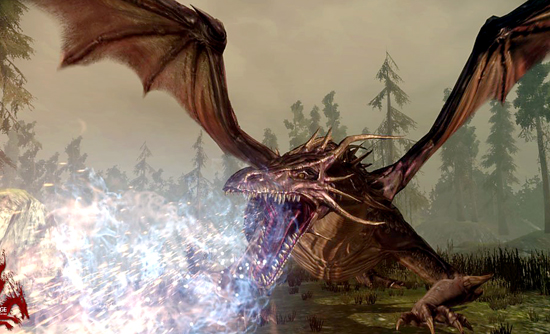 This month, video game studios are releasing many highly anticipated titles "" just in time for the holiday season. Captivating the hearts and thumbs of gamers everywhere, sequels and new versions of hit video games are lining store shelves. A&E reporters got a look at some of the hottest recent and upcoming titles to see what new games will be destroying social relationships and annihilating grade point averages this year.
Dragon Age: Origins
Dragon Age: Origins isn't your typical dungeons and dragons fantasy, what with the Marilyn Manson background music and elfin bestiality.
The interactive role playing game by BioWare, published by Electronic Arts, is another in the Baldur's Gate series, where good is pitted against evil in the kingdom of Ferelden. Instead of playing into the archetypical game that ends with the slaying of a dragon and the saving of a princess, Dragon Age plays into a more mature epic battle full of political, moral and social turmoil with the Grey Wardens as the heroes who spar with the evil darkspawn.
"It's a game almost anyone can get into," said Mike Laidlaw, the lead designer of Dragon Age: Origins, "It's very simple in the beginning, and depending on how dextrous you are, you become more engaged in it."
The game boasts an array of characters that the player can personalize, from a warden to a warrior to even an elf. The voice actors do an impressive job of providing witty banter for the game, not to mention the Manson soundtrack looming as the background music.
"The music is a juxtaposition of the grand fortresses and swords and legendary history, but with a more visceral side to it, like violence and betrayal and rock "˜n' roll," Laidlaw said.
Not only does the music give Dragon Age its edge, but so do the more intimate moments in the game, where characters can rest from killing darkspawn and engage in more coital activities, elves included.
"It's a joke stuck in the game," said Laidlaw of the more racy moments. "You become so enrapt in what you are doing that there should be some levity in the game."
Third-year computer science student Zev Solomon already tried the game and has enjoyed it thus far.
"It has pretty good story and combat, with interesting tactics and nice graphics," said Solomon.
Dragon Age: Origins operates on PC, Xbox 360 and PlayStation 3 and is rated mature for the obvious guts, gore and sexuality. It is about $60 for the game console versions and $50 for the computer version.
"" Teresa Jue
Assassin's Creed 2
Plot gets just as much attention as game play in "Assassin's Creed 2," the sequel to the wildly popular third person action-adventure video game released by Ubisoft.
With a complex story line that expands upon the mystery surrounding the main character, Desmond Miles and his lineage from the first game, the new game largely takes place in 15th century Renaissance Italy. A machine called an Animus evokes memories of his ancestors through analyzing his DNA. Miles and the player experience Italy through the eyes of his distant relative, a new character named Ezio Auditore da Firenze.
The introduction of new characters and new features are just part of the effort to follow up on a best-selling title. Benoit Lambert, game director for Ubisoft, spoke to a group of college journalists in the Ubisoft Montreal studios in October, explaining the efforts his team took in the two-year production process.
"We were asked to rethink things," he said.
Members of the production team visited cities and regions in Italy such as Florence, Venice and Tuscany, taking thousands of photos in order to recreate landmarks and monuments in the game "" with breathtakingly accurate results. Game makers also consulted Margaret Meserve, assistant professor of history at University of Notre Dame, to review the game for authenticity.
But one creative liberty taken was the introduction of Ezio's friend, Leonardo da Vinci, reinvented as a young, crafty inventor that aids Ezio through the game.
"Da Vinci is going to go long with him on this journey," Lambert said.
Like the original game, parkour is a big part of the game experience "" climbing up balconies and leaping from one rooftop to another. The city serves as a series of acrobatic opportunities. Discreet travel is necessary as part of the life of an assassin: Ezio is presented with the task of taking down the corrupt, evil villains of the Renaissance.
Lambert estimated that unraveling the rest of story and solving all the main mysteries involves about 25 hours of game play, but mini-games and side quests offer players plenty more opportunities to delve into the world of "Assassin's Creed 2."
"We always try to surprise the player," he said.
"" Edward Truong
New Super Mario Bros. Wii
Developer: Nintendo
Platforms: Nintendo Wii
Release Date: Nov. 15, 2009
Retail Cost: $49.99 (Wii)
Nintendo keeps finding ways to reinvent the Mario Bros. franchise and New Super Mario Bros. Wii is no exception. The much anticipated version for Wii boasts a simultaneous multiplayer platform, where players can work together in the fight against those pesky Goombas or go the cut-throat route and play against each other. The game also introduces a side of Mario that has never been seen before "" the Penguin Mario.
"" Teresa Jue
LEGO Rock Band
Developer: Harmonix, Traveller's Tales
Platforms: Xbox 360, Wii, PlayStation 3, Nintendo DS
Release Date: Nov. 3, 2009
Retail Cost: $49.99 (Xbox 360, Wii, PlayStation 3), $29.99 (DS)
With the current proliferation of rhythm games on the market, it's easy to overlook a title seemingly geared toward your little brother. Yet with LEGO Rock Band, Rock Band creator Harmonix has gone the Sesame Street route, catering to parents' sensibilities with established names while maintaining a kid-friendly appeal. The end result? A "Super Easy" mode for the kids, a parent-pleasing song list and something the whole family can share "" Freddie Mercury and David Bowie LEGO characters.
"" Jeremy Lu
Left 4 Dead 2
Developer: Electronic Arts
Platforms: PlayStation 3, Xbox 360, PC
Release Date: Nov. 17, 2009
Retail Cost: $59.99 (PlayStation 3, Xbox 360), $49.99 (PC)
Blasting zombies has never been more en vogue than in Electronic Art's Left 4 Dead 2, which touts a first-player shooter platform and an exorbitant amount of blown-off appendages and blood. The sequel to the wildly popular Left 4 Dead also boasts new maps, cooperative campaigns and the ability to take out zombies with weapons ranging from chain saws to the ever-handy frying pan.
"" Teresa Jue
Call of Duty: Modern Warfare 2
Developer: Infinity Ward
Platforms: Xbox 360, PlayStation 3, PC
Release Date: Nov. 10, 2009
Retail Cost: $59.99 (Regular Edition),
$79.99 (Hardened Edition), $149.99 (Prestige Edition)
The follow-up to the 2007 game of the year, Call of Duty: Modern Warfare 2 rode an endless wave of hype. This time around, developer Infinity Ward expanded on its predecessor. The game's campaign, highlighting an improved graphics engine and meticulously crafted sound, pushes the boundaries with its explicit terrorist plots. However, the game's true appeal is its improved, addictive multiplayer option, which will continue to provoke many students to skip classes.
"" Jeremy Lu