UCLA mathematician Terence Tao's site has audience of 40,000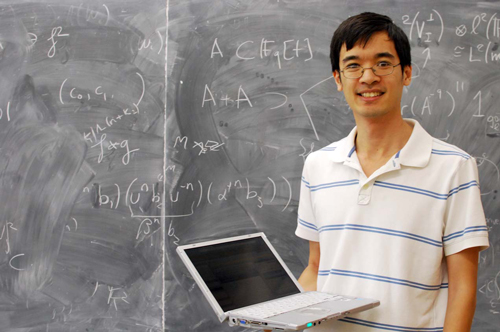 UCLA Professor Terence Tao runs a popular mathematics blog titled "What's New" that serves as an interactive learning space for more than 40,000 readers worldwide. An academic paper based entirely on six months' worth of collaborative research through the site is now ready to be submitted.
When he was 2, he would watch his grandmother draw numbers with detergent while she was polishing the windows. At the age of 13, he was enrolled as an undergraduate student at Flinders University, Australia, penciling mathematical computations.
The calculations grew more complicated in his dissertation for Princeton University at age 20.
Four years later, Professor Terence Tao was chalking mathematical symbols in one of the lecture halls of the Math Sciences Building as the youngest UCLA professor.
Tao currently runs a blog that serves as a graduate seminar to more than 40,000 mathematicians worldwide. UCLA graduate students visit the blog to access lecture notes.
Mathematicians participate in the open discussions and visit for updates on Tao's research developments.
Amateur mathematicians check out his summaries on expository articles and math conferences; a research paper has been produced as a result of blog collaboration.
In February 2007, after he received an unexpected solution to a mathematical question he had posted on his Web site "What's New," which had limited interaction with an audience, Tao converted his "What's New" site to a blog.
A few days later, he posted one of his first blog entries, comparing quantum mechanics to "Tomb Raider."
When comments flooded in, Tao said he realized the interactivity of a blog.
"There is more and more good content on the Web," Tao said. "For instance, Wikipedia('s) math articles have become extremely good, almost to the point where you can teach yourself (the material)."
Instead of reiterating certain "tricks of the trade" in graduate level math every year, Tao directs his students to the articles in his blog where he provides the information.
"It is almost silly for teachers to teach a course such as calculus every year when there is little change in the material," said Tao, recipient of the Fields Medal, the equivalent of the Nobel Prize in the realm of mathematics.
Instead, archiving a set of lectures and improving it over time would be more effective, Tao said.
Josh Zahl, a second-year graduate student of mathematics, finds the blog an extremely effective tool and recommends other teachers to adopt the method.
"He strikes a very good balance between details and brevity," Zahl said. "In terms of detail and usefulness, (the notes) are comparable to textbooks."
Zahl also reads Tao's summary articles to enrich his general knowledge in math, he said.
"He does an extremely good job summarizing," Zahl said. "(Tao) provides background information and puts the result in context." Zahl said. Zahl was able to understand many papers even without sufficient knowledge on the subject.
The blog has also facilitated research from professors and mathematicians across the nation.
After six months and more than 1,000 comments from more than 50 mathematicians, a paper titled "A new proof of the density Hales-Jewett theorem" is ready to be submitted under the pseudonym D.H.J. Polymath because of the difficulty in determining how much each person has contributed. The paper is one of the first to be collaborated through a blog.
Though Tao has experience with long-distance collaboration, he said cooperating through a blog was an exciting experience.
Instead of e-mailing back and forth with his coworkers, new comments arrived every hour. Not all of the comments contributed substantially to the paper, but the environment was more open.
"It almost became addictive," Tao said, laughing. He had continuously refreshed the page for new comments.
Tao eventually met about 30 of the contributors, most of whom are professional mathematicians.
Only dozens of mathematicians today have participated in an online collaborative research, Tao said.
Professor Christoph Thiele, who has worked on over a dozen research projects with Tao, said Tao had inspired him to teach and stay at UCLA.
"He is nice and easy to work with, and he is a genius at the same time," Thiele said. "More often than not, you don't get (those qualities) together."
For more information, visit terrytao.wordpress.com.