Opportunity Green Business Conference held to promote eco-friendly practices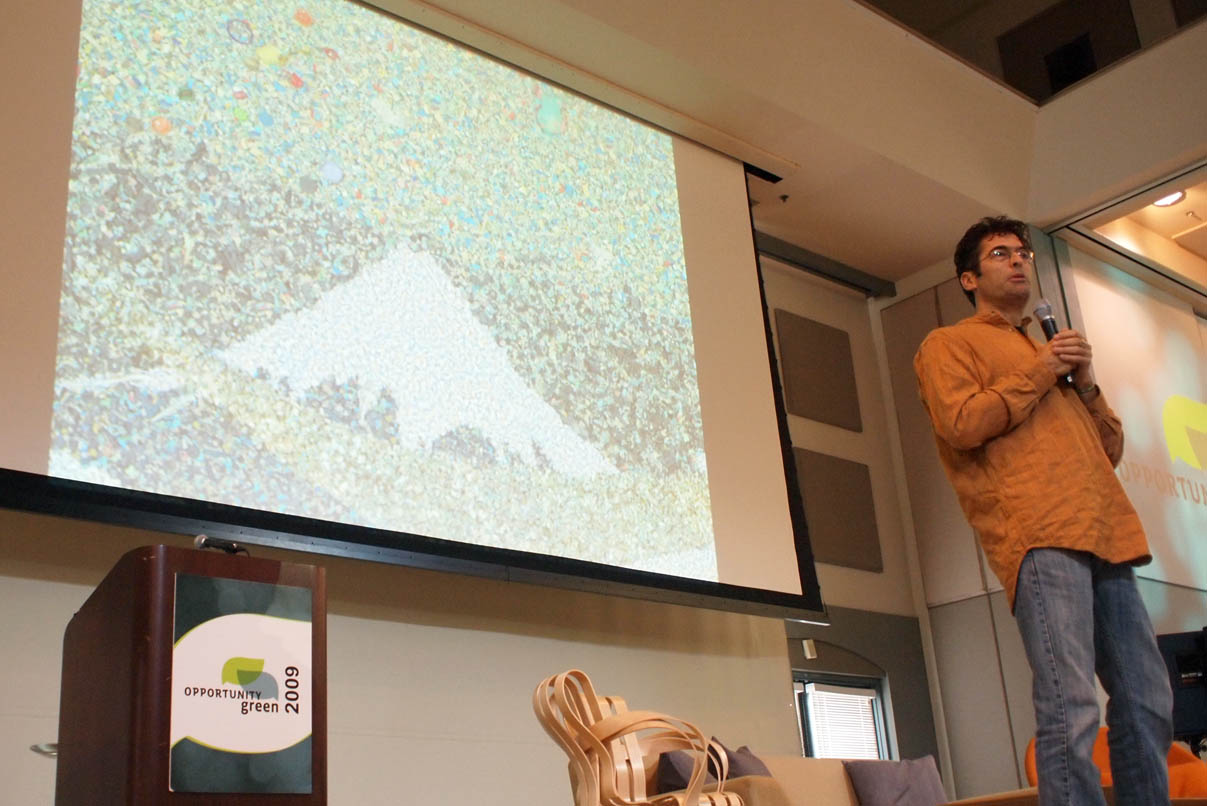 Chris Jordan presents a collage comprised of recycled objects at the third
annual Opportunity Green Business Conference held in Ackerman Grand Ballroom.
A race car driver, a fashion director, a NASA researcher and city government officials were only a few of those who shared their ideas and experiences about sustainable business practices this weekend at the third annual Opportunity Green Business Conference.
The event, held at Covel Commons, was aimed at finding interdisciplinary solutions by bringing together industry professionals and researchers involved in sustainable corporate responsibility.
Opportunity Green was co-founded by UCLA engineering alumnus Mike Flynn and sponsored by the UCLA Anderson School of Management.
Ranging from international corporations such as Nike, to local start-ups, nonprofit organizations, universities and city governments, the conference participants allowed for discussions across industries and disciplines all centered around the same goal: trying to make money while saving the environment.
Nurit Katz, sustainability coordinator at UCLA and one of the opening speakers at the event, said many of the ecological issues now require multisector and interdisciplinary collaboration beyond environmental science and engineering.
The conference featured not only researchers in the clean technology and renewable energy fields, but also photographers, filmmakers, designers and journalists who were able to interact with each other not by industry, but by goals.
Katz co-led one of the small group workshops with a professor from Cal Poly Pomona, which discussed how employees can quantify the financial costs and benefits of sustainability efforts. The workshop, which was held in the Northwest Auditorium, was crowded with entrepreneurs and executives.
Although the majority of the conference sessions and workshops were geared toward businesses, many students and alumni were involved in the making and producing of the event.
Kevin Lew, a UCLA alumnus and operations manager of the event, was one of the people who made sure the event itself was eco-friendly in terms of carbon offset emissions, food and beverages, and energy efficiency.
Lew, who started as an intern, said the event "has grown in terms of execution, bringing ideas to fruition and sustaining symbiotic relationships."
Since its inaugural event at Ackerman Grand Ballroom two years ago, Opportunity Green has grown to include a start-up venture capitalist competition and a week-long bike ride from San Francisco to Los Angeles preceding the event, Lew said.
Eddie Pakdaman was the project manager for Team Green, an aspect of the conference introduced this year specifically to target the "greening" of the event.
According to Pakdaman, the group included over 125 volunteers, who were in charge of preparing the venue and also cleaning and measuring all of the waste collected at the event. Every waste station at the event was coupled with a volunteer who made sure the participants themselves properly disposed of their trash.
"This is the first time that Opportunity Green has done this, so we are trying to set a standard. … It is so labor intensive "" a lot of training of volunteers and collaborating to make sure everyone knows what is compostable and recyclable," Pakdaman said.
For Jason Montgomery, a business administration and environmental studies student at Santa Monica College, volunteering was a way to be a part of the event without the high price tag and to complete credits for the sustainability club at his school.
"I was inspired to volunteer because I wanted to hear the speakers," Montgomery said.
At the conference, Montgomery, who is trying to start his own environmental and agricultural nonprofit organization in his neighborhood of South Central Los Angeles, was able to meet other college students interested in similar causes.
For three students from Harvey Mudd College, however, their tickets and transportation were paid for by the school's Center for Environmental Studies.
Ozzie Gooen, a second-year engineer from Harvey Mudd, said he was able to talk to venture capitalists and others in the fields that he is interested in working.
"Coming to conferences like this really changes your perspective on your future and the job market," he said.