Coach keeps faith despite low stats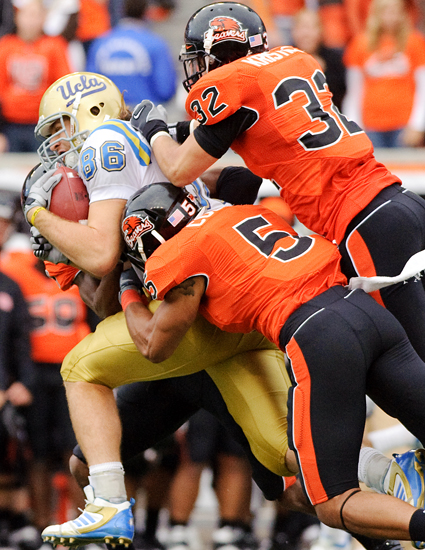 Redshirt senior tight end Logan Paulsen drags Oregon State sophomore safety Cameron Collins and senior linebacker Keaton Kristick. Despite Saturday's loss, coach Rick Neuheisel remains optimistic of the Bruins' effort thus far this season.
UCLA has not won a football game during fall quarter. The Bruins have lost all five of their games in October.
Despite its statistical woes, coach Rick Neuheisel refuses to judge the character of his team by sheer numbers.
"I want to be sure everyone understands I am not discouraged by the effort," he said.
On Saturday in Corvallis, the Bruins (3-5, 0-5 Pac-10) lost their fifth consecutive game, falling to Oregon State 26-19, their slimmest margin of defeat yet. UCLA came back from a 19-3 deficit entering the fourth quarter, tying the game at 19 with just more than two minutes to go.
The Beaver offense manufactured a 70-yard drive ending in a rushing touchdown by wide receiver James Rodgers with 44 seconds to go.
Redshirt freshman quarterback Kevin Prince and his offense had a 61-yard drive into OSU territory but ran out of time just 15 yards from the end zone.
In spite of the final score, Neuhseisel said he was not discouraged by the performance of his players, pointing specifically to the fourth quarter's near-heroic performance that Prince and his unit facilitated.
"Hopefully we broke the lid off our offense a little … and can come out and play like that for four quarters," Neuheisel said.
In the fourth quarter against Oregon State, UCLA underclassmen dominated the Bruins' offensive surge. Prince went 9-for-13, amassing 198 yards and two touchdowns. Sophomore wide receiver Nelson Rosario caught four passes for 126 yards, an average of 31.5 yards per catch. Wide receiver Taylor Embree, also a sophomore, had three receptions for 45 yards in the final period.
Rosario and Embree currently lead the Bruins with 43.6 and 49.2 average yards per game, respectively.
All told, when looking at the overall picture the statistics indicate noticeable discrepancies in execution and efficiency on both sides of the ball.
Take the defense. Neuheisel identified a few key areas "" such as assignments, tackling and recognizing plays when they are there to be made "" that need improvement and will be looked at closely in practice this week as the team prepares to host Washington.
In Pac-10 play this season, teams opposing UCLA converted 40 percent of their third downs. In 2008, UCLA only permitted 30.6 percent of third-down conversion attempts.
Offensively, all players in general and the quarterback in particular, need to be more consistent and reliable. Prince's passing efficiency is a mere 55.1 percent. He has averaged 175.3 yards per game and has just four touchdowns, half of which he collected three days ago.
After Saturday's loss to the Beavers, Prince identified his erratic play as an area in need of improvement.
"We have to be more consistent. When I say that, I'm really talking about myself," Prince said after the game. "We can't go from game to game and have ups and downs like this. We have to put games together every week."
After five straight losses, Neuheisel upholds his belief in the mental strength of his players and the potential they possess to achieve that critical streak-breaking win.
"We try again," he said.
The Wizard's wisdom
At Monday's press conference, Neuheisel shared with the media his most recent search for words of wisdom.
"In the coaching business when you're in the midst of tough times, you always look for some direction," he said.
In the last day or so, Neuheisel sought solace in the words of the Wizard of Westwood. John Wooden, former UCLA basketball coach and winner of 10 NCAA men's basketball championships, is known for his acumen in offering insight. To summarize his most important points he created "Pyramid of Success."
Neuheisel said, "Winning is important, but it's not the way you judge yourself. You keep judging yourself by how hard you're trying, working and how much you're improving.
"I think it's important that our players, especially the really young ones in the program, remember that as long as we're improving and continuing to work hard, those wins will come."
QUICK HITS: Redshirt freshman cornerback Aaron Hester injured his right leg in the OSU game, but the X-rays indicated no serious damage. Neuheisel is hopeful Hester will return to practice this week. Saturday was the first time Hester saw action since cracking his right fibula in the season opener on Sept. 5. Redshirt sophomore center Kai Maiava suffered a hyperextended right elbow but is not expected to miss any playing time.