Yes Men film says "˜No' to corporate corruption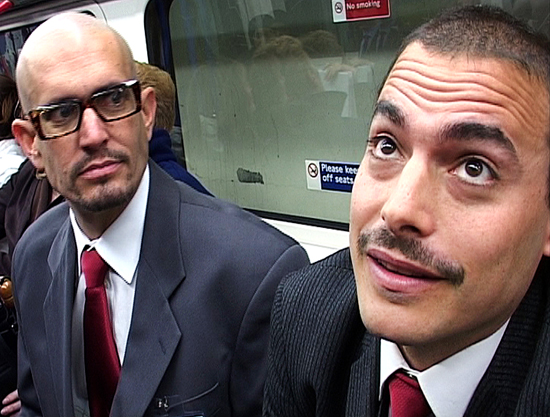 Political pranksters Andy Bichlbaum and Mike Bonanno will host the West Coast premiere of their film, "The Yes Men Fix the World," at the UCLA Hammer Museum on Wednesday, Oct. 21. The duo pull off elaborate impersonations and other tricks to reveal corporate corruption.
In their quest to reveal corporate corruption and the dangers of letting a free market dictate society, The Yes Men won't take no for an answer.
So they wear thrift-store suits and pose as the executives of billion-dollar corporations, publish fake newspapers and invite themselves to conferences as they seek to expose injustice and incite activism.
The latest exploits of these two political pranksters, Andy Bichlbaum and Mike Bonanno, who operate under the moniker "The Yes Men," are chronicled in their newest film, "The Yes Men Fix the World," which they also codirected. The documentary, the pair's second film, will have its West Coast premiere at the UCLA Hammer Museum on Oct. 21.
The Yes Men's habit of impersonating executives emerged back in 1999 when Bichlbaum and Bonanno found themselves unable to attend the protests against the World Trade Organization in Seattle. So, they did the next best thing "" they set up a fake WTO Web site, poking fun at its policies. When invitations to conferences intended for the real World Trade Organization started to come their way, Bichlbaum and Bonanno decided to accept, and the Yes Men were born.
Viewers will see pranks such as Bichlbaum on the BBC posing as a spokesman for Dow Chemical Co., promising that his company will finally accept responsibility for a chemical spill in Bhopal, India, as well as the Yes Men handing out copies of a fake New York Times newspaper with headlines such as "Maximum Wage Law Succeeds" and "Nation Sets Its Sights on Building Sane Economy."
Darin Klein, programs coordinator at the Hammer Museum, said the evening will include demonstrations with props from the film, a question-and-answer session with Bichlbaum and a live stunt by Reggie Watts, a performance artist featured in the film. Klein organized the screening, which is being copresented by the Hammer Museum and the UCLA Film and Television Archive.
Past Hammer events that have featured political commentary have proved popular.
"We have a really strong attendance at the public programs that we do … that focus on social issues and current events. So I knew that we had an audience for things of a political nature like The Yes Men," Klein said.
Bichlbaum said that their ultimate goal with the film is to highlight the folly of our current market-run economy and to inspire people to take action, which is why Klein encourages UCLA students come to see the movie.
"College-age is the perfect age to get involved with politics and to get involved with activism. … So hopefully seeing this film will inspire students, and they'll see how easy it is to take matters into their own hands and to protest and to form activist groups, … anything it might take to get their voices heard," Klein said.
"The Yes Men Fix the World," which opens in Los Angeles at Laemmle Theatres on Nov. 6, premiered in New York on Oct. 7, where it was well-received.
"The audience's reaction to the film was very good; we've gotten a lot of standing ovations and people have taken to the streets afterward … so the audience is mobilized and activated," Bichlbaum said.
Marina Goldovskaya, a professor who teaches a documentary workshop at UCLA, said she recognizes that documentaries can be important tools in disseminating a message.
"They can create a dialogue and make people pay attention to things they've never thought about," Goldovskaya said, citing the popular Michael Moore movies as an example of using a documentary to successfully generate debate, whether or not people agree with a message.
"A documentary can't change things in a society quickly, but it can bring about discussions," Goldovskaya said.
While the Yes Men film deals with serious issues and has a strong political message, Bichlbaum and Bonanno still aim to entertain.
"The Yes Men are very clowny and over the top, and so while it's political, it is also super funny," Klein said.
Bichlbaum said he encourages students looking to make a difference to find something they're passionate about and then go from there.
"Figure out what you want to do, and join up with other people who are excited about doing something and have similar aims. Working with people is the only way to do it. Just find like-minded souls and join up with them. It's as simple as that," Bichlbaum said.
For students who attend the screening, the Yes Men might have a surprise in store after the film.
"We may be even leading an action after the screening. … I don't want to make any promises, but there may be some hijinks going on," Bichlbaum said.