UCLA implements Dismount Zone Policy for people on bicycles, skateboards, rollerblades and scooters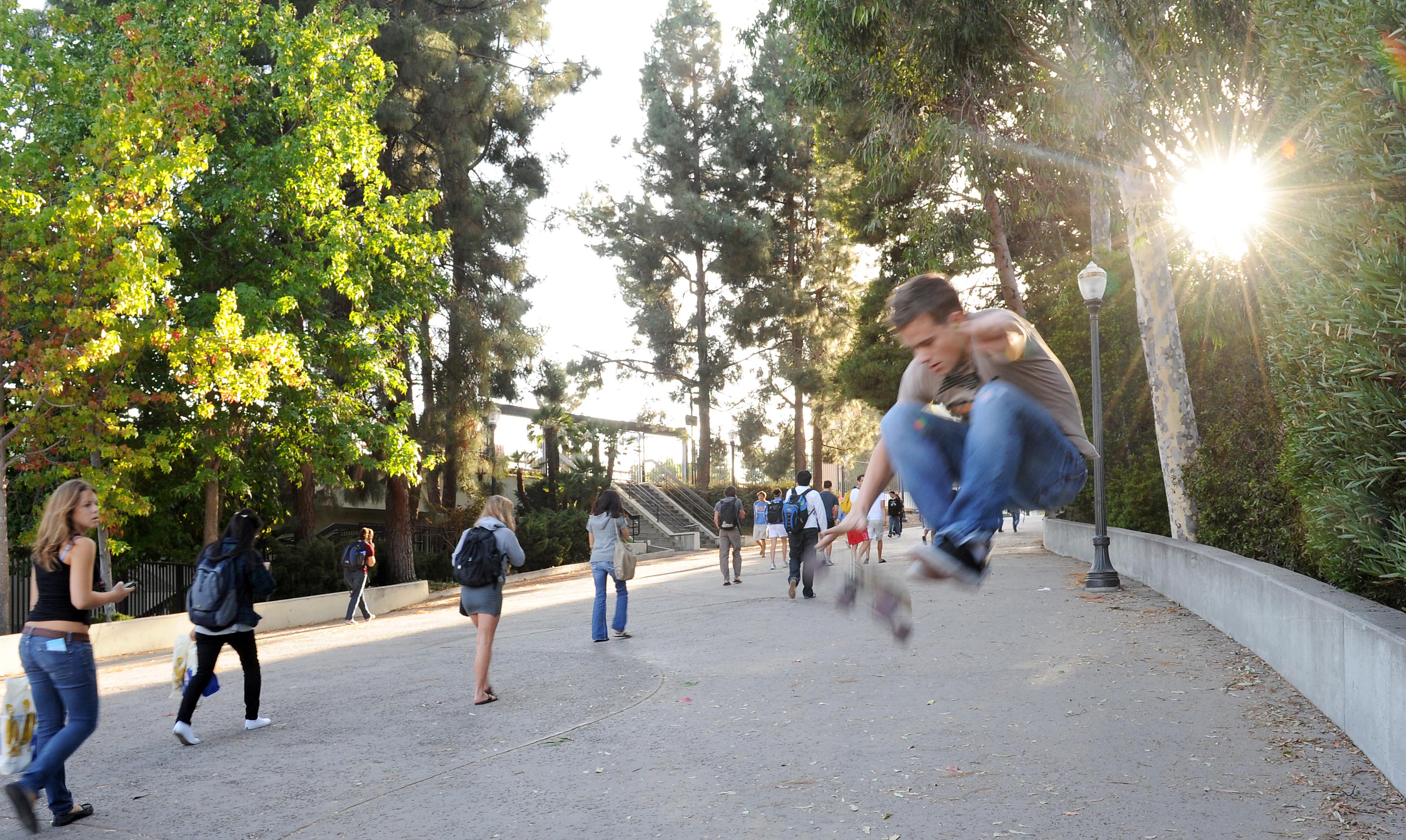 Fifth-year mechanical engineering student Alex Limbach started skateboarding as a freshman, but he won't be allowed to skate on Bruin Walk anymore with the new Dismount Zone Policy.
Starting Oct. 12, university police will begin warning cyclists and skateboarders riding through the Bruin Walk area about a new Dismount Zone Policy.
Along with commuters that skateboard or bike, people that rollerblade or scooter must dismount through three designated zones or risk a $202 citation.
Signs have been posted by the three areas. The first is the main Bruin Walk way from the top of De Neve Plaza to Powell Library. The second is the Bruin Plaza area by the Student Activity Center, Wooden Center and Ackerman Union. The last is the sidewalk along the Strathmore tunnel corridor along Parking Structure 8.
The decision was made as a collaboration between UCLA Transportation and UCPD, said David Karwaski, planning and policy manager at UCLA Transportation.
"Basically, this has been a public safety issue. … There's such a high level of use on Bruin Walk that it makes sense for conflicts and injuries," said Karwaski. "But safety is the bottom line."
Nancy Greenstein, UCPD spokeswoman, emphasized that UCPD's priority is to make sure everyone is educated about the new rule and warned about the tickets.
After a period of warning offenders, campus police will start issuing tickets. Tae Lim, a visiting astrophysics student from UC Berkeley, said, "Ticketing might be too cruel, especially because if the school encourages people to bike, and if they don't provide good bike areas, they should make more bike-friendly areas instead."
Neither UCLA Transportation nor UCPD were involved in the pricing of the citations.
Aside from alerting commuters about the new policy through the new signs on the walkways and flyers in student living areas, UCLA Transportation is also working on a campus map of recommended routes for students and employees looking to bike or skateboard to campus.
Joseph Patterson, a fourth-year bioengineering student and UCLA Community Bike Shop employee said he understands that safety is a necessity but noted the policy is inconvenient for commuting to campus.
"As a member of the UCLA cycling team, we meet at the Bruin. It damages our (shoes) to walk "" but (the policy) makes sense," Patterson said.
Restricting the policy only during class commuting hours, he said, would be a better option.
Although this option was considered, it would be easier to enforce a rule at all times, Karwaski said.
"When you are crafting essentially code or regulation, they need to be fairly clear-cut. … No slice and dice, no time of day you can or can't."
Marisa Mead, a third-year molecular, cell and developmental biology student, and a regular bike commuter, has started to walk her bike down Bruin Walk after hearing about the policy.
"It's definitely scary riding on Bruin Walk when there's a lot of people around … but the Strathmore (policy) is also very inconvenient. That's the only other way I'd get to campus, so people would have to take a very long route."
Although only two bicycle-related traffic accidents have been recorded by university police since 2007, complaints from the community about the speed of skateboarders and bicyclists are fairly common, according to Greenstein and the UCPD Annual Report.
Karwaski also noted one particular accident down Strathmore, in which a pedestrian sustained a serious brain injury after colliding with a skateboarder.
Peter Flaherty, a Westwood resident who frequently walks his dogs around the area, believes the dismount policy is a good decision.
"I almost got hit by a guy who got knocked off of his skateboard. You have kids rollerblading, bicycling, jogging through here."