Barber shop stays true to 1920s roots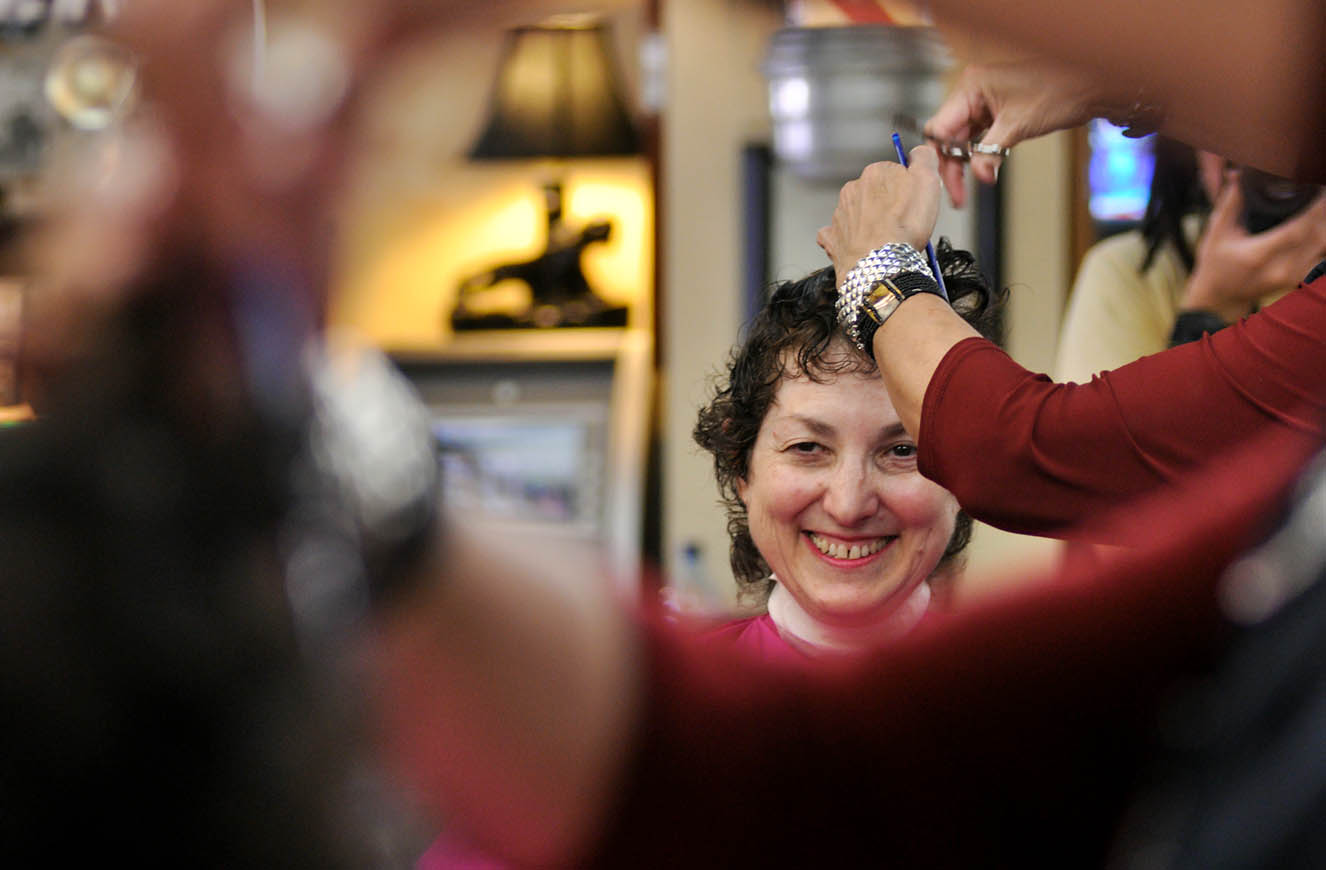 UCLA alumna Carol Pearlstein looks into the mirror as she gets a haircut at Oakley's Barber Shop, the oldest business in Westwood. Oakley's celebrated its 80th anniversary this month, allowing frequent clients to reflect on the changes the store has undergone, along with the Village in general.
Before Gabriel Friedland moved to Westwood more than 15 years ago, his hair was a problem.
"I always had thick, curly hair," Friedland said. "No one could cut it right. I would be walking around with lopsided hair."
His younger 14-year-old self found a little barbershop named Oakley's tucked away on Gayley Avenue. Inside, he discovered vintage work stations, spinning barber poles and a friendly staff.
Soon Friedland befriended barber Albert Duran, and he has never gone anywhere else for a good hair cut since.
"Now even when I'm going bald, I still come here because I enjoy coming here. Albert and I either talk or we have a comfortable silence, and what's most important is that he gets the hair right," the longtime customer said.
Customer loyalty like Friedland's helps keep Oakley's Barber Shop open, and the oldest business in Westwood celebrated its 80th anniversary this month.
Many frequent clients like Friedland said they come back to an Oakley's that has subtly changed with the times but has maintained its traditional ambiance as a barbershop.
Dan Auerbach, a 66-year-old resident of Calabasas, said he has come to Oakley's since his teens.
"It's always been a barbershop where men could go and experience what a barbershop is supposed to be," Auerbach said in Duran's swivel chair. "Let it stay for another 80 years, Albert, I want to be wheeled in here when I'm 100."
Former owner Bert Oakley moved his family's barbershop business from Utah to California in the mid-1920s, and eventually set up shop in Westwood in 1929 after being approached by Edwin Janss, a land developer interested in creating a shopping center around UCLA.
In its heyday, Oakley's had 28 workstations and serviced men and women with haircuts, chemical treatments, shaves, shoe shinings and manicures.
However, Oakley's was not immune to major cultural changes, especially during the '60s when many young people opted to not cut their hair. Duran said one of the three original Westwood barbershops, a competitor of Oakley's, closed down during this period due to a lack of business.
Despite ups and downs, little has changed at the current Gayley shop, and many clients said they found comfort in the traditional shop with a strong time-capsule affect.
Duran, a barber with 31 years of experience, said he services generations of the same family.
"They don't have to explain to us what kind of haircut they want. They just sit there because we know what they like," Duran added.
Duran's generational clients have sat in the original but recently upholstered black chairs from the '20s and '50s.
Some customers may have sat in the same work booths as Hollywood entertainers such as James Cagney, Humphrey Bogart, Bing Crosby and other contemporary industry giants like J.J. Abrams.
The barbers' antique workstations also date back to many decades ago, and vintage glass mirrors with 1890s art prints frame the shop's walls.
Oakley's still remains bustling with business and activity; often a dozen pairs of clippers cut and trim heads of hair while reflecting the soft, warm lighting.
Renee Bienenfeld, a former Westwood resident, said her husband still gets haircuts at Oakley's since they moved to California in 1957.
"Oakley's is kind of eclectic and has barber poles that you don't really see (elsewhere) anymore," Bienenfeld said.
But those helping to keep the Oakley's atmosphere vibrant include the barbers and staff.
The majority of the barbers said they have worked at the local establishment for more than 15 to 30 years, and they pride themselves for staying at the same friendly place.
"We don't have rotating barbers. We don't move," Duran said, chuckling and holding his clippers. "We are probably all going to die here."
Customers and barbers said that Larry Oakley, the business's former owner who died in 2008, was a significant factor to the shop's success.
Larry Oakley managed the business since 1957 and developed a long list of dedicated clientele.
Mark Padilla, a customer for 31 years, said he and Larry Oakley often got together for his birthdays before Oakley's illness. Padilla lost his own father a few months within the barber's death from illness.
"Larry was a cool guy. He was exceptionally cool," Padilla said.
Many of his former employees cite the former owner's management and friendliness.
Farnaz Darmian, hairstylist and barber, said she learned from Oakley's way of dealing with clientele.
"He cared about the service and enterprises. It made a difference," she said.
Another barber, Laura Valadez, said she has clients request sitting next to Larry Oakley's picture on the wall.
"They look at Larry's picture, and it's like he's still here. I feel his presence still here all the time," Valadez said.
Clinton Schudy, the current owner of Oakley's, said he tries to maintain the same atmosphere that the former shop owner kept for so many decades.
Despite having a loyal fanbase, Oakley's staff and regulars said newcomers are welcome in the warm family setting.
"Getting a haircut is a nice thing to do before work, after work or on the weekend. It's not really a chore," Friedland said. "It's kind of a nice diversion to come here."
When Duran called Friedland to his barber chair, he stood up and said Oakley's is not just any flash-in-the-pan business.
"The staff know what they are doing," he said. "As long as there are people out there who want to get their hair cut at a friendly environment, I don't see why Oakley's wouldn't be here."