Bruins are all about service in new Volunteer Day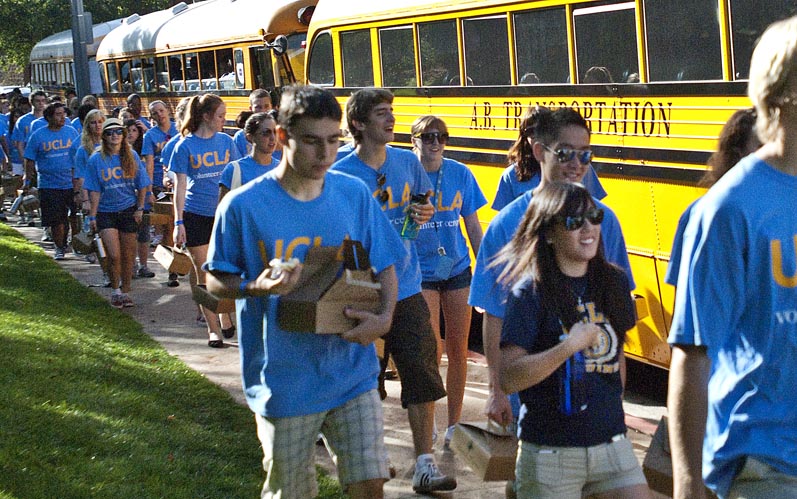 Participants of UCLA Volunteer Day begin to board buses Tuesday morning before heading to University High School.
Sept. 23, 2009 11:28 p.m.
The bell to end class prompted a flood of University High School students to mix among nearly 500 UCLA students working on their campus.
"Wow, this looks great! Thank you!" said a passing high school student upon seeing the newly painted, bright blue gymnasium.
Volunteer Day, the newest part of Welcome Week, took place on Tuesday when UCLA mobilized incoming freshmen and transfer students in what organizers called the single largest volunteering event in the nation.
It took 103 buses to transport the 4,600 volunteers to eight locations throughout Los Angeles, including Griffith Park, Point Dume, Veterans Affairs hospital and cemetery, and five local Los Angeles Unified School District campuses.
As part of a public university, Chancellor Gene Block said that he recognizes the importance of public service and the commitment to help the local community.
"I would like to see this become an annual event, but the most important thing is for the volunteer effort to continue throughout the year," Block said.
Block added another characteristic to the true bruin values: service.
"We feel that we can't make a stronger statement of the seriousness of UCLA's commitment to community participation before they take their first class," said David Bloome, the campaign director for the Volunteer Center.
Also present at Volunteer Day was Mayor Antonio Villaraigosa, a UCLA alumnus, who helped Block welcome the volunteers and organizers at Gompers Middle School.
Some of the tasks Eric Davidson, principal of University High School, delegated to the Bruins included painting, cleaning, landscaping and constructing benches.
"It would have taken decades to get done today what the students are doing today," Davidson said.
Although cosmetics are not a high priority, they make a big difference how the school is viewed in public, Davidson added, saying that the projects are coming just in time for the school's open house later in the week.
UCLA students working at the high school stood out from the high schoolers in their bright blue and yellow "Volunteer Day" shirts.
"I'm volunteering!" said Ngoc Bui, a first-year biochemistry student, as she held up her hand, smeared in orange paint.
Bui and her friend Nancy Vu, a first-year nursing student, said they met a few days ago at a barbeque, and said they are excited to start their UCLA career early by participating in an event like Volunteer Day.
The girls were given the task of repainting the high school's letters orange and blue, which were recently discovered behind some ivy, said Neli Georgiev, a volunteer from the university's corporate financial services.
Georgiev said the principal saw the letters in an old photo, and after trimming back the ivy, didn't have the right color paint to touch them up, a dilemma that Bui and Vu were enthusiastic to remedy.
Because of the sheer size of the event, UCLA partnered with L.A. Works, a nonprofit organization, to organize Volunteer Day, said Antoinette Mongelli, the executive director of the Volunteer Center.
Mongelli said that Volunteer Day was made possible by a $250,000 grant from the Entertainment Industry Foundation, which is launching a four-year campaign on volunteerism and service called "I Participate."
"No state money went into this. It was all donated," she said.
Block said he encourages students to visit the newly designed Volunteer Center, an online resource that provides Bruins an easier way to pursue civic duties.
Andrew McClure, resident director of Acacia and Birch, said that students were told about the day at their orientation meetings and were highly encouraged to attend.
"We did not force people to go but highly recommended it because we wanted to make people excited to give back to the community," he said.
The Volunteer Center can be accessed at volunteer.ucla.edu.