UCLA ranked ninth in Sierra Club's top sustainable campuses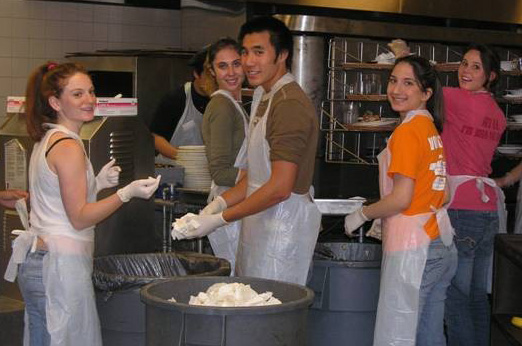 While walking across UCLA's campus, one immediately notices the recycling tripod, the mixed paper bin, and the transportation vanpools that pass by every few minutes.
With this eco-friendly environment, UCLA was recently ranked ninth on the Sierra Club's third annual list of the top colleges committed to advancing sustainability on their campuses.
The organization sent surveys to sustainability experts at schools across the U.S. and scored each campus in eight categories: academics, administration, efficiency, energy, food, purchasing, transportation and waste management.
In the categories of transportation and waste management, UCLA received high scores of a nine and 10, respectively, said UCLA Sustainability Committee Chair Cully Nordby.
UCLA received its lowest score, a three, in the energy category, but Nordby said that the university has focused its energies on retrofitting existing heating, ventilation and air conditioning systems, rather than installing more costly solar energy sources.
"In this way, we think we can meet our targets without having to buy our way there," Nordby said. "Which in some respects is definitely a more admirable goal, at least for the time being."
These scores were calibrated to create a rating system based on a total of 100 points, said Avital Binshtock, lifestyle editor of Sierra Magazine.
UCLA's final score of 96 generated great excitement among the UCLA Sustainability Committee and the student leaders of Ecology, Economy, Equity, who also take part in the student-initiated Education for Sustainable Living Program.
"I think it is very exciting to be ranked in the top 10, because we have done a lot in the past 10 years in terms of sustainability," said UCLA Sustainability Coordinator Nurit Katz, who also serves as a member of the Sustainability Committee.
University of Colorado at Boulder topped the list, receiving a final score of 100 and two 10s in transportation and waste management.
In addition to UCLA, two other UCs made the top 10 cut-off, as UC Santa Cruz and UC Berkeley ranked seventh and eighth, respectively.
This healthy competition between schools is part of the reason that the Sierra Club decided to generate an annual list of the greenest campuses.
"We want to challenge universities to step it up," Binshtock said. "This third party analysis motivates every school to be more sustainable."
Students have also played a role in the university's sustainability efforts, like third-year geography student Isis Krause.
Krause led the Action Research Teams last year, which, along with a lecture series and a film series, make up the three components of the Education for Sustainable Living Program, initially established in 2004 at UCLA.
The student-led organization educates students and involves them in research that raises awareness about sustainability. Within the past two years, the number of student research teams has grown to encompass eight teams, 47 participants in total, Krause said.
One of the projects that the Action Research Teams have conducted is the Waste Watchers project, founded in 2007 by UCLA alumnae Heidi Winner and Alisa Ahmadian.
Winner and her fellow student teammates collaborated with the administrators of dining services to measure the amount of food students wasted per meal per day last winter quarter, concluding that about 3,500 pounds of food waste was created every day, Winner said.
"The project is an example of how open UCLA administrators are for creating sustainability on campus and how easily students can get involved if they have a passion for creating a green environment," Winner said.
Katz and Nordby attribute the improvements in sustainability to the dedication of both the campus staff and student body.
"I've been incredibly impressed with how dedicated the student body is in creating a greener environment on campus," Nordby said.
In just 10 weeks this summer, seven student interns, five undergraduate students and three graduate students worked under the guidance of Katz to gather data that will be necessary to complete UCLA's first sustainability assessment using the Sustainability Tracking, Assessment, and Rating System.
Through a $32,000 grant from The Green Initiative Fund, which is a fee voted on by students in 2008 that subsidizes UCLA sustainability projects, these interns collected data for 100 different areas of sustainability, varying from coffee use to waste minimization, Katz said.
Once compiled and finalized, the assessment will be published early next year, Katz said. This report will reveal where UCLA stands in terms of sustainability in comparison to other campuses and will show the areas in which UCLA needs to improve, Krause said.
Such student initiation and partnership with administrators signifies students' rising interest in a greener campus, Nordby said. As academic director for the UCLA Institute of the Environment, she oversees the environmental science major and has noticed that it is one of the fastest growing majors on campus, she said.
Still, while UCLA has significantly reduced its carbon footprint in the environment within the past several years, much remains to be done.
Winner said that, while UCLA's recycling program is very effective, it might be improved if recycling bins were placed in more effective spots and if composting were expanded to include areas outside the dining halls.
Although the efforts of students and administrators alike have resulted in the university's high ranking on the Sierra Club's list, Winner's candid assertion about the individual's role rings true with many. "Our programs and initiatives are beneficial to an extent. It really comes down to the individual and how conscious they are."