Fall marks return of Bruin Bash, arrival of new event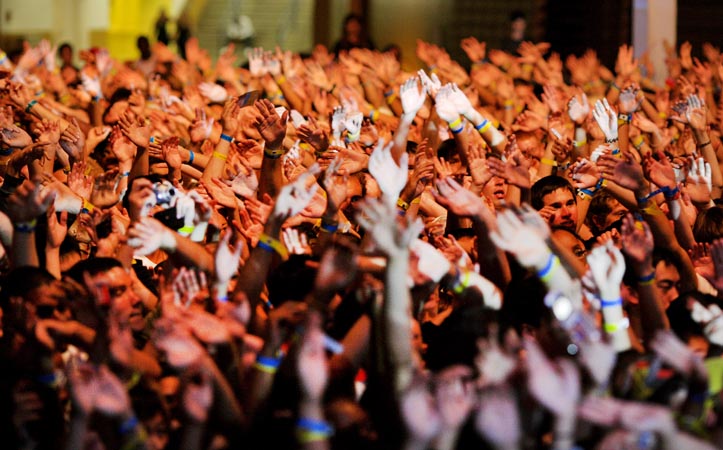 Last year's Bruin Bash filled the floors and stands of Pauley Pavillion. The concert featured the band The Cool Kids and singer Estelle. This year's Bruin Bash will feature LMFAO, Clipse and DJ Skeet Skeet.
Welcome Week 2009 will attempt to balance the worlds of entertainment and service through its two major events: Bruin Bash on Sept. 20 and the New Student Volunteer Day on Sept. 22.
The week will include staples such as the Enormous Activities Fair, Res Fest and one of UCLA's biggest concerts of the year, Bruin Bash.
Musical groups LMFAO, Clipse and special guest DJ Skeet Skeet will headline the concert.
Cultural Affairs Commissioner Abigail Faelnar said that this Bruin Bash will have a unique feature: a lounge on the Pauley Pavilion concourse that will be open during the dance portion of the event. Sponsored by UCLA Greek Life, the lounge will include music hosted by AMP 97.1, a photo booth, free food and surprise guests.
Simultaneously, a free sneak peek of the movie "Law Abiding Citizen," starring Gerard Butler and Jamie Foxx, will be shown in the Ackerman Union.
Faelnar said the most difficult part of the planning process was booking an act to perform, especially when UCLA students have high expectations.
Mariana Barajas, a second-year undeclared student, said that she loves LMFAO because they are creative and she enjoys dancing to their songs, but she didn't have much previous experience with the other artists.
However, second-year nursing student Brittany Johnson said, "I think they could've chosen groups that have a few more well-known songs. UCSB is having the Ying Yang Twins for their welcome week. We should have people like that."
Faelnar said she also used to wonder why Bruin Bash didn't book top 40 artists. When she became one of the planners, she realized that many well-known artists ask for four times the event's budget for performers.
Her colleague Joanne Lin, the Campus Events commissioner, added, "We are UCLA, but it's entirely a money issue. Artists like Kanye West request $200,000, which is our budget for the entire year. We look for quality acts that a majority of students will enjoy. Like in everything, we can't cater to everyone's tastes, but we do hope that everyone will enjoy the show."
Faelnar said that their $100,000 total budget for Bruin Bash is funded by the chancellor's office and the Undergraduate Students Association Council.
However, any remaining costs are split and absorbed by the Cultural Affairs Commission and the Campus Events Commission. About 60 people worked to coordinate Bruin Bash this year, Lin said.
Representatives from multiple groups, including the Center for Student Programming, UCLA Greek Life, UCLA Alumni Association and more, have been meeting every other week to plan the event, Faelnar said.
"The day after (the undergraduate student government) elections were over, Joanne and I started meeting to plan Bruin Bash. We spent June and July booking artists, August finalizing contracts, and now we're smoothing out the final details," she said.
Faelnar also said that because Bruin Bash has grown as an annual tradition, expectations have continued to grow as well. She said outdoing the previous year's efforts is part of the challenge of planning the event.
While Bruin Bash is a well-established UCLA event, the New Student Volunteer Day may be a tradition in the making.
In what is planned to be the largest single-day service event ever attempted by a university, 5,000 students will travel to eight sites in Los Angeles on 100 buses on Sept. 22, said Antoinette Mongelli, executive director of the UCLA Volunteer Center. She also said that Chancellor Gene Block and Los Angeles Mayor Antonio Villaraigosa will serve alongside students as well.
"We will unveil the fifth element of what it means to be a true Bruin: service," Mongelli said. "We believe it's so important that students experience this day of service that we're holding it before they even take their first class."
Mongelli said the day of service is funded entirely by a grant from the Entertainment Industry Foundation, and no university money was used. The volunteer day will commemorate the birth of the UCLA Volunteer Center, a Web site that will go online Sept. 21, Mongelli said.
Mongelli called the Web site a "one-stop shop for service and volunteerism."
"We are challenging everyone to do one act of service per month: students, staff, faculty, alumni and friends. Those who can do this are defined as heroes," she said.
Whether attending Welcome Week mainstays like Bruin Bash or creating new traditions like the New Student Volunteer Day, students can be prepared for a welcome week like none before.