Apply sunscreen as priority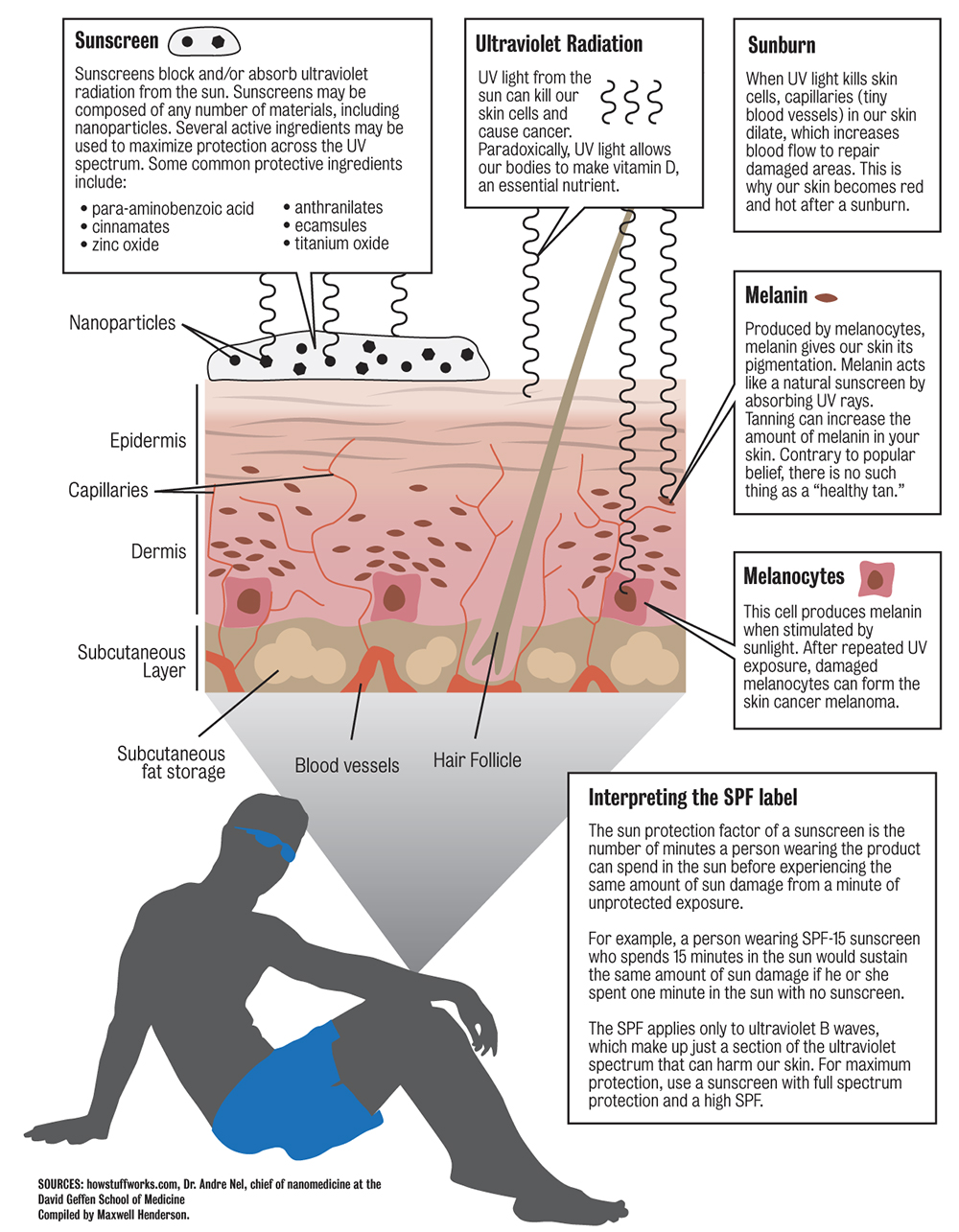 With the sun as a pervasive symbol of Southern California culture and activity, tanning beds are just as much a part of summer as are beach balls and barbecues.
But due to the steady rise of sun-related cancer cases among young adults in the U.S., applying sunscreen should take precedent over seeking the popular but very damaging tan, dermatologists said.
"All of us are at risk (for severe sun damage), even when you're young. It's important for college students to know that this is something you can prevent. The skin is protecting our bodies in so many ways, so you really want to take care of it," said Dr. Jenny Kim, dermatologist and associate professor of medicine for the David Geffen School of Medicine at UCLA.
Because excessive ultraviolet exposure is responsible for premature aging and potentially lethal forms of cancer, sunscreen's preventative capabilities mark it as the modern-day miracle cream.
Yet in order to most effectively exploit its benefits, consumers should first understand its molecular components.
Currently, the FDA is attempting to develop a standardized system to indicate sunscreen's level of protection against ultraviolet A radiation.
Because of their UV-reflecting capabilities, the best UVA filters include metal oxides "" in the form of nanoparticles "" such as zinc oxide and titanium oxide, and chemical formulas such as avobenzone and ecamsule, said Dr. Andre Nel, chief of nanomedicine at the School of Medicine.
"(Nanoparticles) have the capabilities of doing UV reflections that is much more effective than cream. Nanomaterials added into the system are there to give it superior UV protection qualities," Nel said.
Still, nanoparticles can generate free radicals after exposure to UV radiation, and so the safety of nanoparticle use within sunscreens has sparked debate among researchers.
Because a free radical is formed by the splitting of weak bonds into singular, unpaired electrons, it attempts to regain its missing electron by stealing one from another compound.
This causes an unstable series of chain reactions that can prevent the body's essential molecules from functioning properly.
While the effects of radicals on the environment are currently being researched by Nel and other researchers at the University of California Center for Environmental Implications of Nanotechnology, sunscreen nanoparticles have not, however, been observed as damaging to the human body.
"On top of the skin, you can't get an oxygen (radical) particle to penetrate the dead layers of skin," Nel said.
Nel added, "Where human use is concerned, if there was anything dangerous, we would have had a lot of reports by now of the medical effects on skin."
Another particular component of sunscreen is its SPF, or "sunburn protection factor," which measures the sunscreen's ultraviolet B protectant ability.
SPF is determined experimentally by comparing the redness of sunscreen-protected skin versus unprotected skin exposed to different UV doses over a given time period, said Dr. Hrak Ray Jalian, dermatology resident at the School of Medicine.
But the relationship plateaus at SPF 30 or higher: When applied properly "" according to manufacturers' recommendations "" SPF 30 provides protection from 96.7 percent of UVB rays, while SPF 50 blocks 98 percent of UVB, Jalian said.
"Even though it's not linear, it's better to use high SPF, as most people do not use enough sunscreen," Kim said.
An inadequate amount of sunscreen application means the individual gains only 20 to 50 percent of the expected protection value indicated by the product label, Jalian said.
"It is better to apply a liberal amount of SPF 30, than a scant amount of SPF 100," Jalian said.
Though sunscreens cater to the variation in skin tone, skin type and personal preference among individuals, all used products should boast an SPF of 30 or higher and should include both UVA and UVB protection.
"Our goal as dermatologists is to basically avoid both burns and tanning because of the long-term risk for skin cancer and what we call photoaging," said Dr. David Beynet, dermatology fellow at the School of Medicine.
As much as 90 percent of symptoms of photoaging "" including wrinkles, sagging skin and brown spots "" are results of UVA damage.
Melanoma, the deadly form of skin cancer caused by factors including sun exposure, is the second-most common form of cancer for individuals between 15 and 29 years old, Kim said.
While contraction of melanoma results from factors including sun exposure, chances of contracting non-melanoma cancers increase with each new sunburn, Kim said.
Though the sun provides an impetus for summer fun, Kim warned young adults to be wary of its harmful effects.
So when heading outdoors, bring the beach ball, the hat, the food and drinks; but most important of all, do not forget the sunscreen.