Pole dancing classes increasingly popular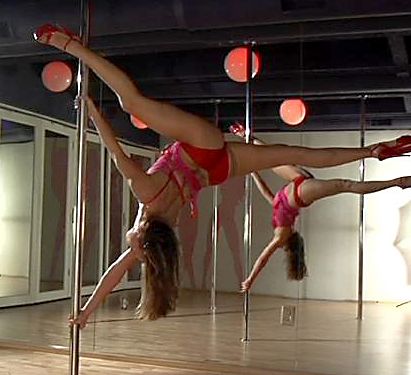 BeSpun is a studio in Los Angeles that offers pole-dancing lessons. Studios offer workouts aimed at exercising and toning abs, legs and arms, and the activity has garnered supporters across Los Angeles.
Instead of sweating through another session on the treadmill, lifting weight after weight, or counting down the laps until you can hop out of the pool, why not try something new this summer?
Making its way from strip clubs at the end of Sunset Boulevard to the gyms and dance studios all around town, pole dancing has become an increasingly popular hobby.
BeSpun, a pole dancing studio in Hollywood, gives fitness lovers an excuse to get toned all over while getting a heavy dose of sensuality and confidence.
Angela Siekman is a pole dancing expert and instructor at BeSpun.
"It's a place where women can truly tap into the power and sensuality that they hold. It's exhausting and rewarding all at the same time, and I think that's why so many people are drawn to it," Siekman said.
"The girls are there in class every day because they love how strong it makes them feel. That's what I love about teaching pole dance," she said.
Classes at BeSpun usually last about an hour and begin with ample amounts of stretching and "floor work," during which students practice hip rolls, and what are casually referred to as "stripper push-ups."Once the music starts up and the funky croonings of Prince or the pulsating beats of Lil Wayne rush through the studio, the pole dancing finally begins. Both new and experienced dancers work on new tricks and perfect old ones.
Chandley Partridge, a student at California State University, Los Angeles, has been attending classes for about two months now. Besides helping her develop stronger abs and sleeker-looking arms, the classes at BeSpun have also become a place to mix and mingle.
"I love that the students' abilities range from beginners to more advanced. Whether you've just started or been there forever, all the girls will walk around, offer advice and make up new tricks," Partridge said. "It's easy to learn things pretty quickly because you've got this whole support system all around you. It's a really social and comfortable atmosphere."
Pole dancing may not be the first activity people think of when they're looking for an effective, genuine workout.
Brittany Buckalew, a fourth-year English student at UCLA, attended her first pole dancing class just a few weeks ago."I was pretty nervous since I'd never done anything quite like it before, but once you start dancing, you just forget all about it. All I could think about during class was how muscles I didn't even know I had were hurting and all the tricks I wanted to learn before class was over," Buckalew said.
Over the past few years, pole dancing has slowly infiltrated the mainstream. For example, the number of pole dancing competitions held all over the world has increased. Earlier this year, Cirque du Soleil showed their support for the sport when they hired a champion pole dancer to perform in their Las Vegas-based show, "Zumanity."
"Over the next few years, you're going to start noticing more and more about the benefits of pole dancing. Whether it's from the media or just word of mouth, there's no way pole dancing can remain under the radar much longer when it's such a unique and challenging way to get fit and feel hot at the same time," Siekman said.
Siekman's assessment seems to be right on the dot. With more than 20 studios in the Los Angeles area "" BeSpun among the most popular "" pole dancing has started to make its mark on the fitness world.
And this summer, BeSpun is offering "Angela's Sexy Bootcamp," a workout that combines pole dancing and cycling and works abs, legs and arms in three-hour classes three days a week. With so many options, there may be an excuse for exhaustion.
While some may feel a bit silly and embarrassed or wonder how the instructor can make it all look so effortless, attendees testify to experiencing pain, laughter and bonding.
Participants may feel all of this and an exhilarating sense of achievement when they finally nail a new move.