Whip out the grill for a tasty summer spin on pizza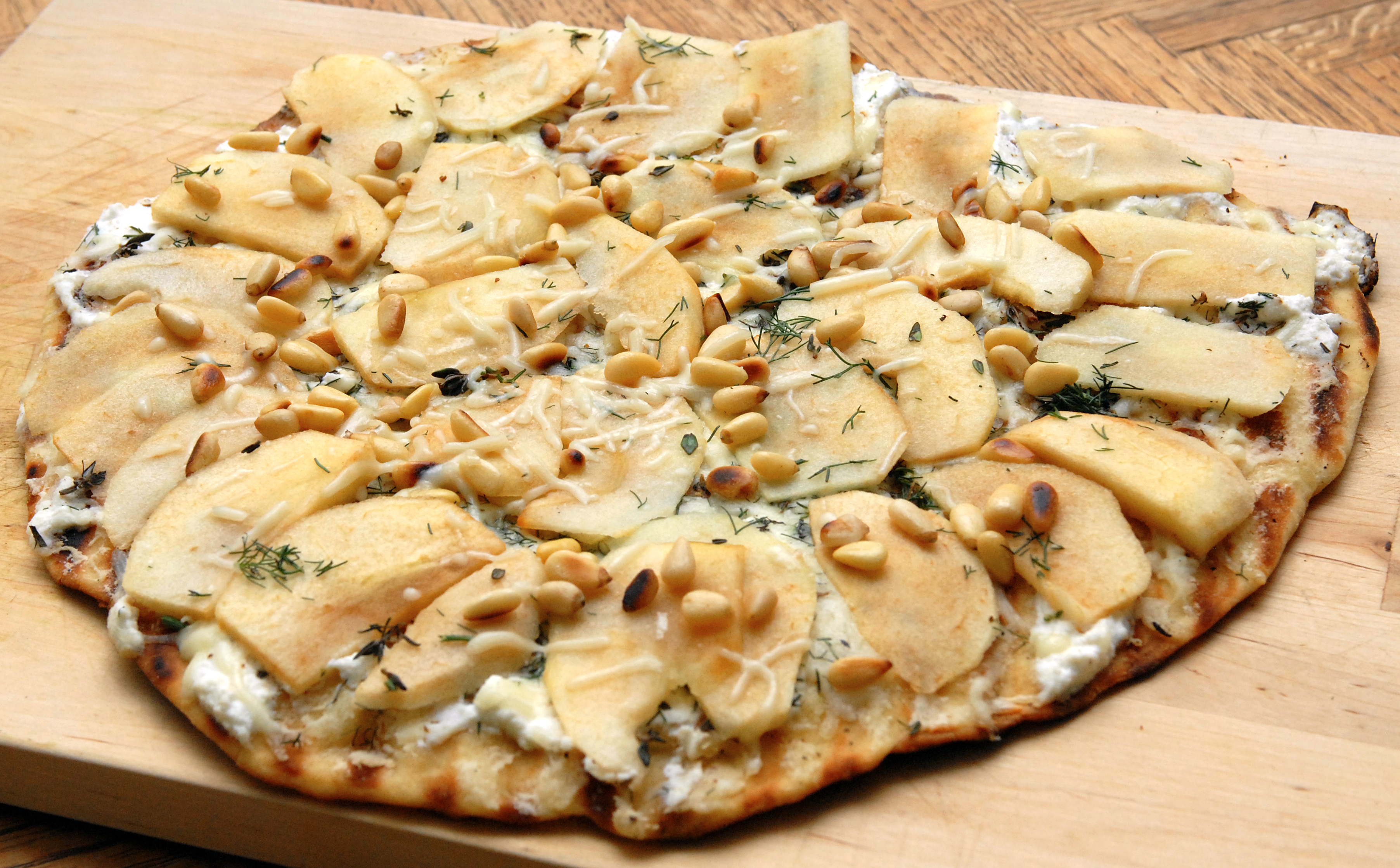 Grilled pizza can be an unusual but delicious dinner that is versatile and allows for chefs to experiment with different toppings and combinations.
This is my last food column to appear in the Daily Bruin, so I decided to try something a bit unusual.
It's getting into the summer months "" typically prime time for grilling "" so I decided to break out the Weber and make a grilled pizza. I've watched Food Network chefs grill pizza for years, but I've never had the urge to try it myself.
Let me say for the record that it's well worth the time and effort. The crust comes out light and crunchy on the outside and a bit gooey in the center, the cheese melts just the right way, and the ingredients can be much more fresh and light compared to something you have to bake.
I want to really encourage people to think outside the box when making pizza, because a bit of experimentation can yield really wonderful results.
This week I made my pizza with Fuji apples, fresh dill and thyme, pine nuts, and mozzarella and ricotta cheese. I also hand-made my pizza dough from scratch, which is easier than it sounds.
To start off, you want to make the dough. I'll warn you in advance that it's not an exact science "" it's more about creating the right texture than measuring out all of the ingredients precisely.
Start by dumping one packet of active yeast in a mixing bowl and adding a couple of tablespoons of warm water. It's important that it's warm, because the temperature will activate the yeast and help the dough rise.
Next, add about four cups of bread flour into another mixing bowl along with a pinch of salt.
After a couple of minutes, the yeast should look foamy. That means it has been activated, and you're good to go. Add in about three quarters of a cup of sparkling water, roughly two tablespoons of extra-virgin olive oil and a good squeeze of honey.
Slowly combine the ingredients until you have a ball of dough. Dump it out onto a floured cutting board and knead it a bit to get a sense of the texture. If it's very sticky you need to add more flour, and if you have quite a bit of excess flour and the dough isn't sticky at all you need to add a bit more water.
Experiment until the dough has formed a nice ball and is only slightly sticky. Pour some olive oil in a clean bowl and use a paper towel to coat the inside of the bowl in oil. Place the dough in the bowl, and cover the top with a damp, warm towel.
Leave it for about an hour, until the dough rises and almost doubles in size.
In the mean time, peel and thinly slice one Fuji apple and mince up some fresh dill and thyme. Make sure to add lemon or lime juice to the apple slices so they don't brown.
Next, toast some pine nuts in a pan over low heat. Make sure to keep them moving so they don't burn, and take them off of the heat when you smell them "" that's how you know they are done.
When the dough is done rising, dump it out onto a floured board and knead it again. When you're done kneading it, it shouldn't be sticky and it should be pliable.
Cut the dough in half and roll out the chunk into a thin circle. Let it sit for a couple of minutes, then brush one side in olive oil and add on some salt and pepper.
Heat up your grill to medium, and make sure it is as clean as you can get it. Carefully pick up the dough and place it on the grill, with the olive-oil-side down. Drizzle some olive oil onto the other side and add on more salt and pepper. The dough should take several minutes per side.
When it begins to firm up and there are dark grill marks on the crust, you can flip it. As soon as you flip it, rub the ricotta cheese on the grilled side of the crust, making an even coating. Add on some pre-grated mozzarella, then your fresh herbs.
Pile on the apples as evenly as possible, then the pine nuts and finally a bit more mozzarella.
Turn the heat on the grill down to low and shut the lid. Leave the pizza for a few minutes, checking on it periodically to make sure it's not burning.
Once the cheese melts, the apples are warm and the crust is brown and crunchy, the pizza is done. You should have enough dough for one more, and you can mix up the toppings, or even use it to make bread.
I hope you have enjoyed my columns, and I encourage you to have fun cooking and to experiment with food. It's easy!
If you get a kick out of grilling weird things, e-mail Pesce at [email protected]