Stuffed bell peppers are a versatile, healthful dish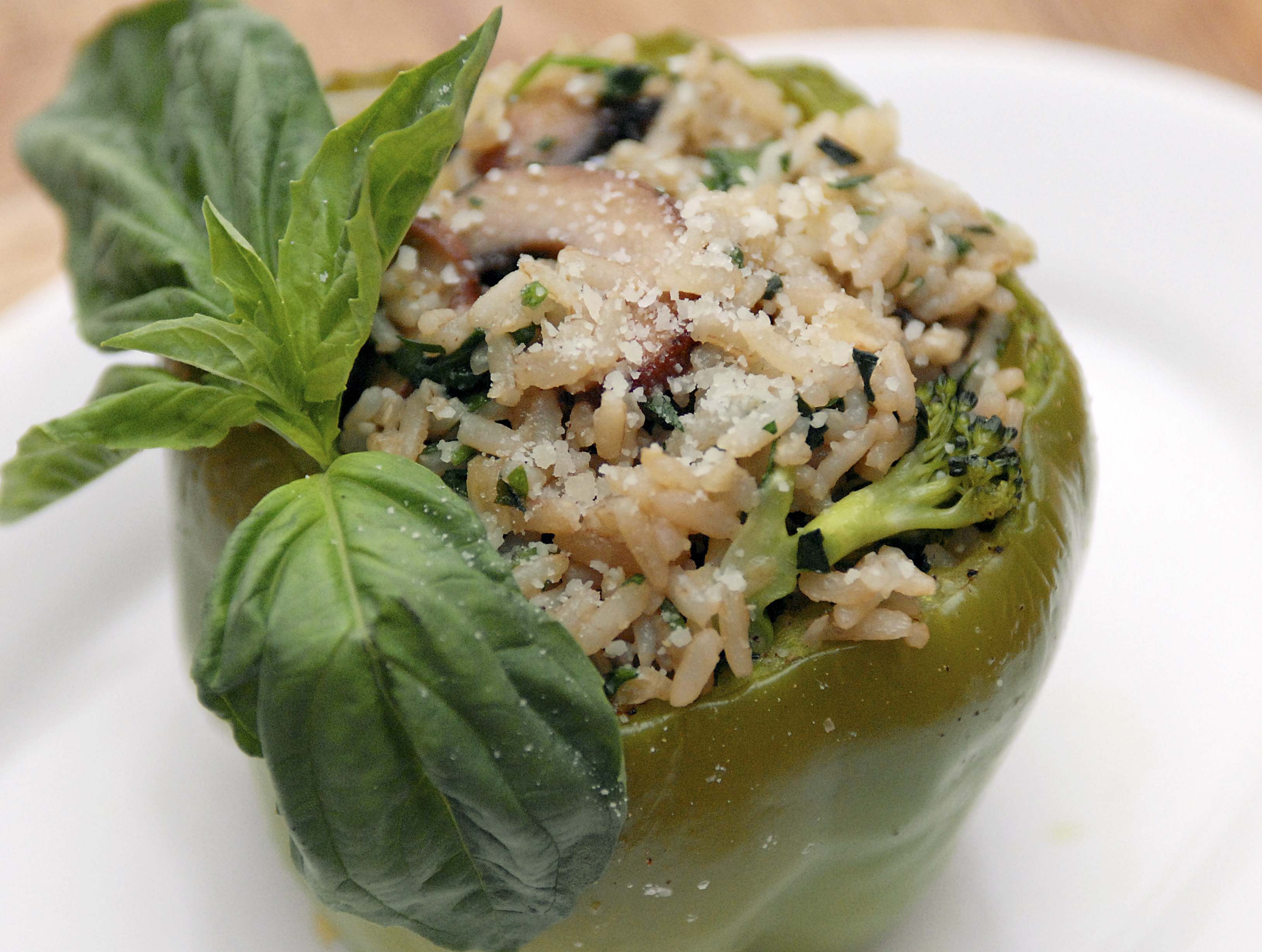 This roasted bell pepper is stuffed with brown rice, sauteed mushrooms, roasted broccoli florets, toasted hazelnuts, fresh herbs and parmesan cheese.
You can rarely stuff one kind of food into another kind of food and have it be healthy.
It's the kind of decadent treat we reserve for cream-filled baked goods, whole birds, and the occasional slab of red meat.
But stuffed foods, and edible presentations, can actually be wonderfully healthy if you think about them a bit differently.
This week I made a roasted, stuffed bell pepper filled with brown rice, sauteed cremini mushrooms, roasted broccoli florets, toasted hazelnuts, fresh herbs and parmesan cheese.
It's a wholesome, healthy and satisfying meal in one dish. It's also pretty, good for entertaining, and easy to prepare.
You'll want to start with the peppers. When you shop for ingredients, make sure to find bell peppers that are a bit shorter and fatter than normal. Look for ones with even bottoms so that they will be able to stand up on their own.
Preheat your oven to 400 degrees, and prepare the peppers by cutting the tops off, then cleaning out the ribs and seeds with a knife.
Next, cut up a few broccoli florets into manageable chunks "" you'll want them a bit larger while they roast, and you will be cutting them up into smaller pieces later.
Place the peppers and broccoli on a baking sheet and drizzle a bit of olive oil over them, then add generous amounts of salt and pepper. Leave them in the oven at 400 degrees for about half an hour.
While the peppers and broccoli are roasting, you can prepare the other ingredients.
Toast a few hazelnuts in a pan over medium-low heat for a couple of minutes, until you can smell them. Then chop them into smaller chunks. Be careful not to crush them into dust, which is surprisingly easy to do.
Then thinly slice several cremini mushrooms, and saute them over medium heat.
While the mushrooms are going, it's time to get started on the brown rice. I bought the kind that cooks in 10 minutes, and I suggest you do the same. You want about 1/2 to 3/4 of a cup of rice per pepper.
Follow the cooking instructions on the package, but generally, add water and rice, bring the water to a boil, then turn down the heat and let the rice simmer "" covered "" for the length of time specified on the package.
When the mushrooms are almost done, you can kill the heat and let them hang out in the pan for a couple of minutes.
When the rice is done, add the mushrooms and hazelnuts to it, then add in a dash of parmesan cheese, salt and freshly ground pepper.
Chop up some fresh basil and Italian parsley, then add in the herbs.
Pull the peppers and broccoli out of the oven, chop the broccoli into small florets, and add them to the rice.
Mix everything up well, then scoop out the rice and place it inside the peppers, pat it down, and add on a bit more.
Top it with basil leaves and parmesan cheese and it's good to go.
There are a few things other than the fresh and nutty taste that are good about this dish, too.
Putting the rice in a pepper helps you control the amount you eat, so in addition to being healthy from the beginning, this recipe also helps you eat less of it.
It also tastes great hot and cold "" so you can take it on the go or eat leftovers straight out of the fridge.
If you are also trying to incorporate roasted broccoli into every dish you make, e-mail Pesce at [email protected].