Celebrate the holiday with healthy fish tacos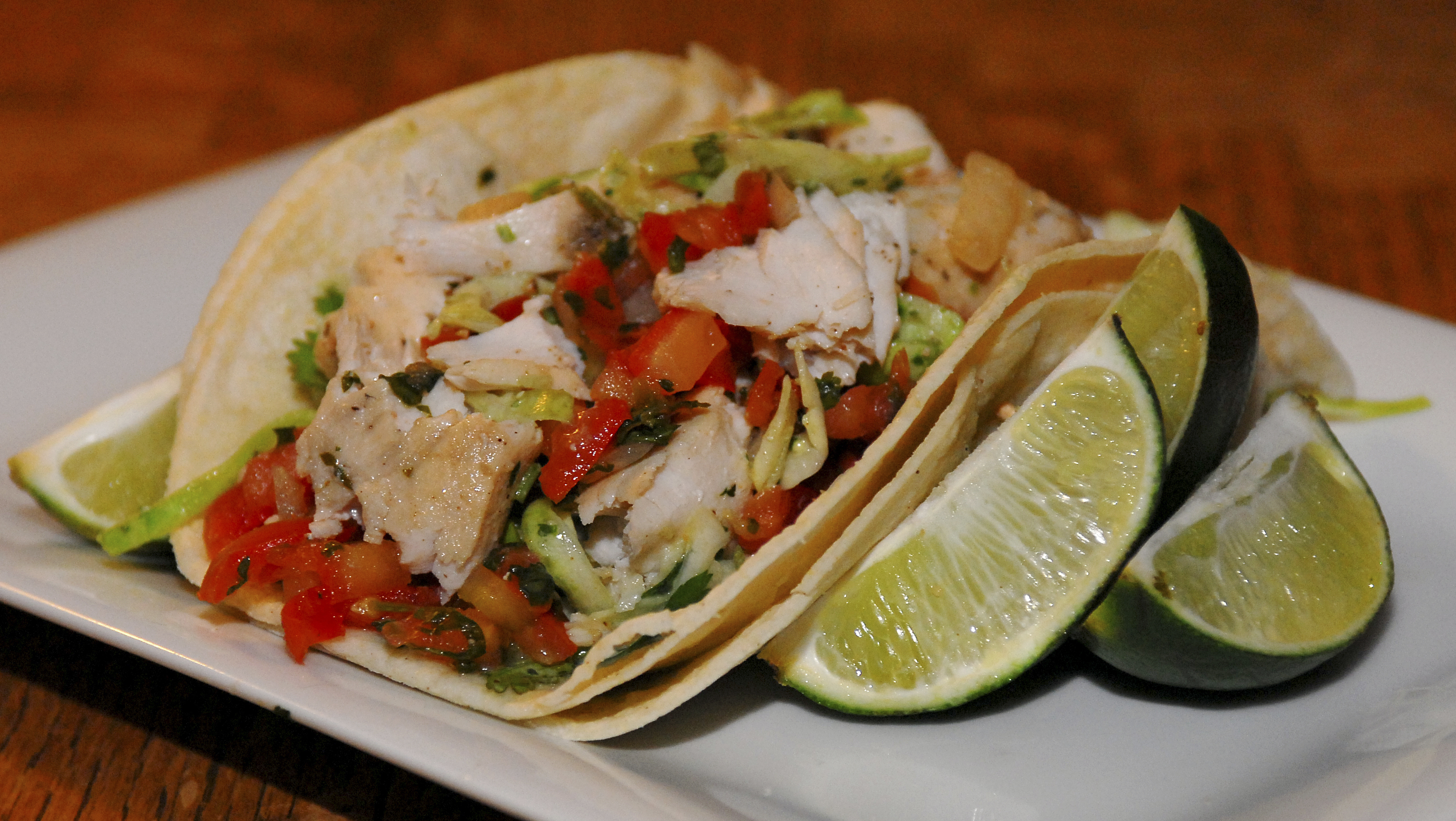 With a mix of mahi-mahi, pico de gayo and slaw, fish tacos with lime provide a flavorful, healthy taste experience for Cinco de Mayo.
Cinco de Mayo, is this week, and if you're anything like me you're probably throwing a party "" or at least your roommates are subjecting you to one.
I thought this would be the perfect opportunity to explore the delicate art of cooking Mexican food that won't make you fat. Of course then it ends up looking and tasting nothing like authentic Mexican food, but it's still pretty good.
If you're preparing food for a party, you will need something that fits the theme, is easy to make in large quantities, and the guests can easily assemble and customize. The perfect solution: fish tacos.
I know this seems daunting, but most of the ingredients can be bought in advance and require very minimal preparation.
There are really only four components to a good fish taco: the tortilla, the slaw, the fish and the sauce. Don't underestimate the importance of any of these components, because if one of them falls flat the whole dish will be a flop.
My first piece of advice is to not buy your tortillas at Trader Joe's. I bought two bags of corn tortillas there, and both had mold on them when I got back to my apartment.
Anyway, I would recommend getting a mix of small flour, corn and wheat tortillas to appease a variety of tastes. If possible, get fresh or handmade tortillas because they taste better.
For the sauce, I would recommend a pico de gallo. The one I picked up at Trader Joe's was excellent, though I'm sure any version would work well.
Next up is the slaw, which is surprisingly easy. Start with a package of chopped cabbage, then add diced onion, chopped cilantro and julienned carrots if you're feeling adventurous. Mix it together and add generous amounts of salt, pepper and fresh lime juice.
For the sauce on the slaw, there are two options. You can buy a premade sauce, or you can make one of your own. I just bought a cilantro dip from Trader Joe's and mixed in generous amounts of it after I added the lime juice. But you can also make one yourself by mixing equal parts low-fat mayonnaise and low-fat sour cream with some lime juice and a hot sauce of your choice. Toss it with the slaw, and you're good to go.
Depending on how lean you want to make this dish, it may be a good idea to add more sauce to the slaw than you think you need "" it can really pump up the flavor of the taco, but it gets a bit less figure-friendly.
I think it's important to prep all of these ingredients in advance and set them aside so you don't have to worry about making a slaw while simultaneously cooking the fish.
Speaking of the fish, this may sound strange but you don't want your tacos tasting too fishy. You should choose a lighter fish like cod, tilapia or mahi-mahi "" not a fish like salmon, swordfish or bass.
I went with mahi-mahi because it's more traditionally used in fish tacos, and I like the taste and texture of the fish. To add flavor, I marinated it for about 10 minutes in a mix of equal parts tequila and lime juice with chopped cilantro, minced garlic and heavy amounts of salt and pepper. When you marinade fish you have to be very careful not to turn it into ceviche "" an entirely different seafood dish made by cooking the fish in lime juice.
Essentially, the acid from the lime juice interacts with the protein in the fish the same way heat does, which cooks it. Since you only want to add flavor, don't let the fish sit for longer than a couple of minutes in the marinade.
When the fish is ready, drop it into a hot frying pan with a bit of olive oil, turning it when it browns on the bottom. Make as much fish as your guests can consume, then allow them to assemble their tacos in the following order: Warm a tortilla on the stove or in the microwave, place the slaw on the bottom, then pile on the fish and top it with the pico de gallo.
I also highly recommend adding a bit more salt and pepper and some fresh lime juice. If your tortillas are particularly absorbent they might get soggy, so you can double up the tortilla if you anticipate that being an issue.
Last week, I asked readers to help me out with peeling butternut squash, and I received a number of interesting responses. Someone suggested putting the squash in the microwave for a couple of minutes, which would cook the outer layer and loosen the skin. Someone else suggested cutting the squash in half, cleaning it, pouring a bit of olive oil inside, roasting it cut-side down, then scooping the cooked squash out of the skin.
Finally, our media adviser, Amy Emmert, suggested cutting the squash into more manageable chunks and using a paring knife to remove the skin.
Thanks for the suggestions, and I look forward to hearing from all of you again next week.
If Mexican food made you fat, e-mail Pesce at [email protected]