The COVID-19 pandemic has drastically upended life in the most unforeseeable ways. At UCLA, our community has been remarkably united by similar feelings of loss, confusion and concern, but also by light, hope and the perspective that the pandemic has brought to the forefront. In the final installment of "Columns From Quarantine," Opinion editor EJ Panaligan offers insight into the creation of the series while sharing his own quarantine experiences.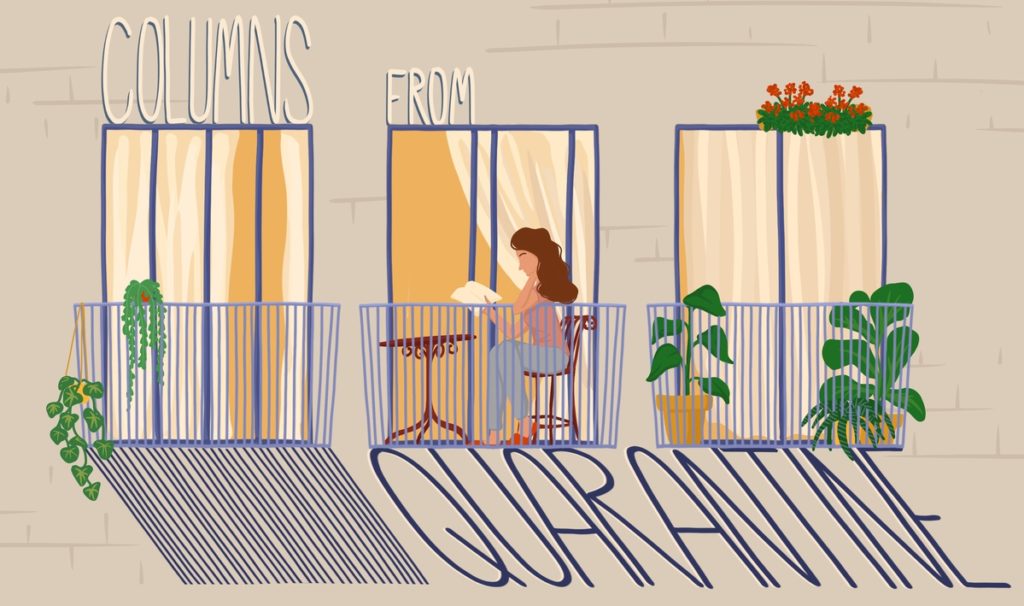 I never felt like I had a quarantine experience worth sharing until now.
My March was similar to the March that everyone else went through. Priorities and obligations were suddenly upended by the need to quarantine at home as the COVID-19 pandemic spread across the United States. Plans were postponed or scrapped, routines were flipped on their heads and a mountain of questions augmented my own.
The news was especially grim territory to navigate at the time. Rising cases in hot spots across the country. Hospitals overcrowding and resources drying up. A lot of death. I didn't want to read it for another second.
With this looming feeling of fear nagging at me, all I really wanted at the onset of the pandemic was to feel like I wasn't alone. I had friends with whom I shared the initial experience and shock of everything shutting down – taking my first Zoom final on the night of the Tom Hanks and NBA suspension news was chaotic in every sense – but I felt a longing to find out how others were doing or what they were going through.
That's when a shower thought turned into a series idea.
"Columns From Quarantine" would document this moment in history internally from the perspective of Daily Bruin staffers and externally from Bruins within the campus community. Readers could sympathize with and take in personal experiences that would be laid bare. These were the types of stories I wanted to be reading.
And man, were these stories something special.
Whether it was coping with the tragedy of losing a senior family member to the virus, eloquently painting the loss of finality as an outgoing senior, racing to fly home amid looming international lockdown restrictions or coming to grips with having to shut down a major public university as its chancellor, the stories this community chose to share were among some of the most reflective, honest and eye-opening that I've ever read.
It's possible that this moment allowed many of us to get to that point – to become so intimate and in tune with the self in an effort to cope with and understand just how much this pandemic has affected our lives.
It certainly changed mine. Spring quarter was the cruelest whirlwind of new experiences – adjusting to online classes and working remotely for The Bruin all while picking up a part-time retail job was an arduous new reality I never would have considered for myself, something I'm sure that I wasn't alone in feeling.
The suffocating feeling of having work pile on or constantly having an obligation to fulfill affected my mental well-being to the point of feeling like I couldn't commit the entirety of myself to all three of those responsibilities concurrently. With so much to do, I felt lost, tired and out of my element. But, most of all, I felt scared for a largely undefined future.
That's where this series helped me the most. It gave me a sense of purpose during a time when it was difficult to find even a droplet of it. I wanted to read these stories to keep myself going just as much as I wanted readers to engage with them once they were published online.
Personally, it made me feel that much closer to the UCLA community. It helped me forget at times the depressing reality that most of us are dispersed across the globe, uncertain of when we'll be able to brush shoulders on Bruinwalk again or catch a cup of coffee with friends at Kerckhoff Coffeehouse.
I've learned that social distancing doesn't mean entirely shutting yourself out from others either. I've gotten closer with a few friends over this past couple of months simply bonding over the shared experience of quarantining and the hell that was spring quarter. A FaceTime call with a good friend that lasted through 5 a.m. – both of us delirious when we heard birds chirping outside to start their days – is just one example of how I will choose to fondly remember this moment in time.
And that's something I hope fellow Bruins and readers take away from this sentimental rambling. But, hopefully, they find that sentiment more so from any of the wonderful columns this series has produced. Not a single person is alone in any of what's going on. Find someone to confide in and with whom to understand the chaos. Cherish the little moments that will eventually become fond memories cultivated out of the hardship of a particularly challenging time for everyone.
Quarantine is far from over. A national conversation about racial injustice and police brutality rages on a full month after George Floyd's death in Minnesota. States attempting to reopen are experiencing spikes in cases eerily echoing the earlier days of March.
These stories and feelings we choose to share with one another are ultimately all we have to keep us pushing forward.
Panaligan is a third-year political science and communication student from Carson, California and is the Opinion editor for the Daily Bruin.