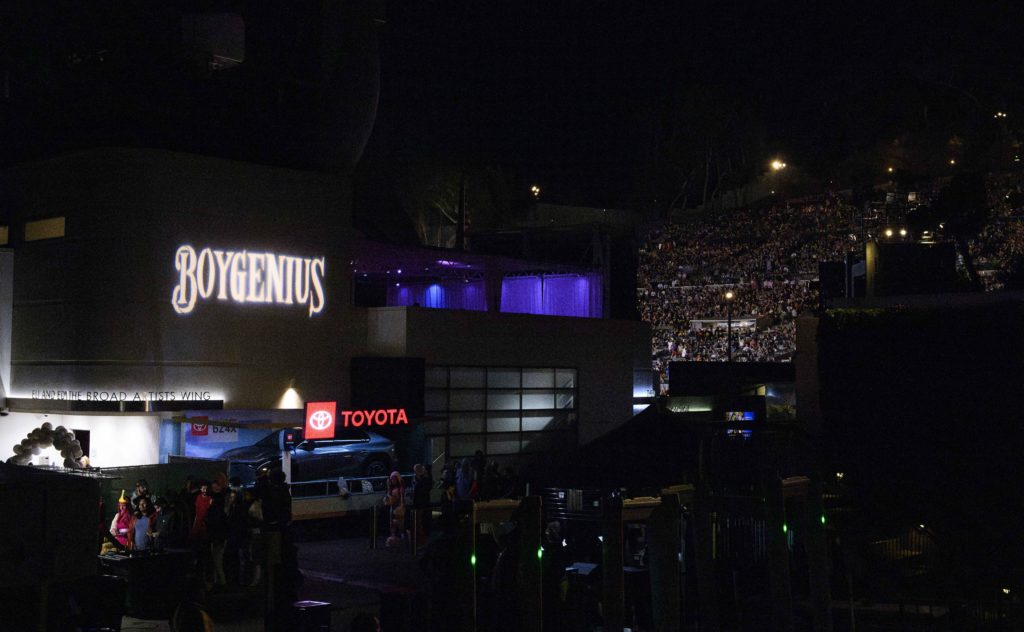 A projection of the name "BOYGENIUS" illuminates a wall by an entrance to the Hollywood Bowl. With opening performances by Sloppy Jane and 100 gecs, boygenius ended its 2023 tour with a special Halloween performance to a sold-out crowd of over 17,000 people – and I was one of them.
I first heard of boygenius several years ago but became a real fan after the release of the group's first album, "the record," this past March. I fell in love with the way that the three members, Phoebe Bridgers, Julien Baker and Lucy Dacus, harmonize with such ease to create a sound of joy, melancholy and longing all at once. I soon found out that all three women are queer and make a point of fostering a safe environment for their young queer fanbase.
Maybe that's why I was drawn to their music so intensely. I came out during my junior year of high school, and although I grew up in a largely liberal community with parents who always loved and accepted me, I still very rarely found spaces where I could be fully myself. Queer people face an underlying, unshakable anxiety just for existing. So we cling to any safe space we can get, and that's exactly what boygenius has created for so many young people.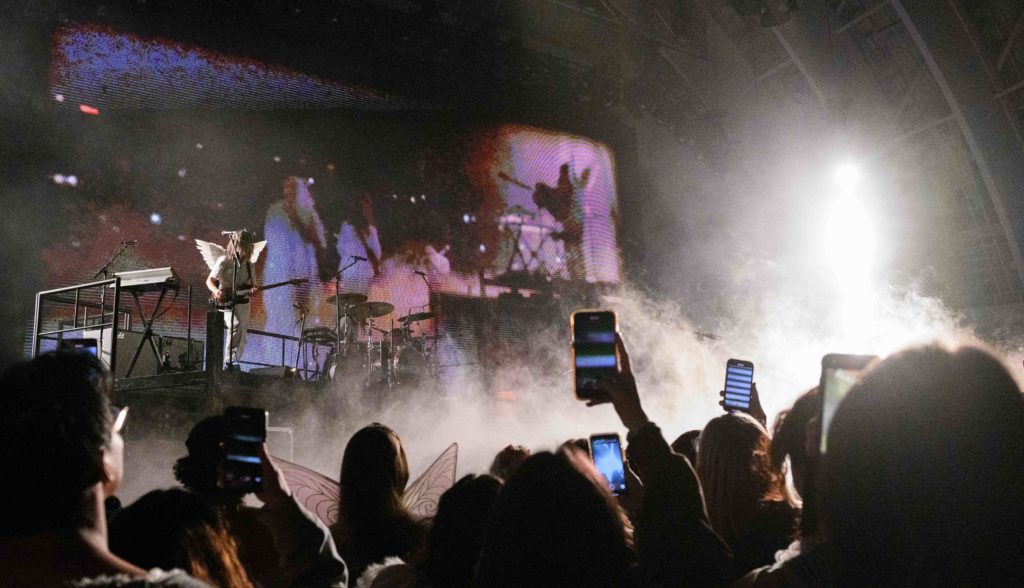 Audience members, some in costume, hold out their phones to record the opening song, "Without You Without Them," as the band makes its way onto the stage.
I found out that I would be shooting this concert less than 36 hours in advance, giving me little time to mentally or emotionally prepare. Thankfully, I already had a costume prepared from earlier in the weekend: the heroine in boygenius's "Cool About It" music video, an animated, doll-like woman with seams running down her face and stuffing puffing out from under her skin.
When I arrived at the venue, I saw at least two other fans who had gone for the same idea, both with creepy makeup that was executed much better than mine. But the costumes weren't all boygenius-inspired. Around me stood cheerleaders, corpse brides, Mad Hatters, fairies and Marie Antoinettes, all eager to hear one band.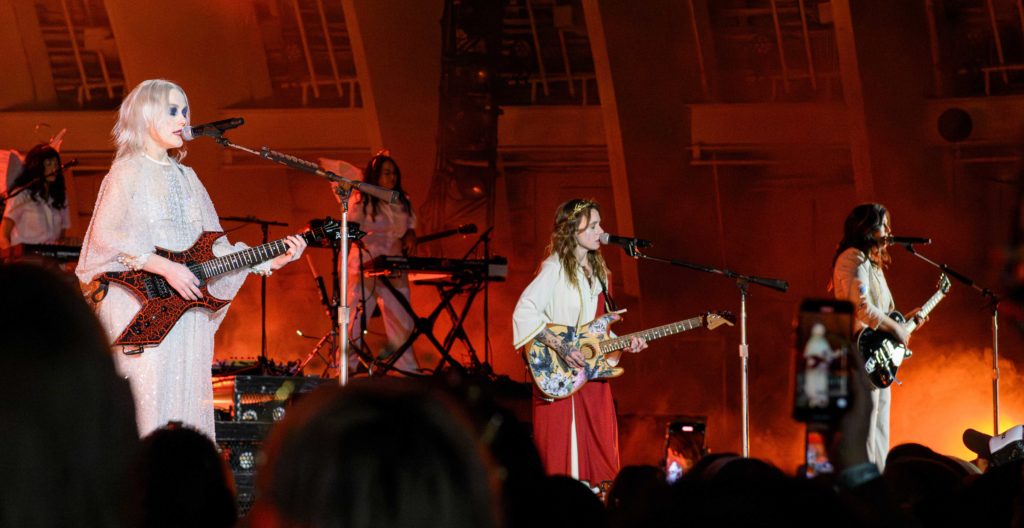 (From left to right) Bridgers, Baker and Dacus close their eyes as they harmonize through the chorus of "$20." Following much speculation from fans as to what their costumes would be, the trio decided to dress up as the Holy Trinity: Dacus as the Father, Baker as the Son and Bridgers as the Holy Spirit.
I was granted access to the general pit section for the first four songs of the performance, and I was determined to make that time count. Floating in a surreal daze of adrenaline, thrill and overwhelming disbelief, I frantically snapped photos from the back of the section, lifting my camera above people's heads while sing-shouting every lyric.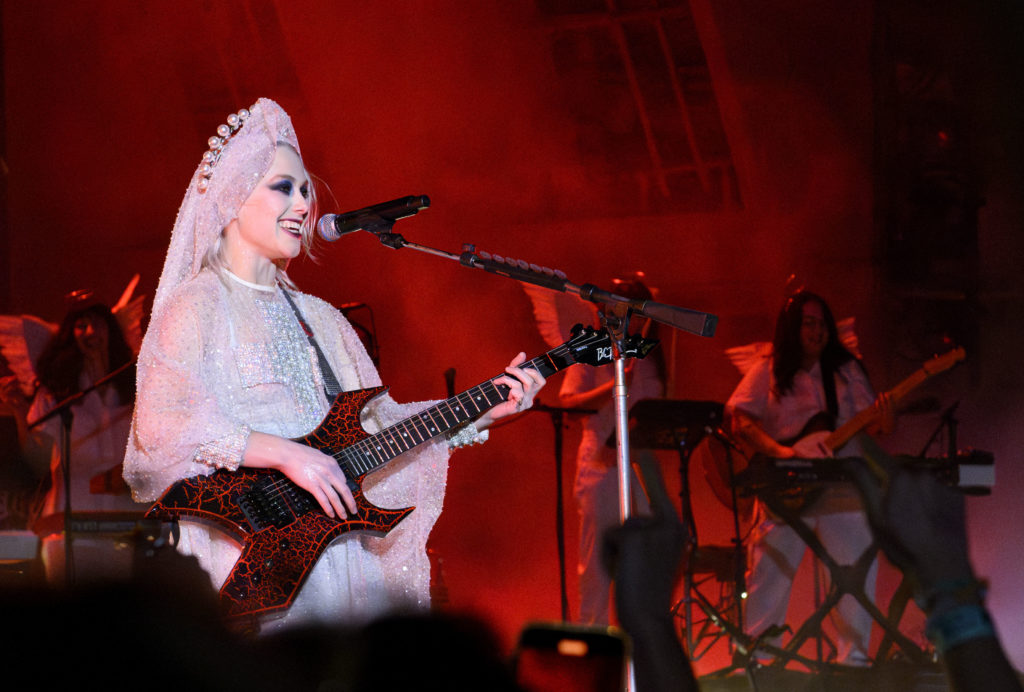 Shrouded in a gem-studded robe and veil, Bridgers smiles at the crowd while playing guitar.
Once I calmed down enough to take in my surroundings, I followed Bridgers's gaze out to the endless rows of fans behind me. They looked more like city lights than people, disguised by the darkness of the night sky and the red tint of the stage lights. In that moment, I realized how lucky I was to be there – photographing one of my favorite artists at one of the most famous music venues in Los Angeles, experiencing the performance up close in a way I never would have as a regular concert-goer. I wanted it to never end.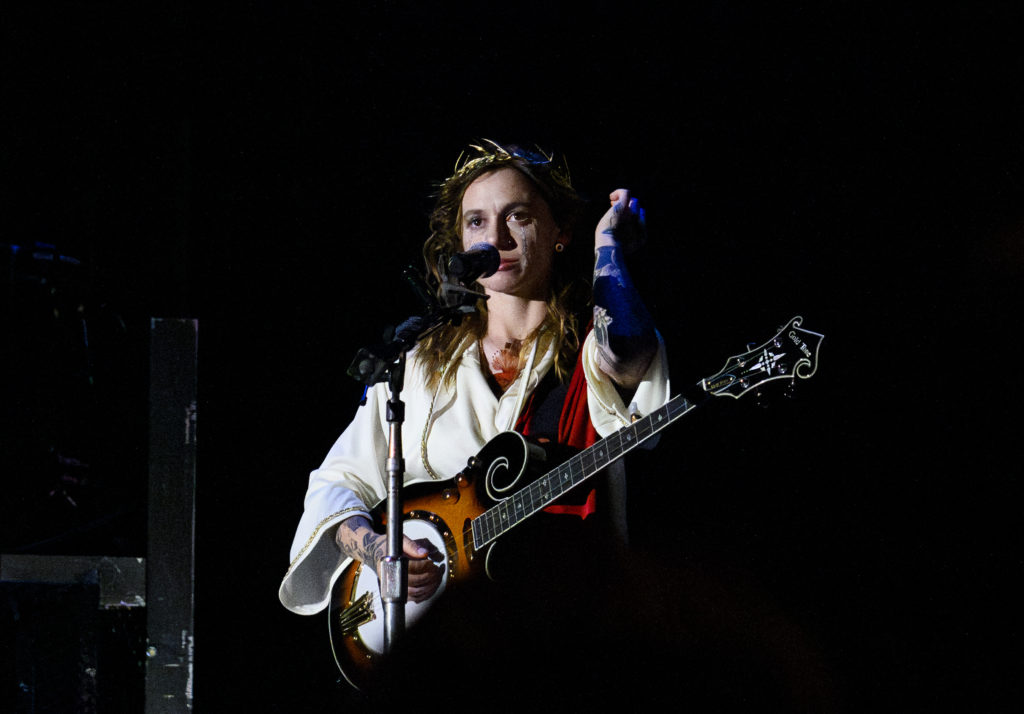 Cast in shadow, Baker gazes out into the audience between songs.
Ever since I became a boygenius fan, Baker has been my favorite member. Even though her solo music isn't as popular as that of her bandmates, her stage presence and lyrics, which highlight her identity as a queer Christian, are so emotionally raw that you can't help but be drawn in.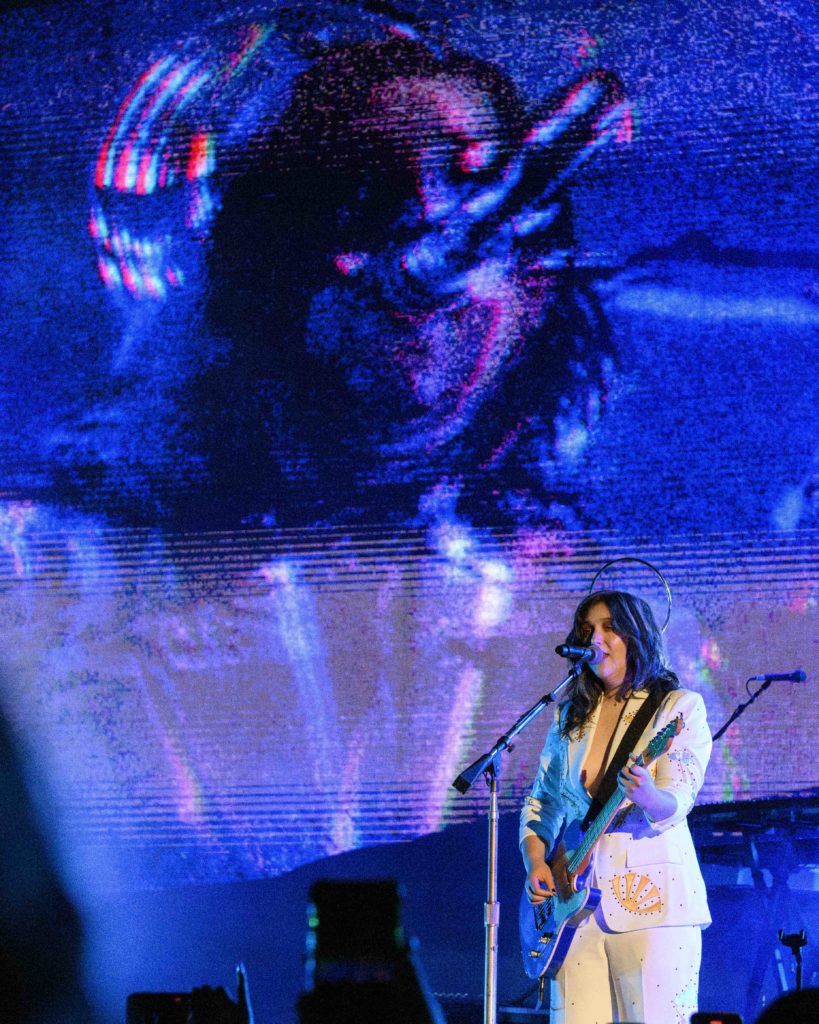 Dacus sings and strums her guitar during her verse of "True Blue."
Attendees noted the neckline of Dacus's costume: a power suit embroidered with stars, clouds and other of God's supposed creations. Ironically, this was a less revealing evening for the performers; Bridgers and Dacus had capped off their Belgium concert in August by flashing their breasts to the crowd.
The trio also frequently make out with one another on stage, and their Halloween performance was no exception. But these are more than just displays of sexual freedom. They are proud celebrations of LGBTQ+ culture. The group has openly criticized states' efforts to legislate against queer communities, such as Tennessee's drag show bans or Florida's "Don't Say Gay" law. boygenius is keenly aware of their influence and is using it for good.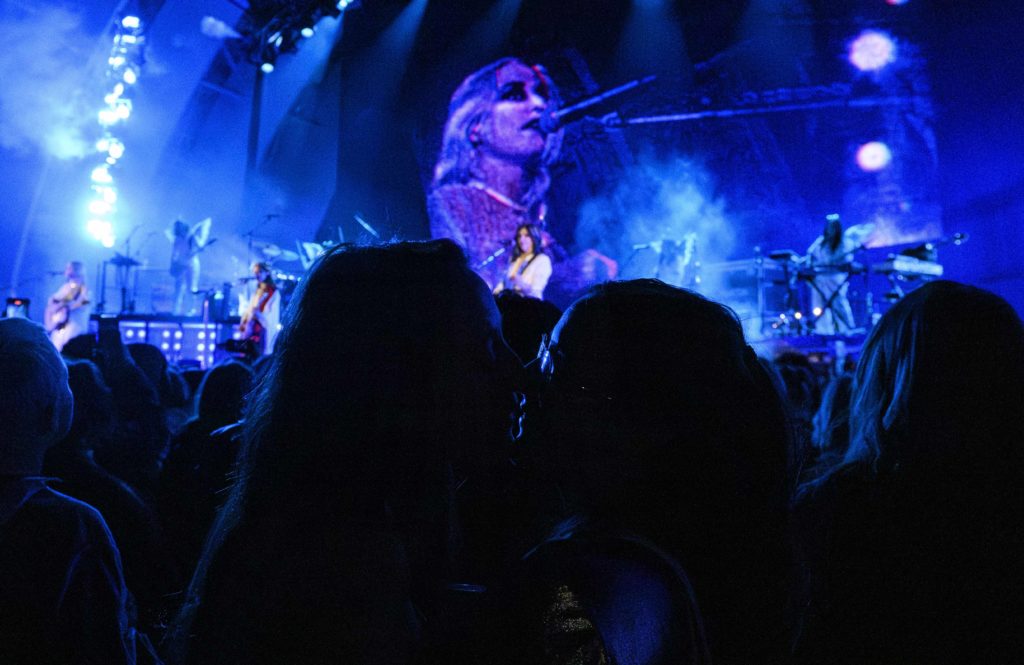 Two fans lean into each other to kiss as they sway to the music of the performance.
The entire concert was an out-of-body experience for me, but this was the moment that I'm going to remember for years. Even in the dark blue haze, I could clearly see the love in these women's eyes. I took this photo, and immediately, tears swelled in my eyes, and my arms prickled with goosebumps.
As a queer woman, I don't often see mainstream music that's made for people like me. Misogynistic and homophobic lyrics permeate our society, constantly playing on the radio or at parties. That's what people listen to, and most of them don't question it. But boygenius creates music meant for me and other queer people like me. Their lyrics are a safe space in the midst of all that hate. These two women clearly felt the same sense of belonging that I did. In them, and in the teary faces of all the fans around me, I saw my community.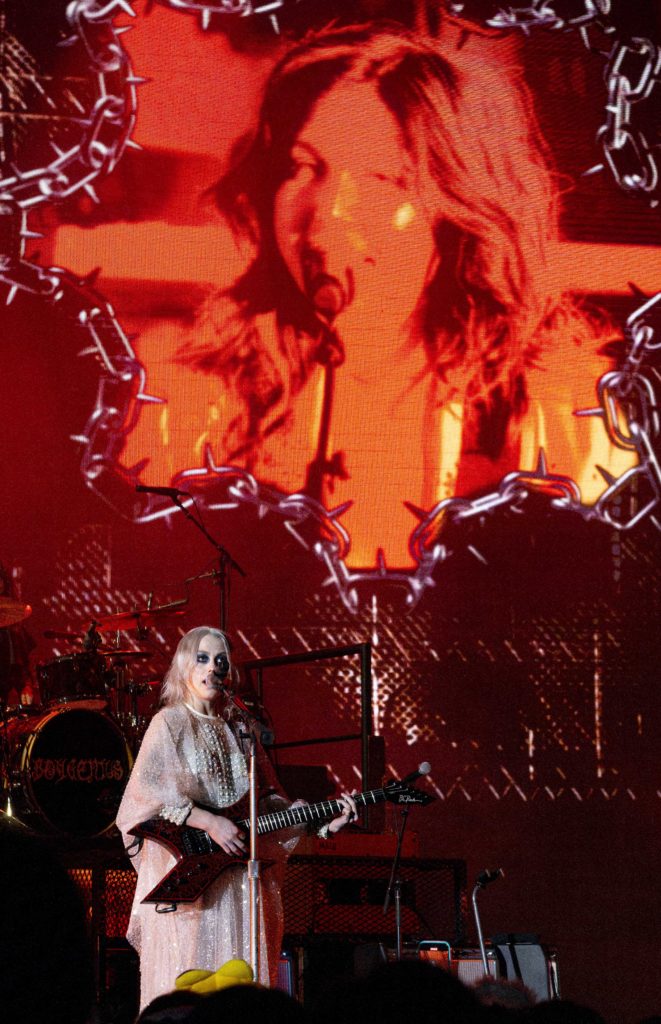 Bridgers stares forward with a projection of Dacus on the screen behind her.
With the first four songs over and with my camera surrendered to the friendly staff of the Hollywood Bowl Operations Office, I moved to my seat in the Garden Box section. In the row in front of me stood a tall, muscular person with an overgrown mullet and a straw cowboy hat. This person, whom I referred to in my mind as "Cowboy Hat," maintained their limitless excitement throughout every song, jumping around and throwing themself onto their equally enthusiastic friends next to them. Despite the fact that the silhouette of their bobbing hat often blocked my view of the stage, I had to smile and dance along as I witnessed that pure, unbridled joy.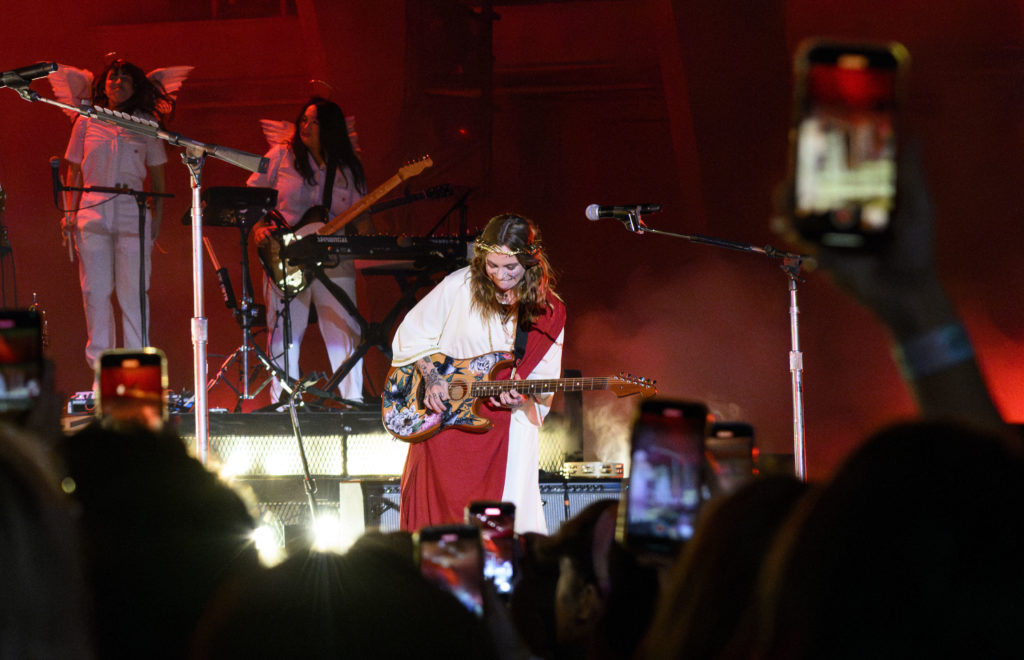 Baker riffs on her floral-painted electric guitar. Each of "the boys" played a variety of ornately decorated guitars throughout the night.
Later in the performance, Bridgers urged the audience to quiet down as a stagehand carried a small creature over to her. Once the camera zoomed in on Bridgers and the mystery being, we could see that it was a small, black pug. A chorus of "aww"s chimed from the audience. Maxine, as she's called, is Bridgers's dog and sported a fuzzy fur cloak for her costume as the "Lamb of God."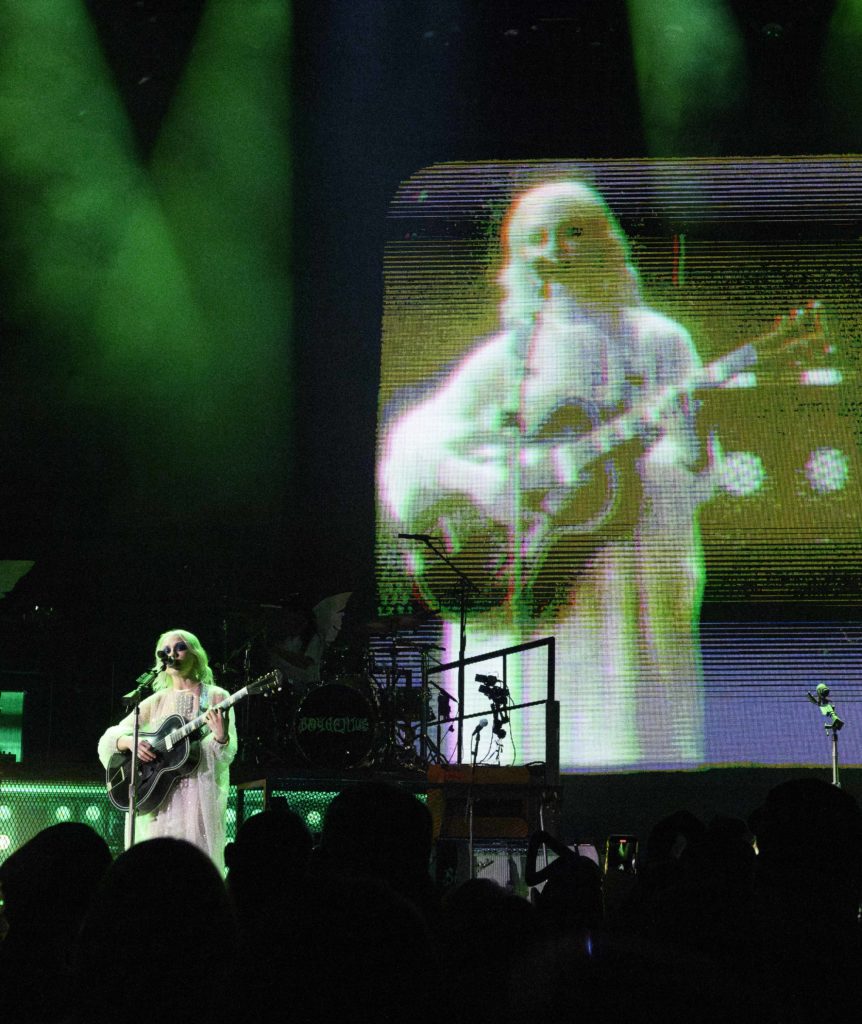 With green lights illuminating her white hair and robe, Bridgers softly strums her acoustic guitar.
Before singing "Letter to an Old Poet," Bridgers asked the audience to put their phones away, explaining that the song is deeply personal to her. Immediately, the 17,000-person space felt intimate. The anticipation around me was palpable, intensified by the silence. Bridgers then took a seat at the front of the stage and softly began to sing: "I said, 'I think that you're special' / You told me once that I'm selfish / And I kissed you hard / In the dark, in the closet."
The quiet gap between the verse and the chorus was filled with the distant sniffles of teary-eyed fans. Even Cowboy Hat was still, their arm wrapped around their friend's shoulder. During the bridge, Bridgers sat up from the stage and walked in a slow semicircle atop the pit wall, letting her fingertips angelically glide across audience members' outstretched hands as she sang.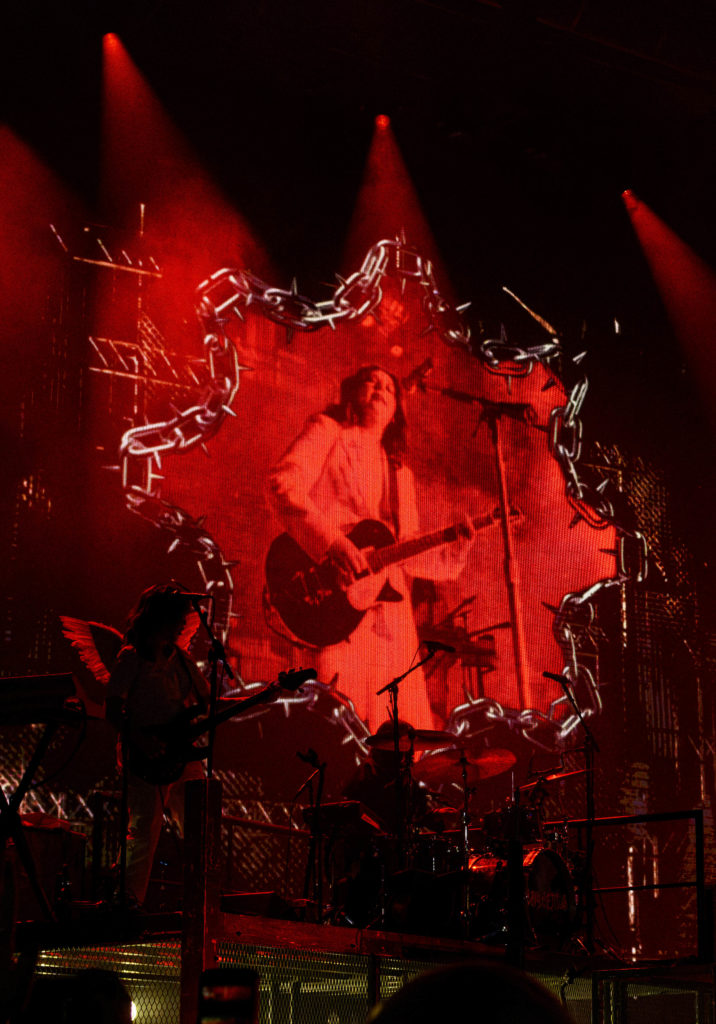 Silhouetted band members perform beneath Dacus's red-tinted image. In addition to projecting the performance onto the large screens behind them, boygenius played part of its set on a smaller B-stage closer to the back of the venue.
Toward the end of "Not Strong Enough," the trio disappeared from the stage, leaving the supporting band to carry on the instrumentation. What felt like only seconds later, I heard gasps from behind me, and everyone turned their heads to see what was going on. About halfway to the back of the venue, Baker arose from the ground in what seemed like an ironic reenactment of Jesus' resurrection. She and her bandmates wasted no time before launching into the four songs on their EP "the rest," which was released just two weeks prior. Fans all around the venue turned on their phone flashlights during "Black Hole," creating a 360-degree array of stars around the central stage.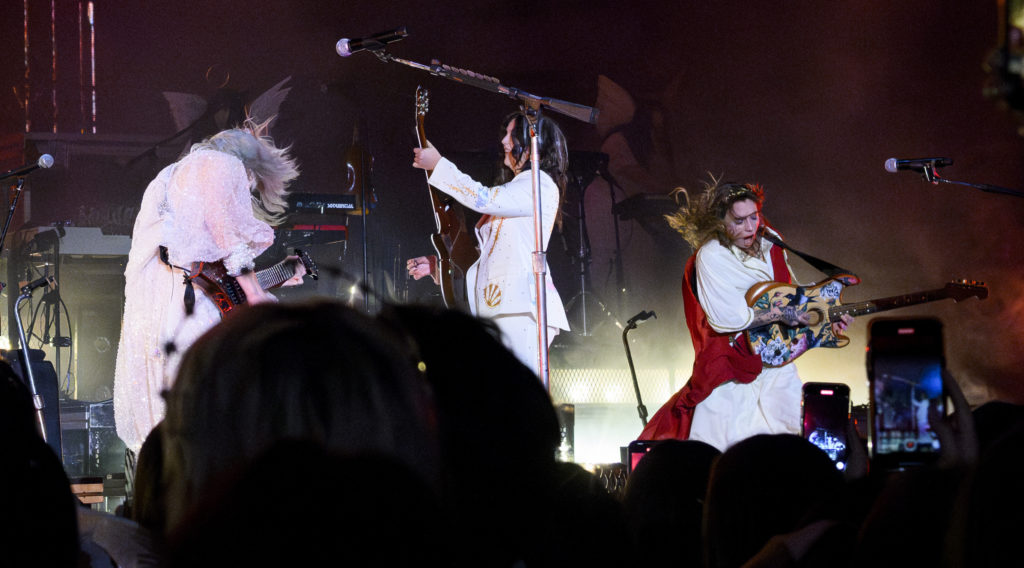 All three band members let loose during the instrumental break of "Satanist."
After the band returned to the main stage, I was confused to hear the opening of a song that I knew was not in boygenius's discography. The song was "Good News," originally written by Baker as part of her solo work, but Dacus was taking charge on vocals. Following that was "Motion Sickness," a Bridgers classic, this time being performed by Baker. And to round out the circle, Bridgers sang a heartfelt rendition of Dacus's "Night Shift."
Each of them took so much care as they performed their bandmate's song, singing it with such intense emotion as if it were their own. To cover another artist's song is a sign of immense respect, and that is clearly what each of these women has for each other.

A hazy light shines through Baker's robe as the band performs around her. Dressed as angels, the all-female supporting band featured Tiana Ohara (bass guitar), Melina Duterte (multiple instruments), Sarah Goldstone (keyboard and violin) and Madden Klass (drums).
After signaling the audience to sing the last chorus of "Ketchum, ID" and performing a high-energy rendition of "Salt in the Wound," the boys left the stage.
No one moved from their seats. No one raced for the exits. Everyone had to face the impending doom of post-concert traffic, but no one seemed rushed to leave. Even Cowboy Hat appeared reflective in that moment, staring up at the vacant stage as if replaying the concert in their mind. After a while, the crowd slowly started to file out.
On the way to the exit, I heard a few girls around me describe the concert as "a religious experience." Of course, I would agree, but even the strongest adjectives don't accurately describe what this concert was to me and what it clearly was to so many people. In an era of such intense hatred, this performance brought the warmth of community and love to life.