This post was updated March 4 at 5:40 p.m.
Correction: The original version of this article misidentified Lindsey Sparks as Hannah Phair in a photo caption. The article also misidentified Rileigh Powers as Lea Monkhouse in a photo caption. The article also misidentified Jaden Whitmarsh as Maggie Walters.
Featuring five completely different pairings from the last season, the Bruins collected a 3-2 win over the Cardinal in their first dual match.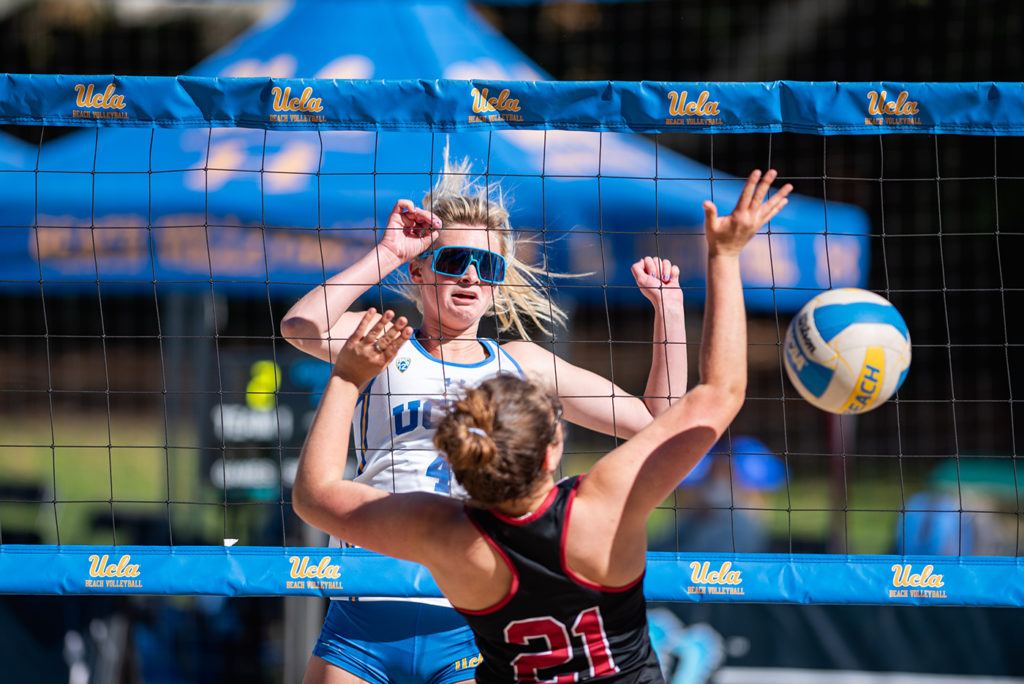 On court four, Freshman Rileigh Powers hit the ball past Stanford's Amelia Smith. Powers partnered with redshirt freshman Jaden Whitmarsh.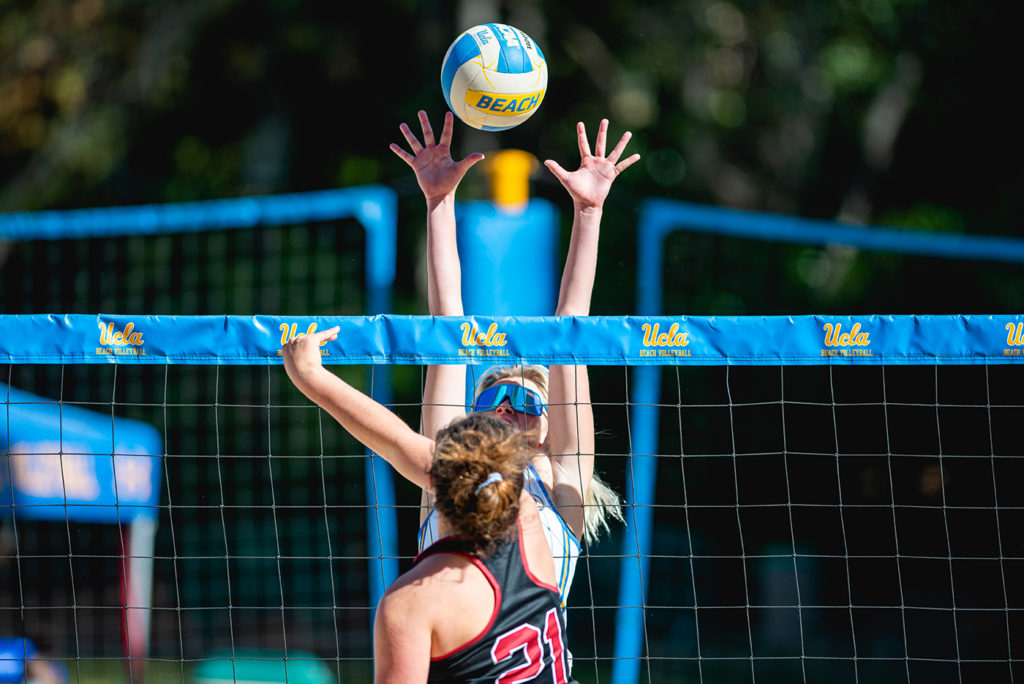 "Powers raised her arms to defend a ball returned by Smith. Powers and Whitmarsh fell to the Cardinal 21-18, 21-16.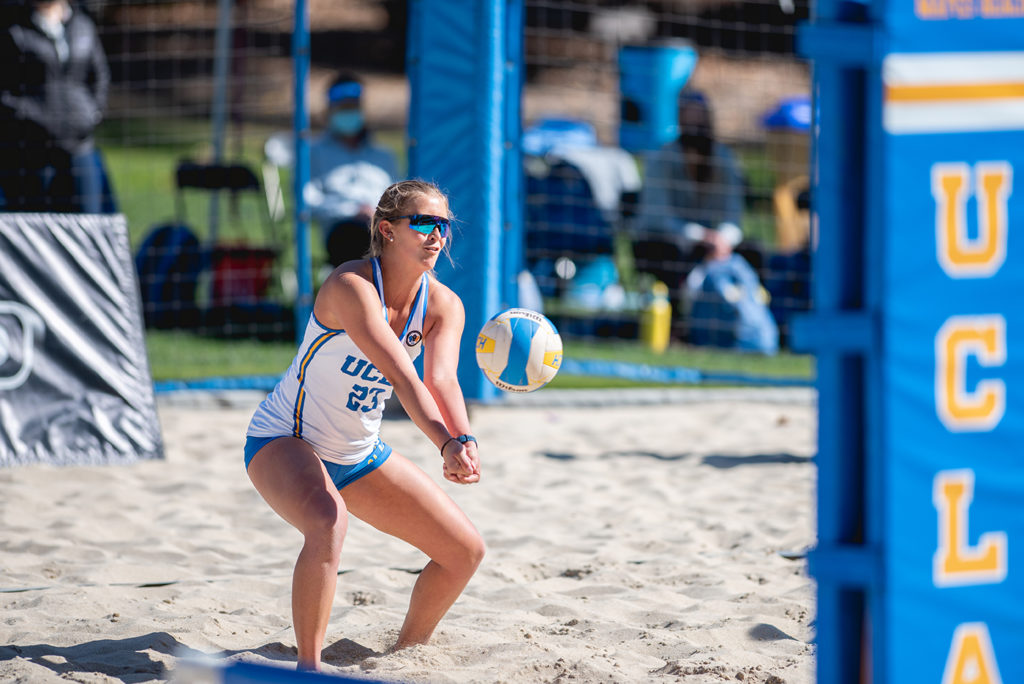 Sophomore Lindsey Sparks made a pass on court two. Sparks played in a pair with freshman Devon Newberry in the dual match.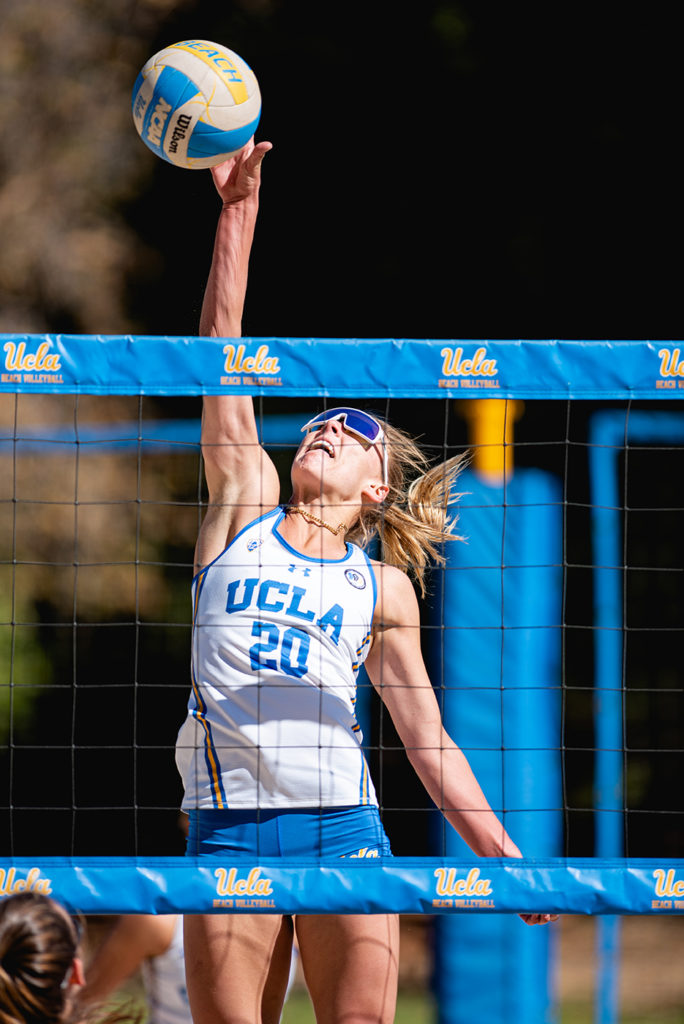 Redshirt sophomore Hannah Phair jumped to tip the ball over the net on the exhibition court. Phair has remained undefeated since last season.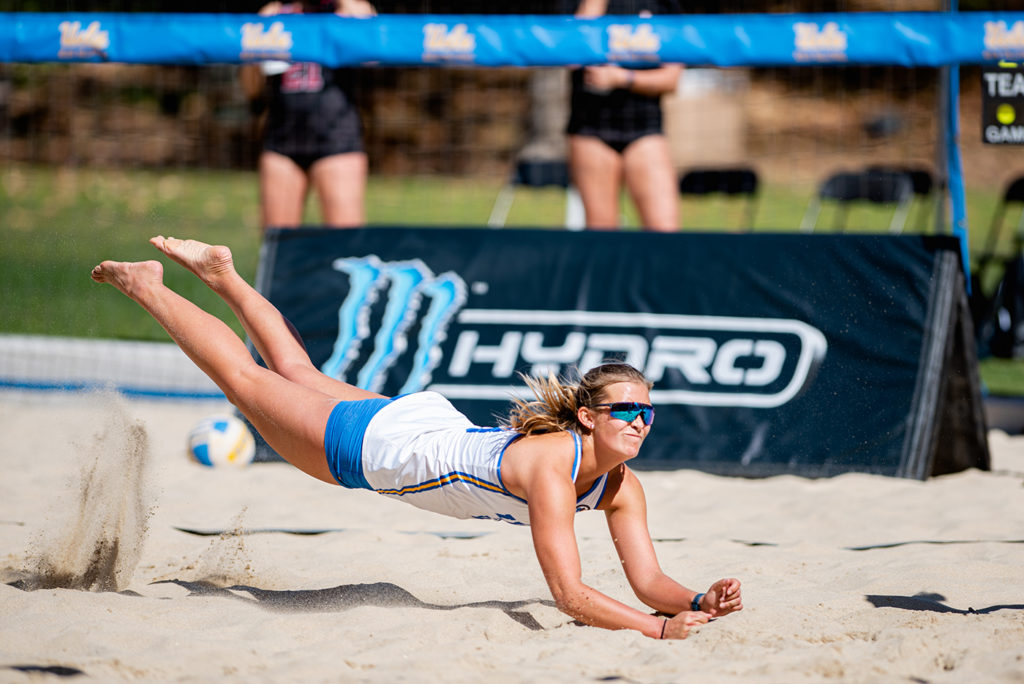 Sparks dove in an attempt to dig the ball.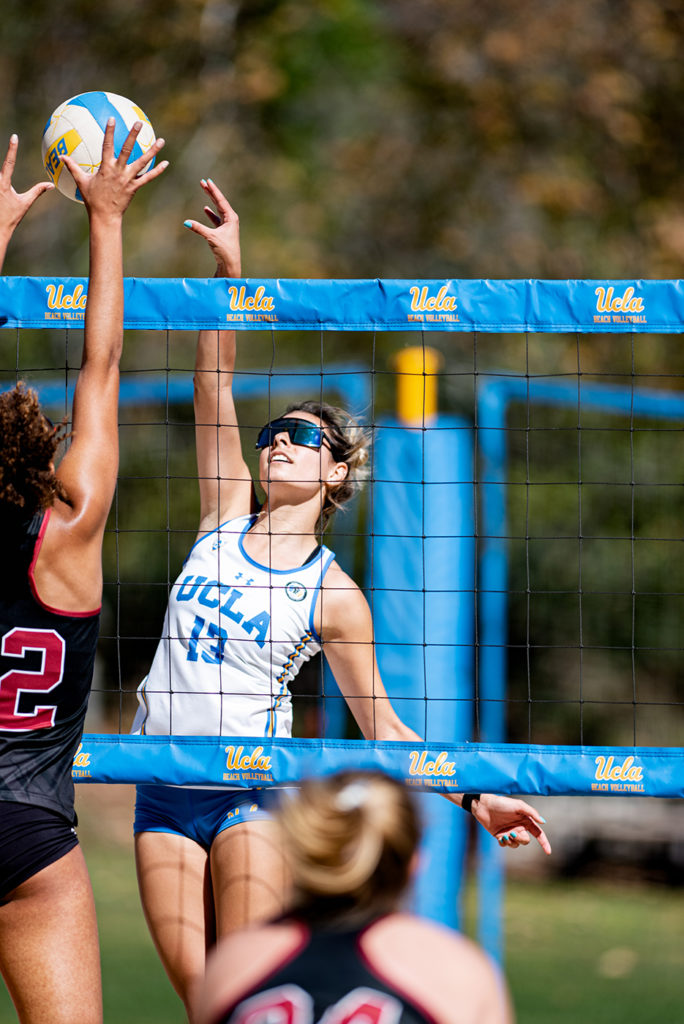 Newberry reached for the ball across the net from Stanford's Xolani Hodel. The match went into a third set, as Newberry's pairing split the first two sets with their opponents. The Bruins tied with the Cardinal 24-22 and 20-22, with each team winning a set.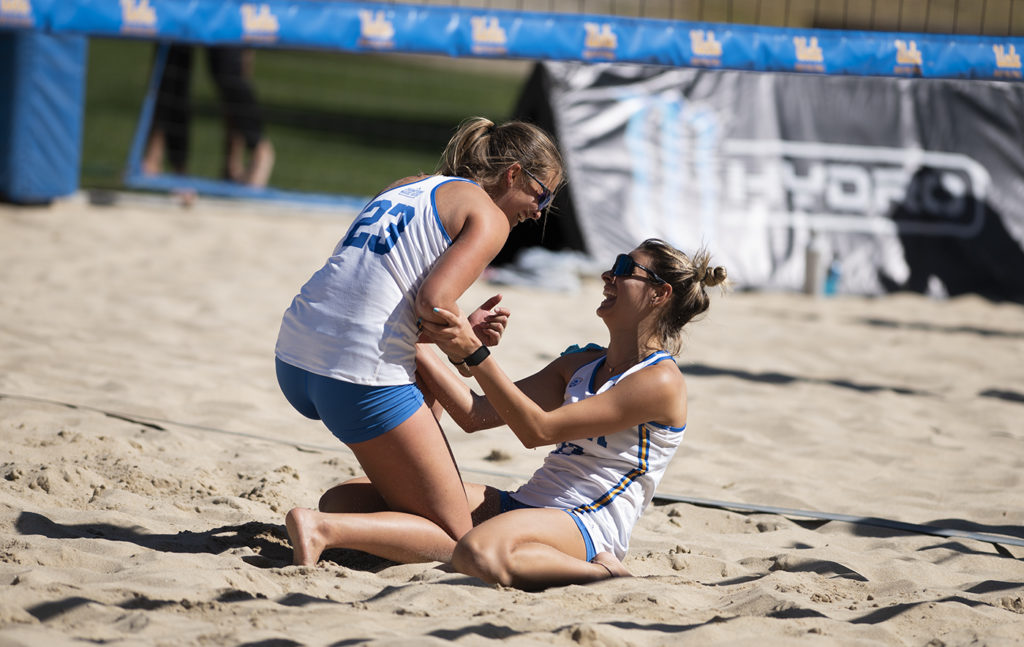 Sparks ran to Newberry in celebration of their 16-14 victory in the final set against Hodel and her partner Kate Reilly. Each set of the match was decided by two points.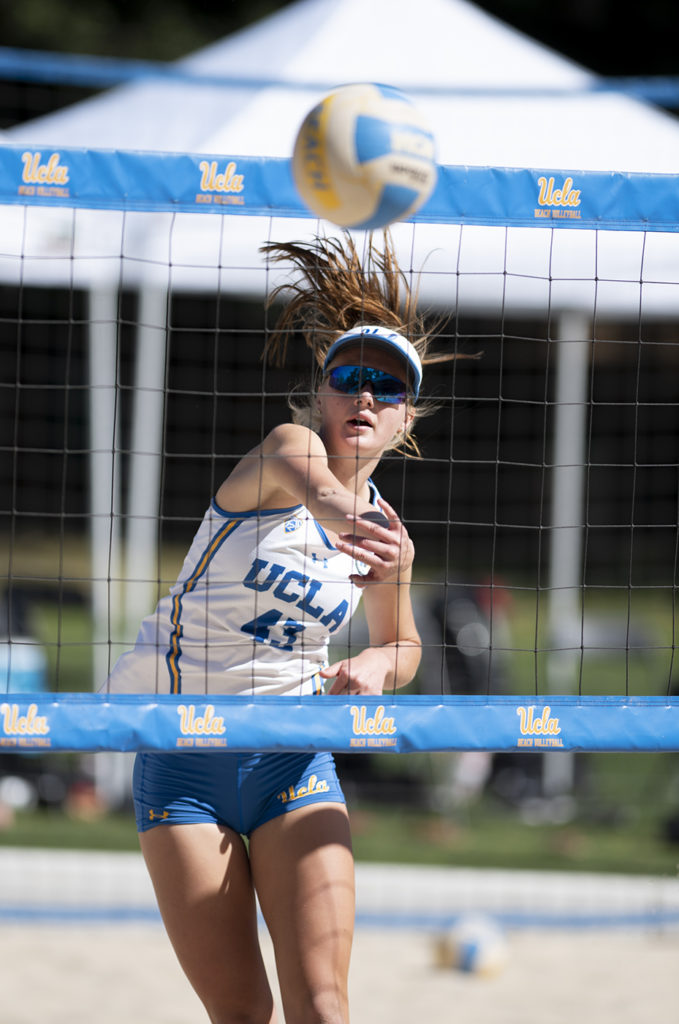 Junior Lea Monkhouse sent the ball over the net during warmups.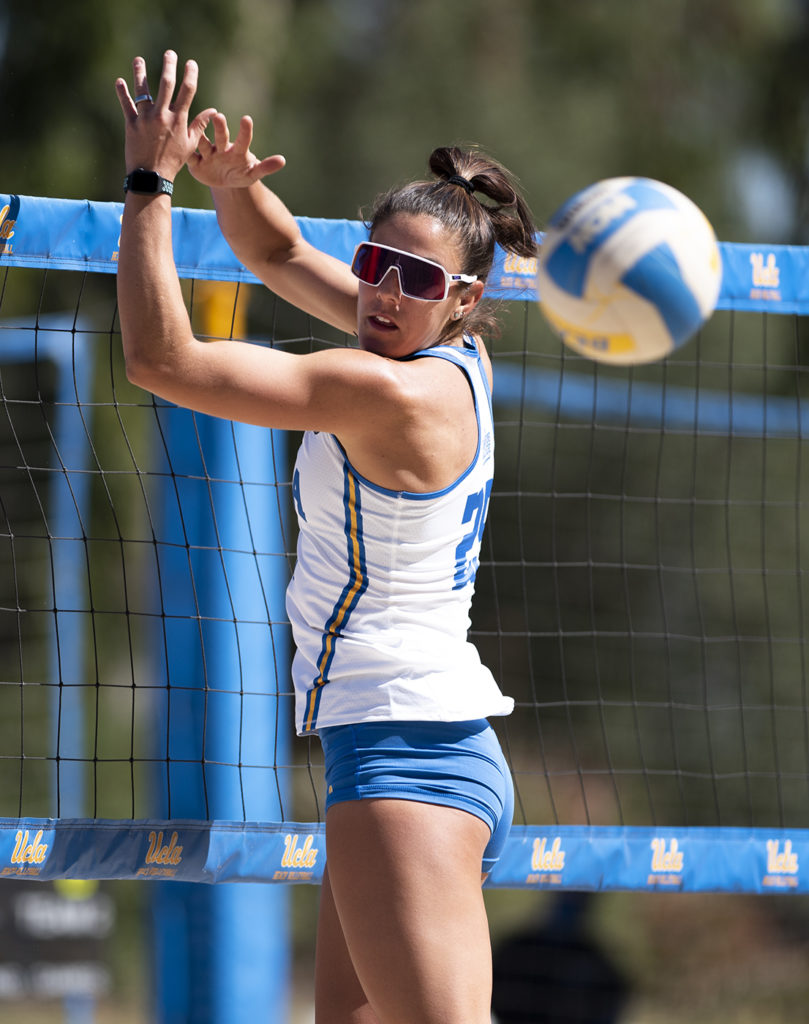 Freshman Lexy Denaburg failed to block a ball returned by the Cardinal. Denaburg and her partner, graduate student Savvy Simo, won the match 21-12, 21-14, taking UCLA to a 2-1 lead over Stanford.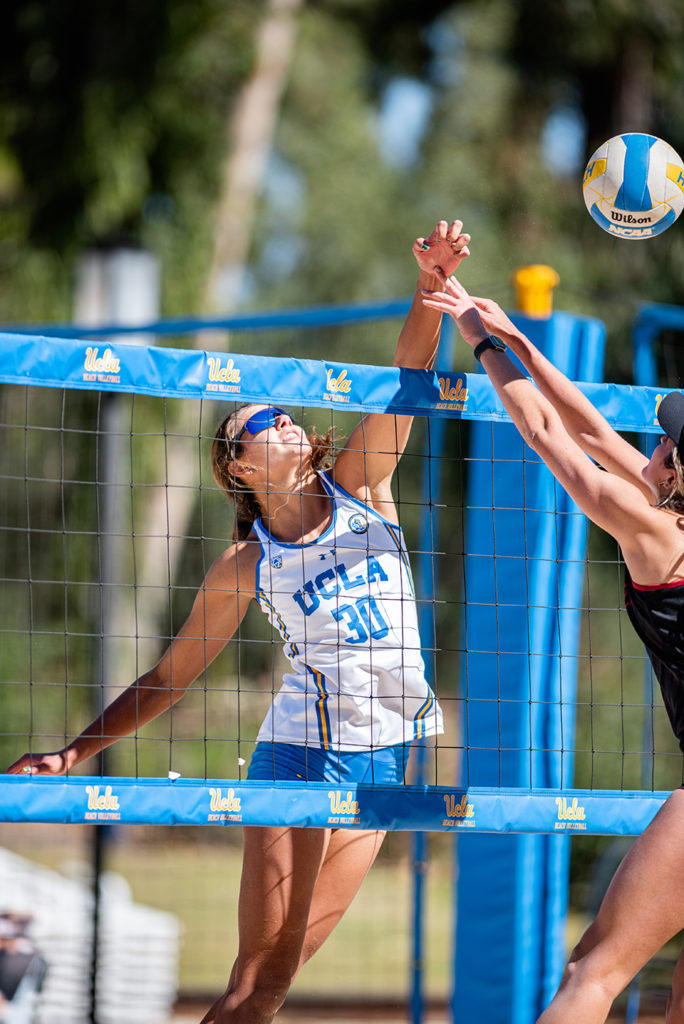 Graduate student Jacqueline Quade poked the ball over the outstretched arms of a blocker. The pair fell short to the Cardinal 21-17, 21-19.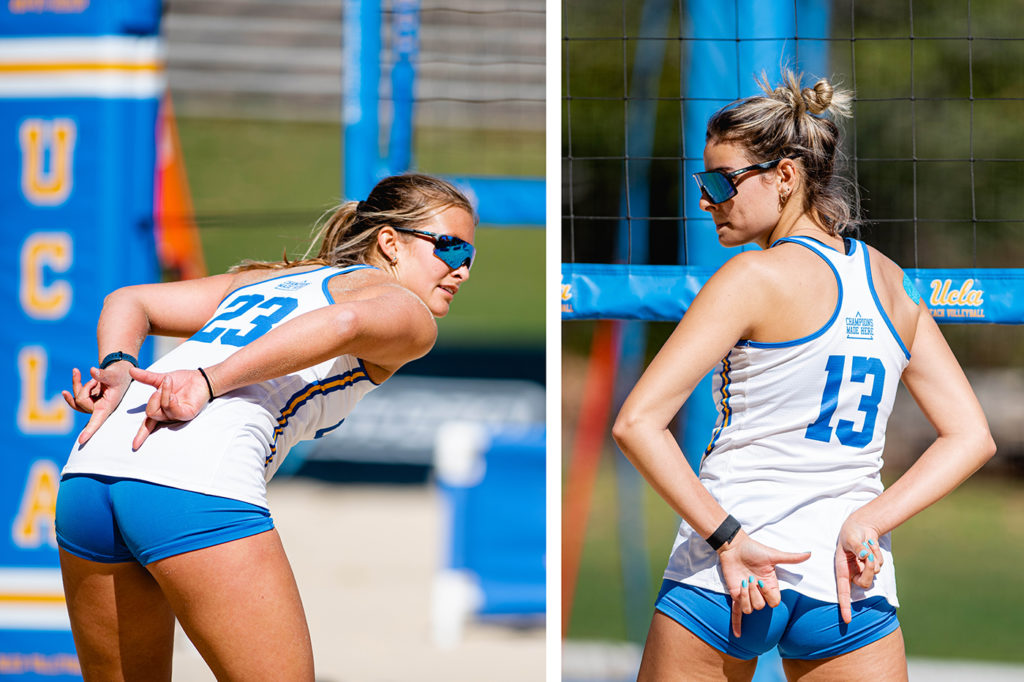 Sparks (left) and Newberry (right) communicated with their respective partners through hand signals.
The Bruins swept the Cardinal 5-0 in the second matchup of the doubleheader.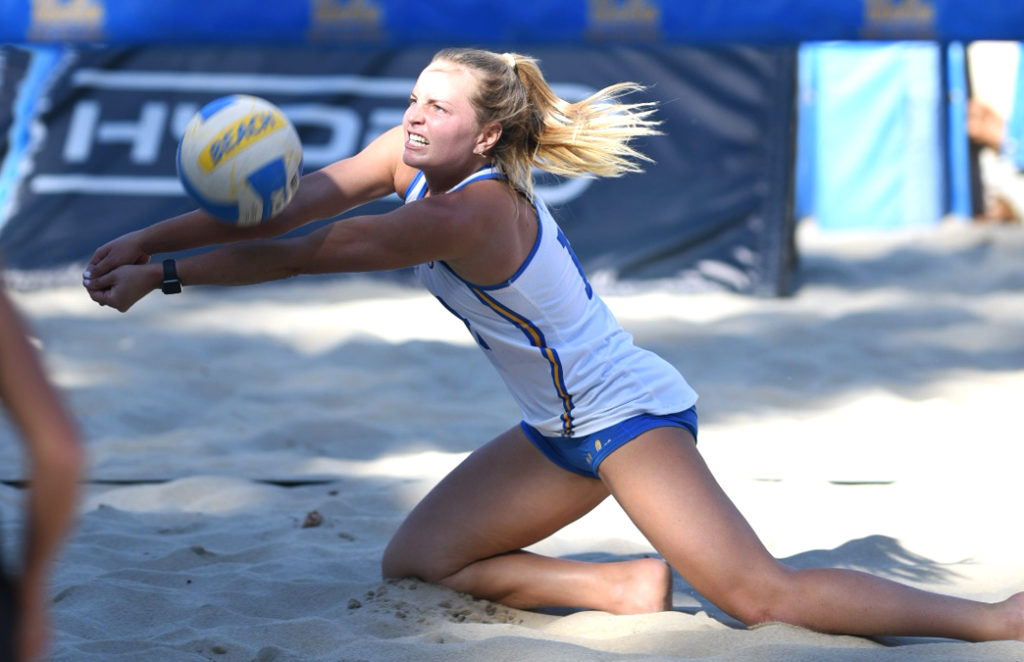 Redshirt freshman Jaden Whitmarsh hit the ground as she passed the ball.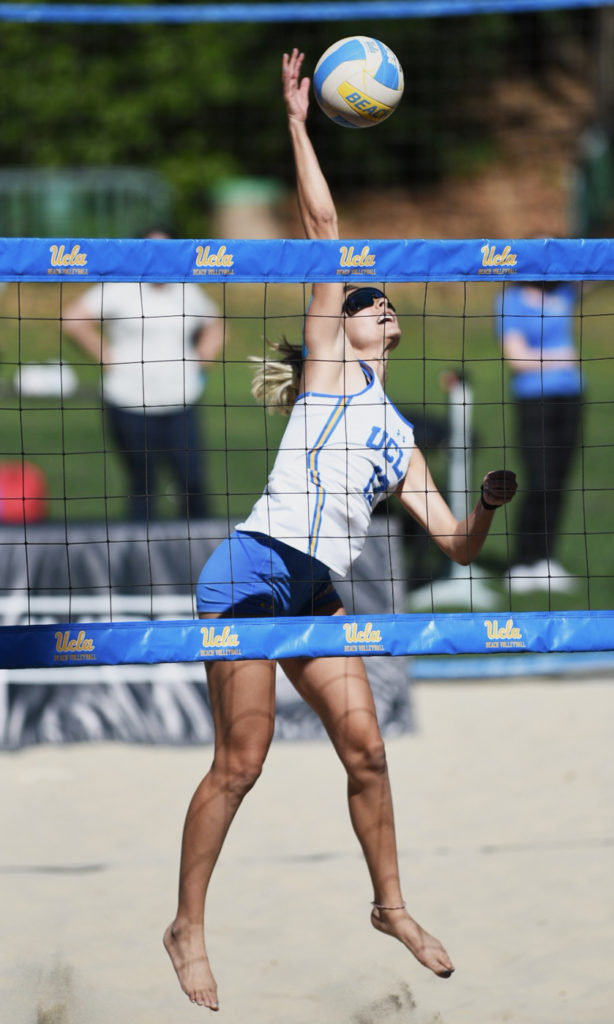 Newberry went up to spike the ball as she and Sparks went on to defeat their Stanford opponents 21-16, 23-21.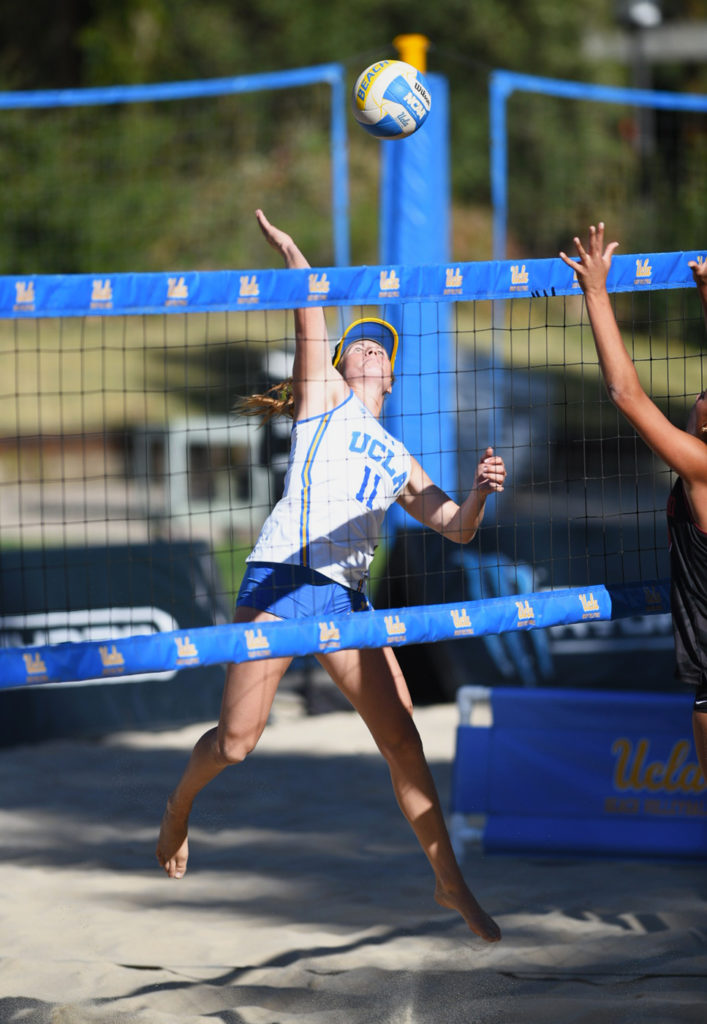 Simo leaped for the ball to hit it over the net.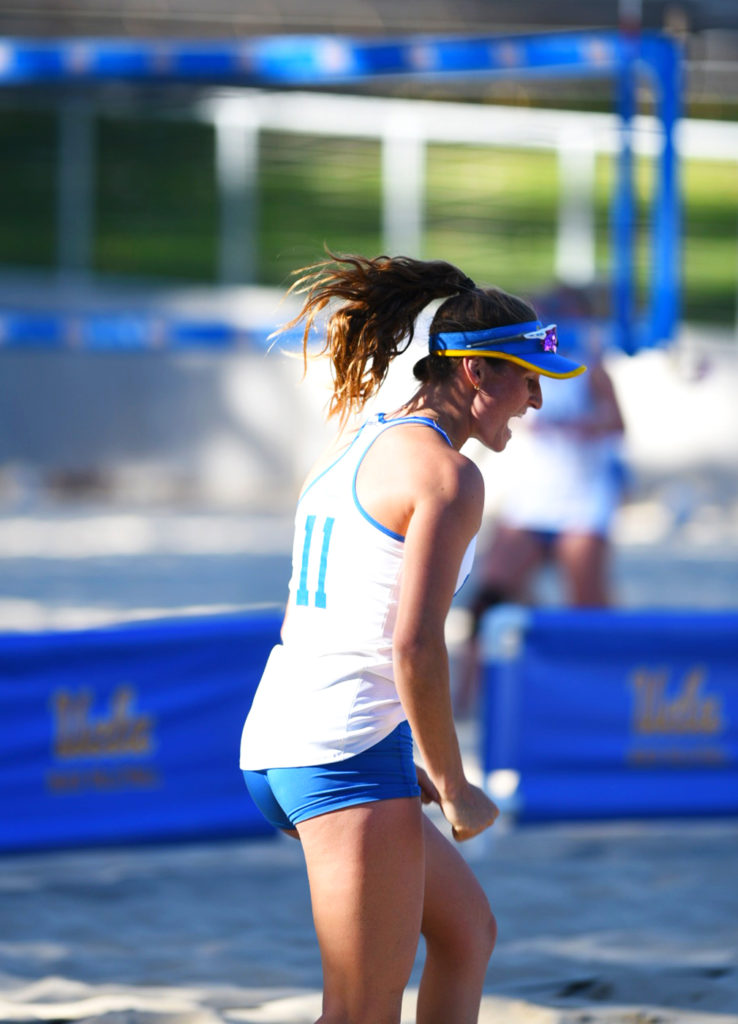 Simo celebrated getting a point as she and Denaburg went on to defeat their Stanford opponents 21-18, 21-13.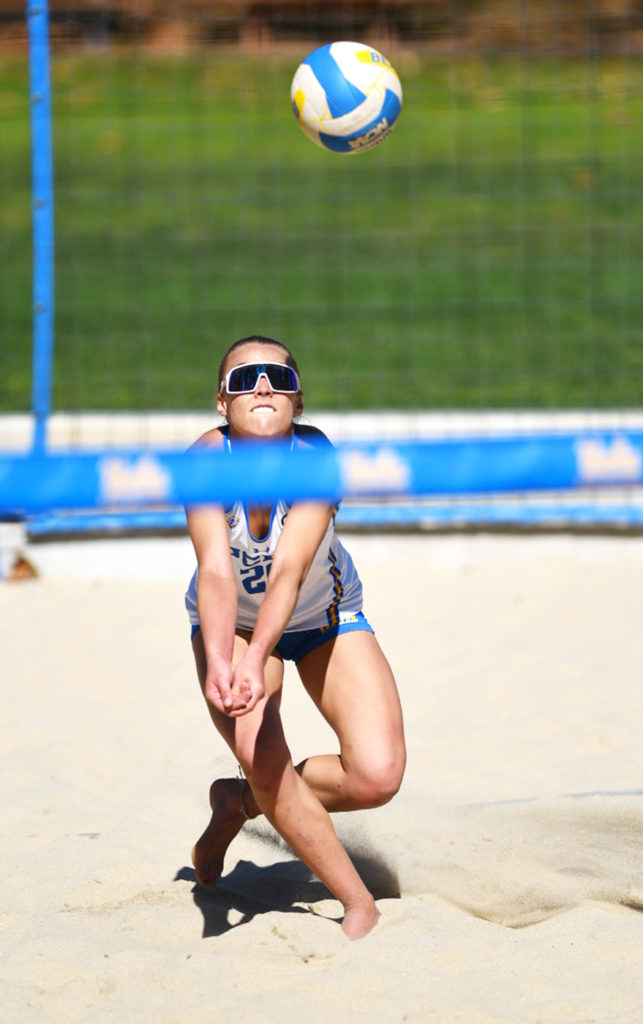 Phair went for a pass to Walters. The pair defeated their Stanford opponents 21-12, 21-10.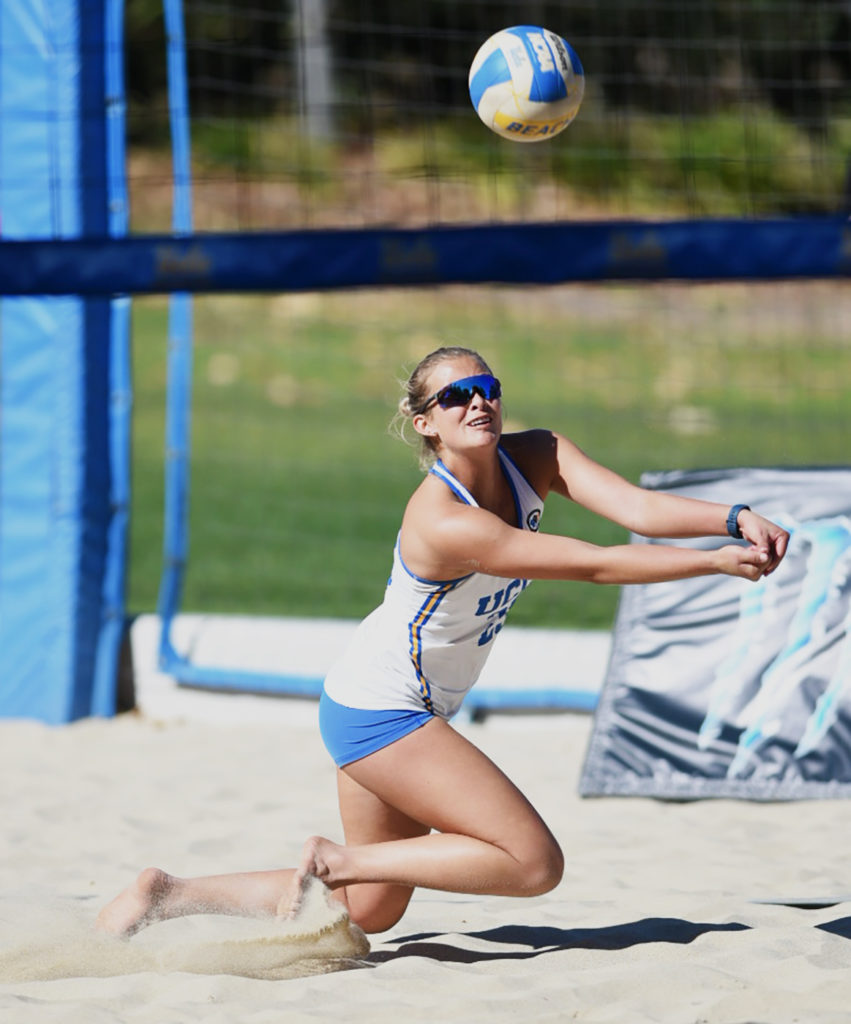 Diving to the ground, Sparks moved left to pass the ball to Newberry before winning their match 21-16, 23-21.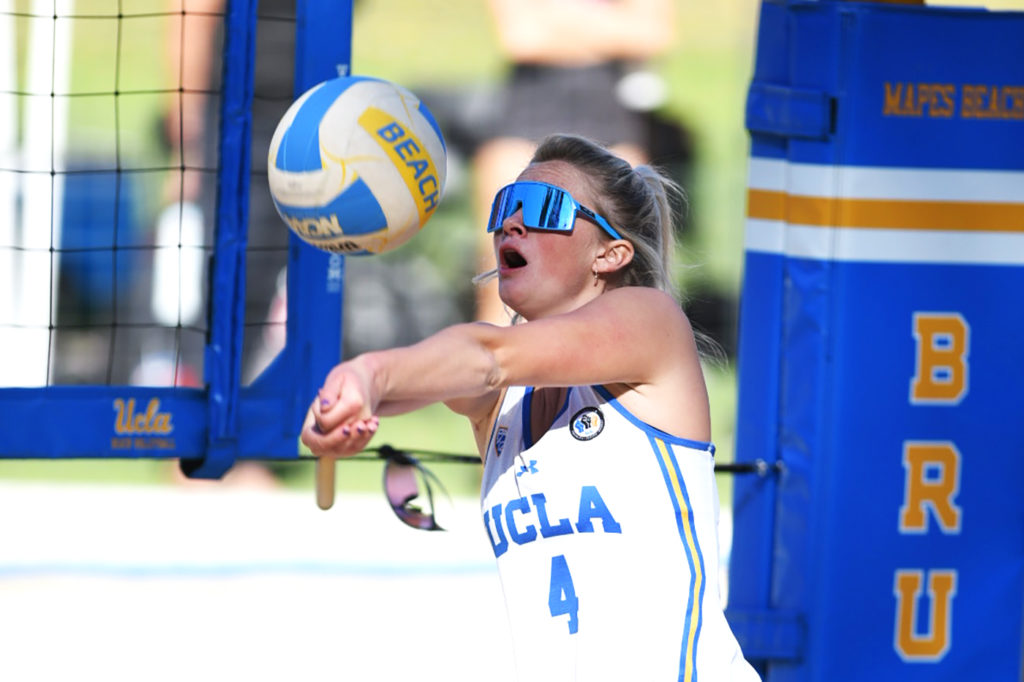 Freshman Rileigh Powers passed the ball. Powers and Whitmarsh defeated their opponents 21-14, 21-16.