Protestors in Beverly Hills and Downtown LA on Tuesday met a widespread police presence as they took to the streets in anticipation of election results.
LAPD issued a citywide tactical alert early Tuesday to gear up for election night.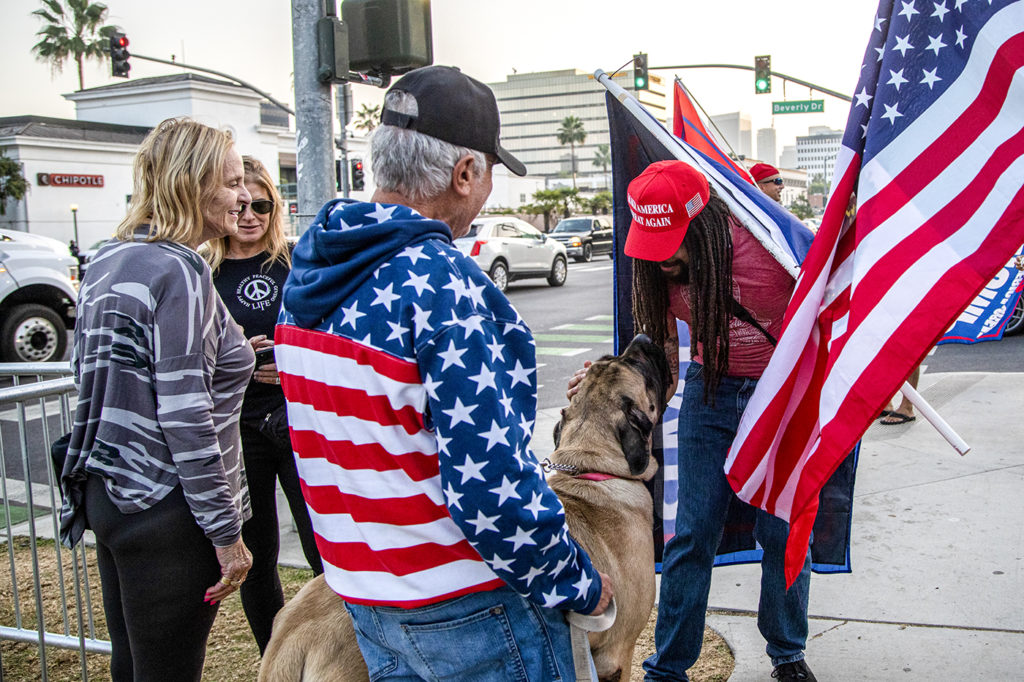 At a pro-Trump rally in Beverly Gardens Park, a demonstrator brought his furry friend along, and several demonstrators took a break from chanting slogans and waving flags to greet the dog.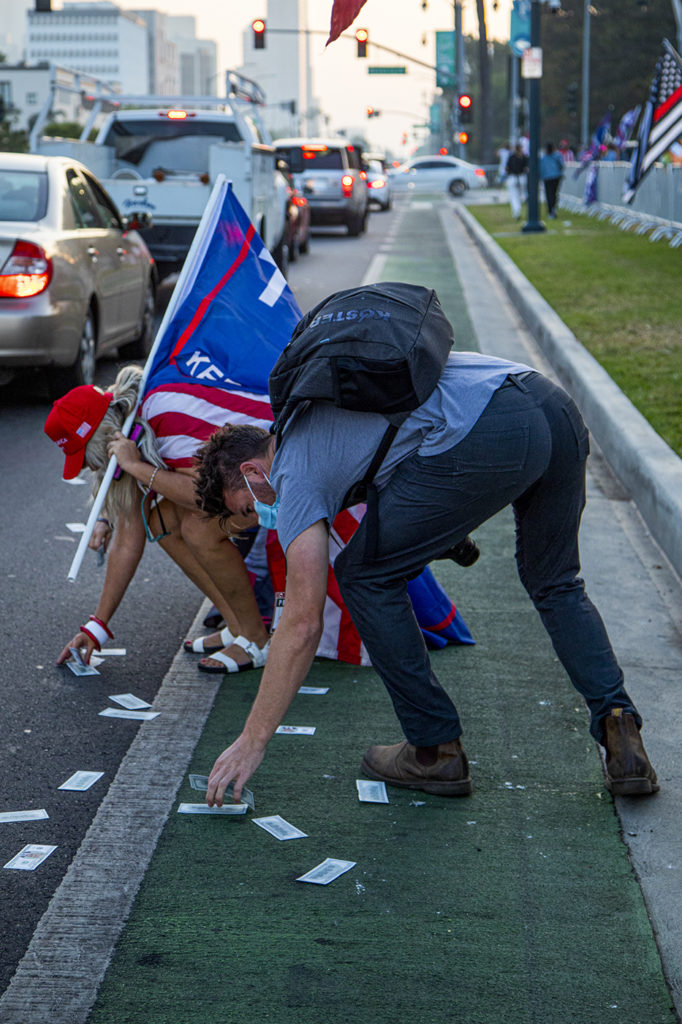 One car passing by the pro-Trump rally threw handfuls of parody Trump dollars out their window and onto the street. Trump supporters climbed over a steel barrier to pocket the novelty $2,020 bills.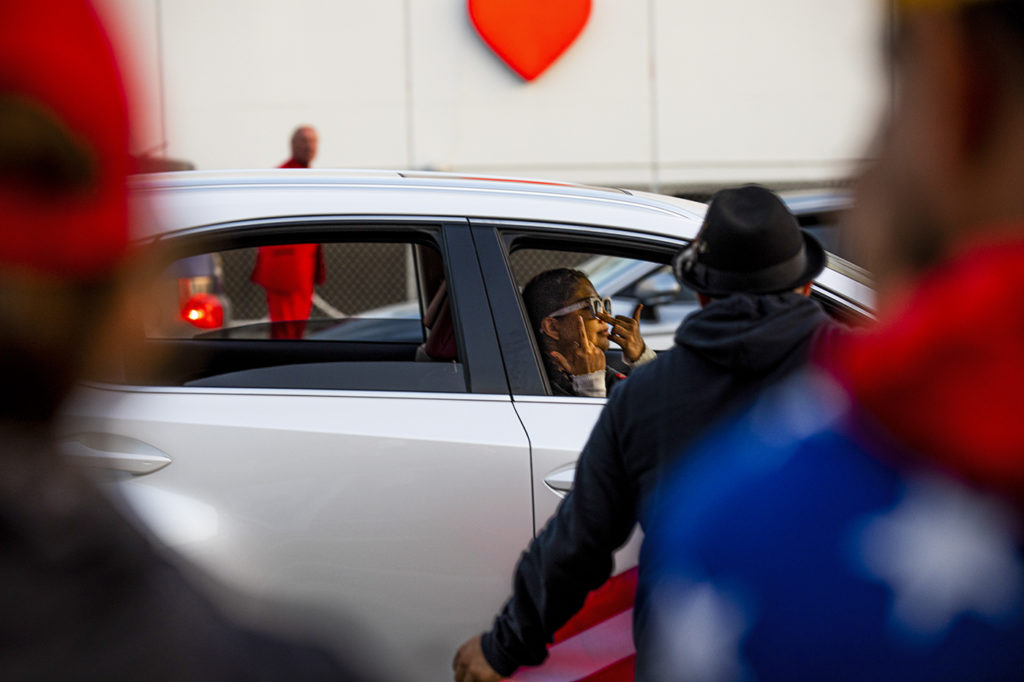 While many cars passing by the Trump rally honked in support of the demonstrators, some expressed their discontentment. One driver did so by displaying two raised middle fingers.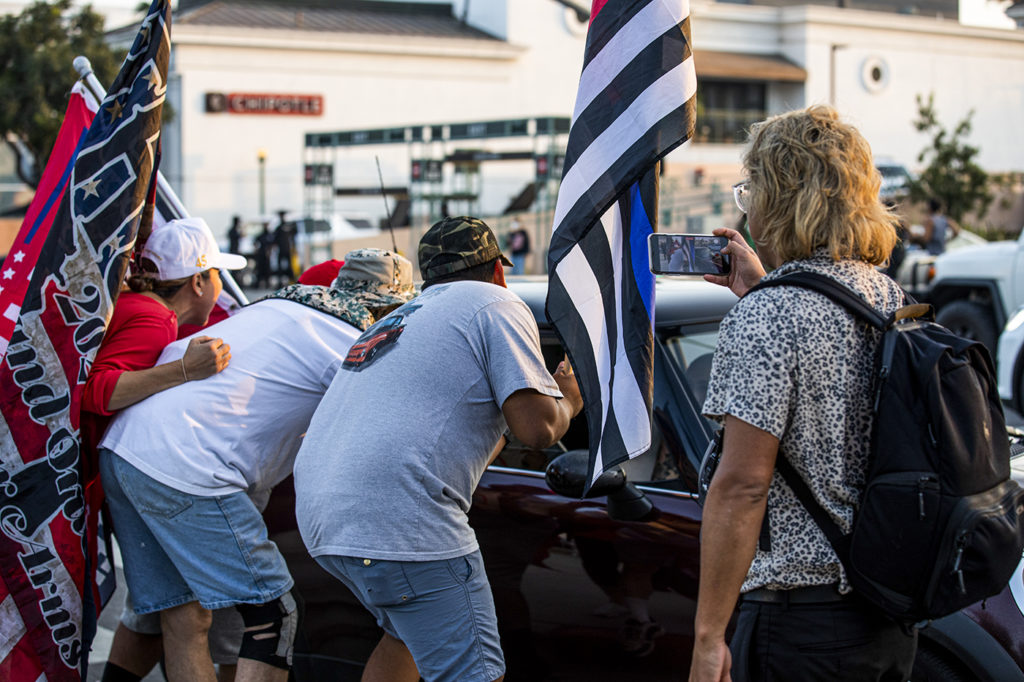 Pro-Trump demonstrators shouted at cars driving down Santa Monica Boulevard, and some demonstrators reached into open passenger windows. At least two such altercations were broken up by LAPD on Tuesday.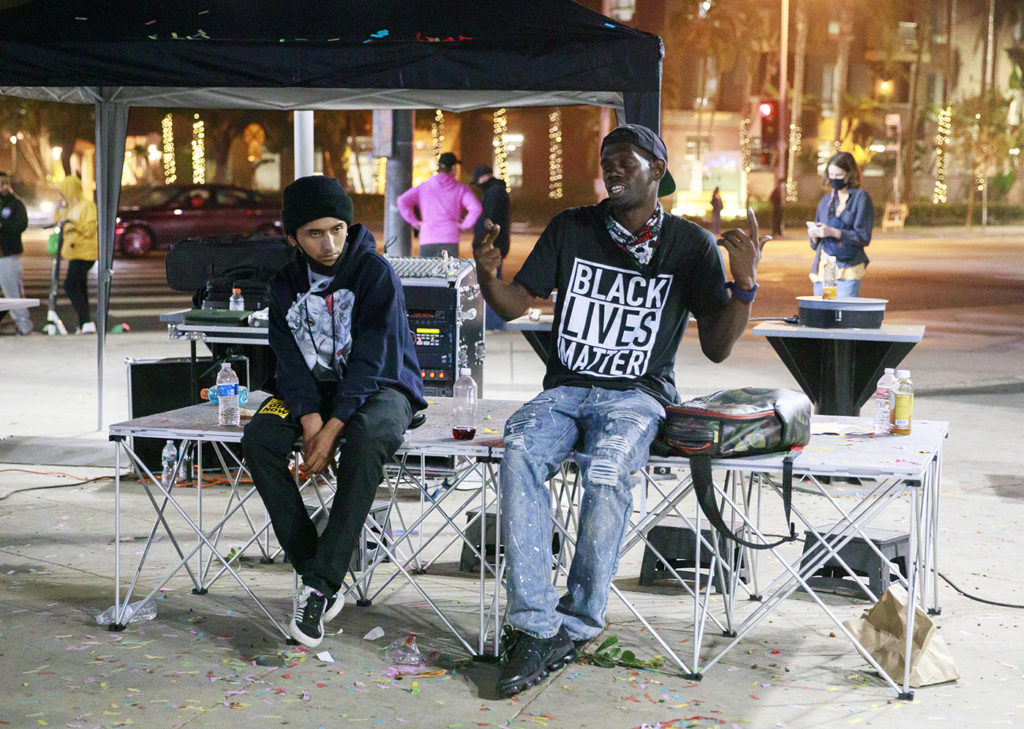 Black Lives Matter Los Angeles organized a "Marathon Party at the Polls" event at the Staples Center, encouraging voter turnout on election day and hosting guest speakers such as Ava DuVernay.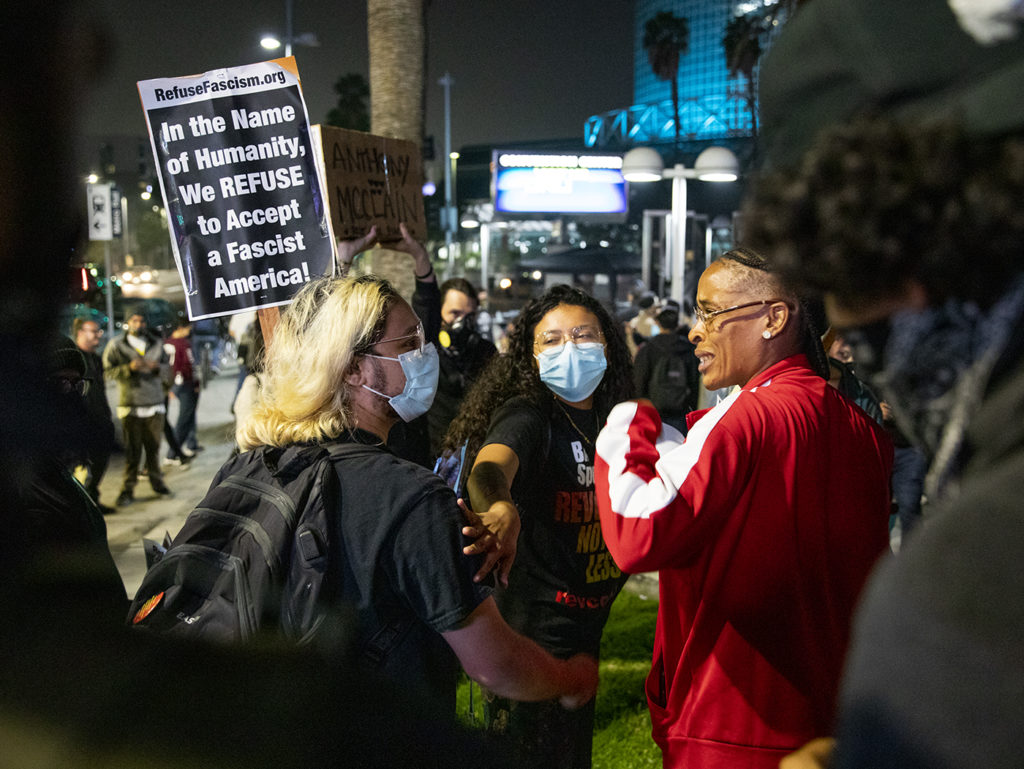 Demonstrators from Refuse Fascism clashed with Black Lives Matter supporters at the Staples Center after attempting to persuade attendees to join their demonstration at nearby Pershing Square.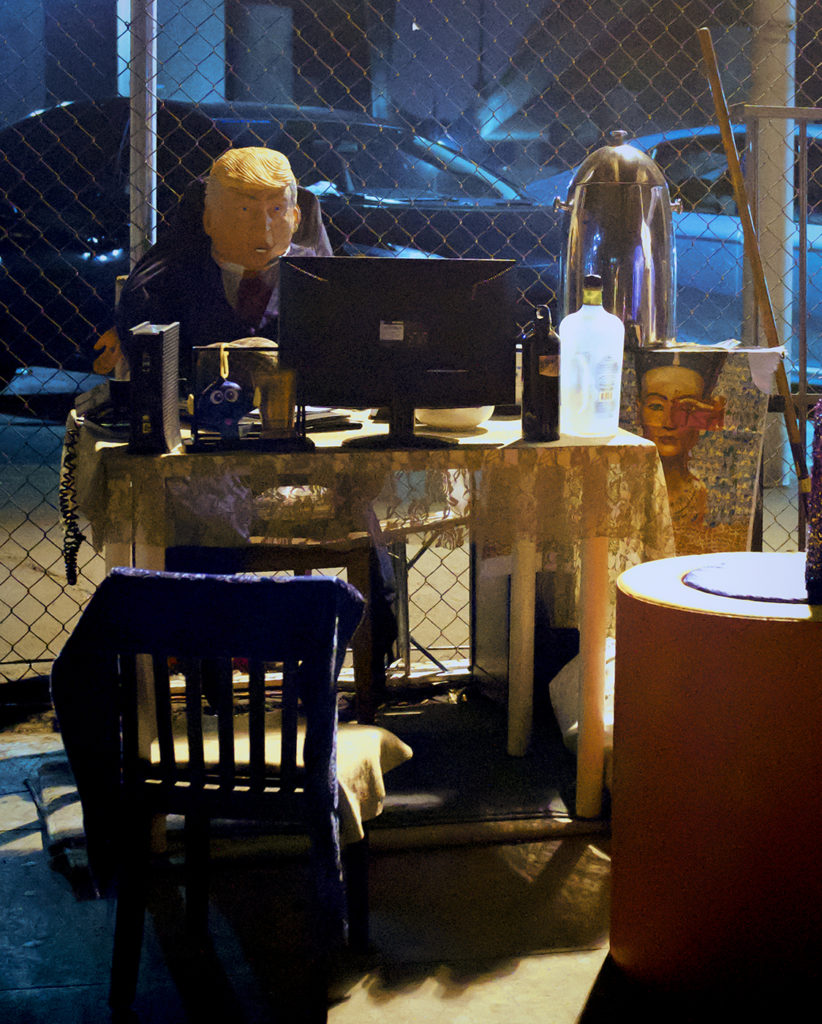 A President Donald Trump dummy was propped up against a desk underneath an Interstate 10 overpass.
As protestors gathered at the Staples Center, demonstrators from the Los Angeles chapter of Refuse Fascism moved to Pershing Square to maintain a presence on the streets in case Trump declared victory prematurely Tuesday night.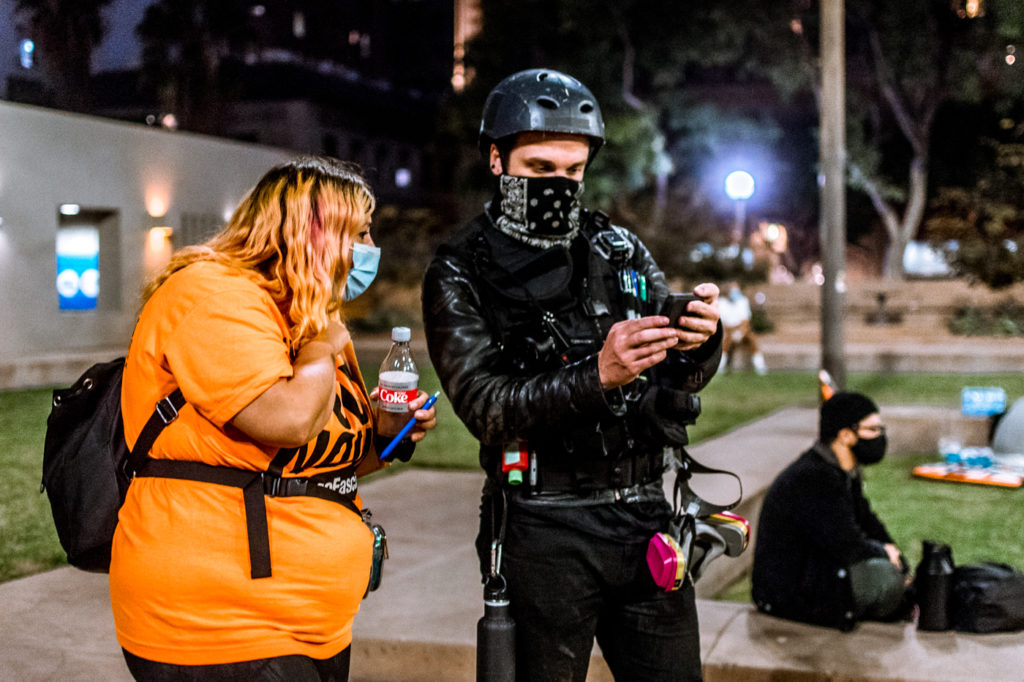 Jed Fuchs, a member of Refuse Fascism, showed a fellow protestor a video he had received of the protest taking place at Staples Center, several blocks over.
"It was announced as an unlawful assembly," said Fuchs. "That way they can just start making arrests. So we can assume dozens of snatch-and-grab arrests went down tonight."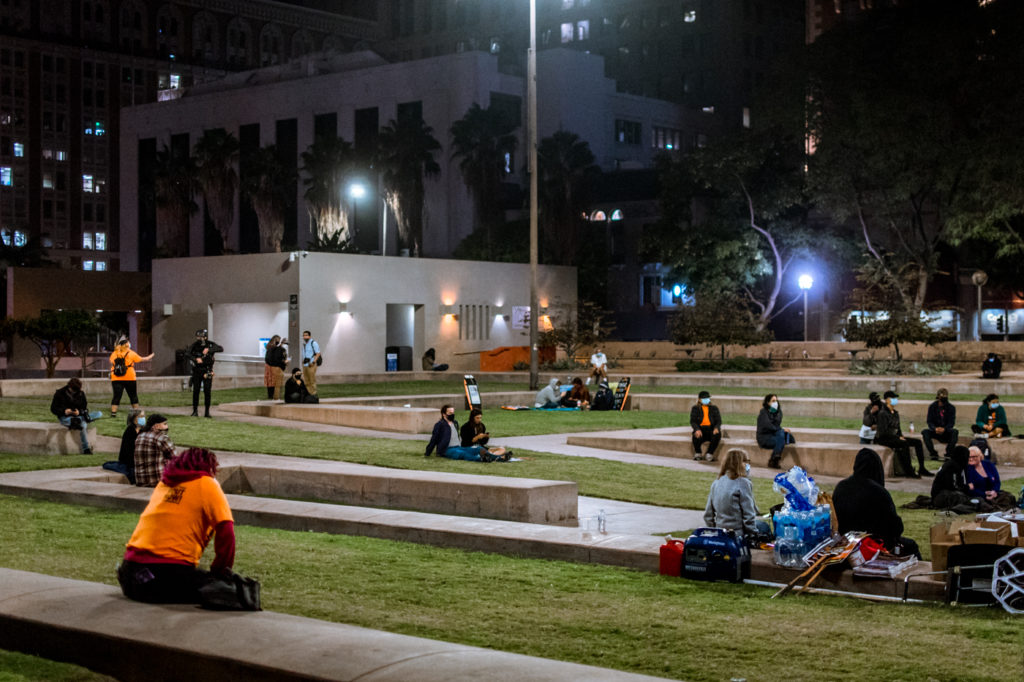 Renee Schwartz, who was attending the socially distanced demonstration at Pershing Square with two of her friends, said she voted for former Vice President Joe Biden and Sen. Kamala Harris in the 2020 presidential election.
"I'm aware that as of right now, we can't do anything further," said Schwartz. "The ballots are in, they're counting them, and we're kind of just waiting and twiddling our thumbs until we start to see some change."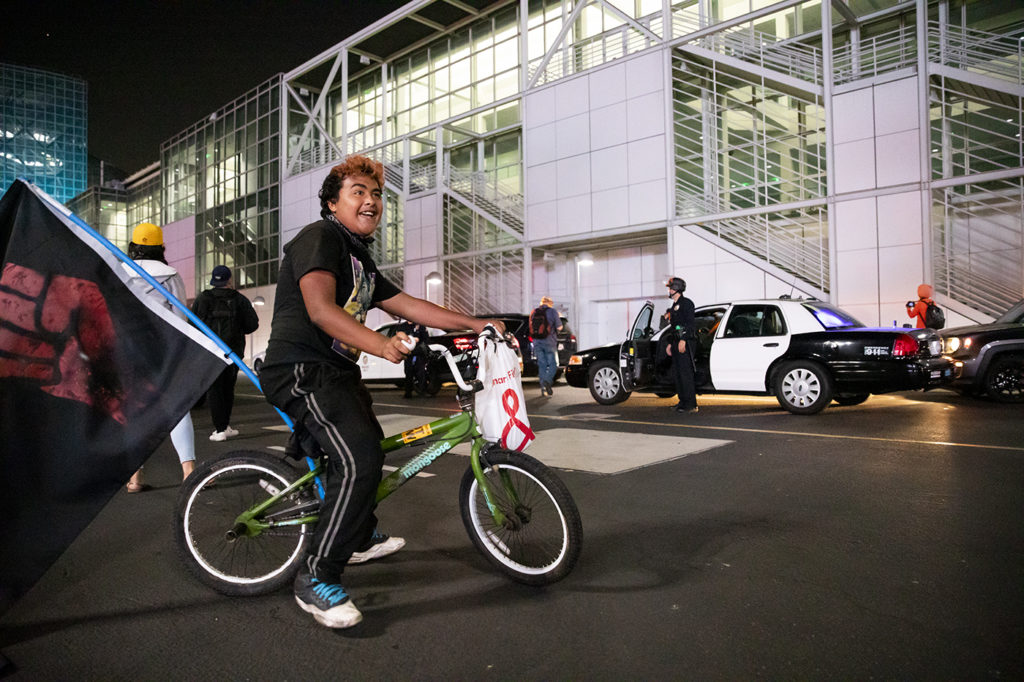 A squad of police cars pulled into the Staples Center parking lot, resulting in verbal confrontation with gatherers at the Black Lives Matter gathering.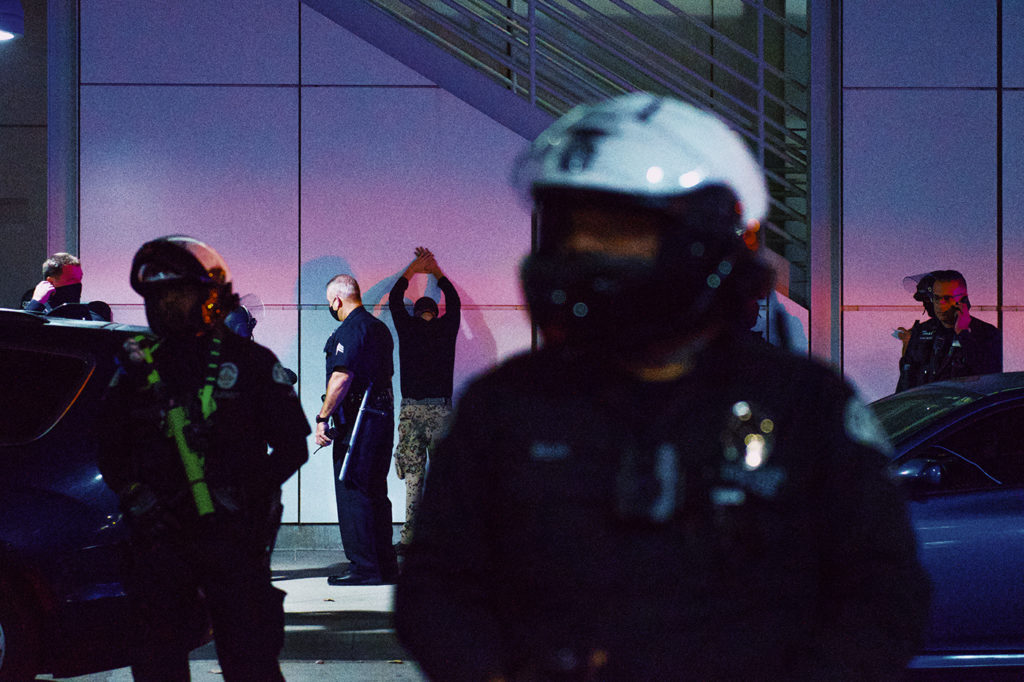 Police detained gatherers at the Staples Center.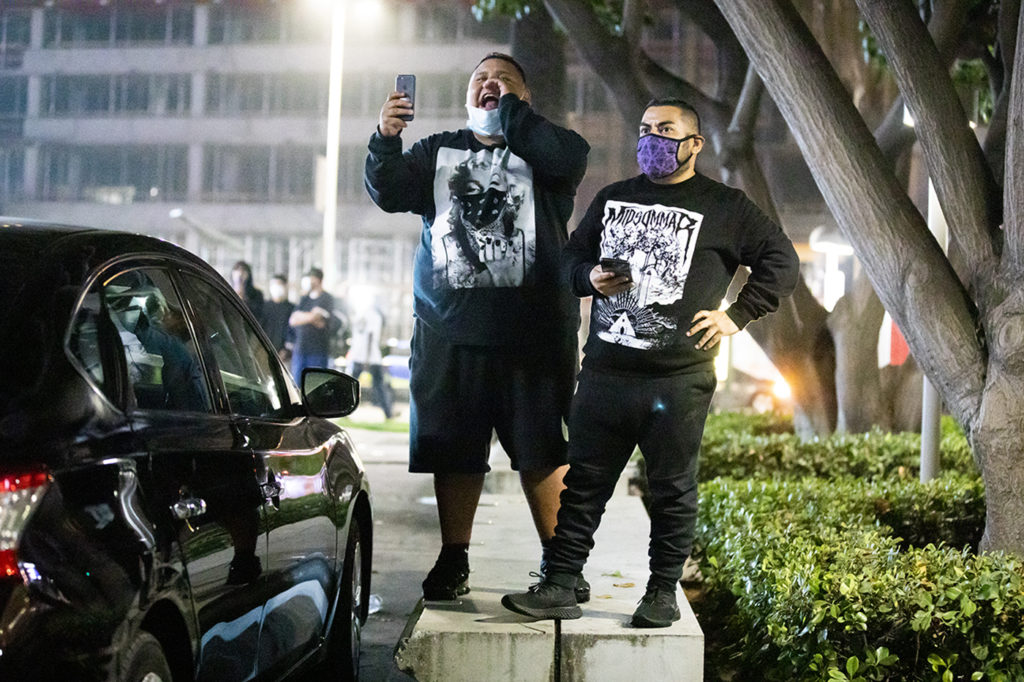 Several members of the crowd shouted at the police officers assembled at the scene, inquiring why some gatherers had been detained.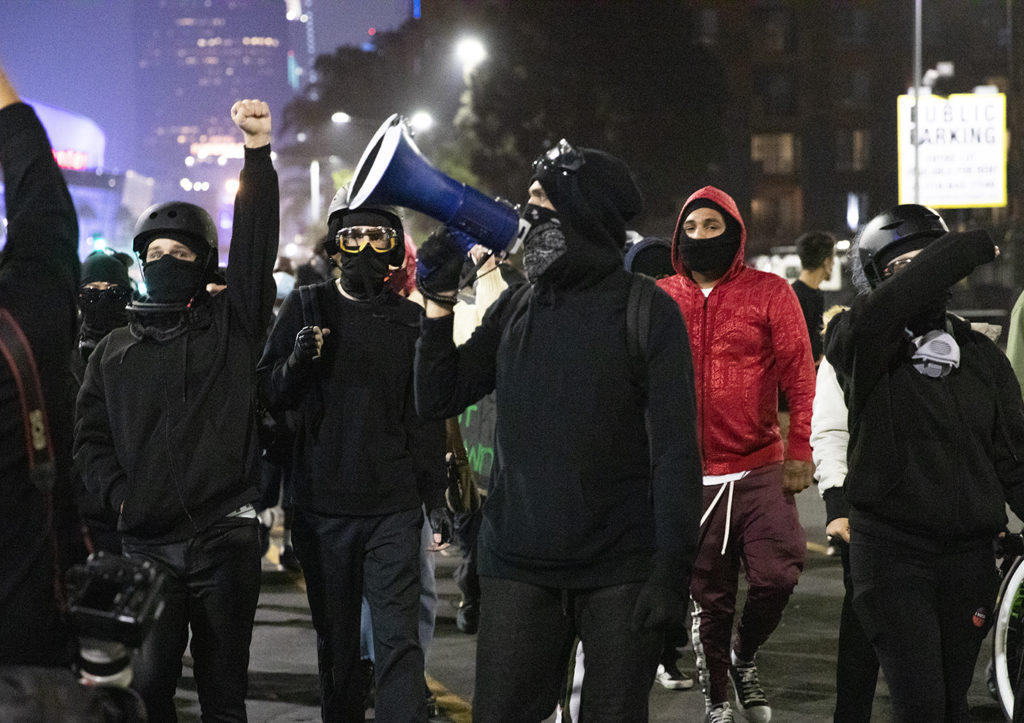 A group of protestors marched down South Figueroa Street in Downtown Los Angeles after assembling at the Staples Center, chanting anti-police and anti-fascism slogans.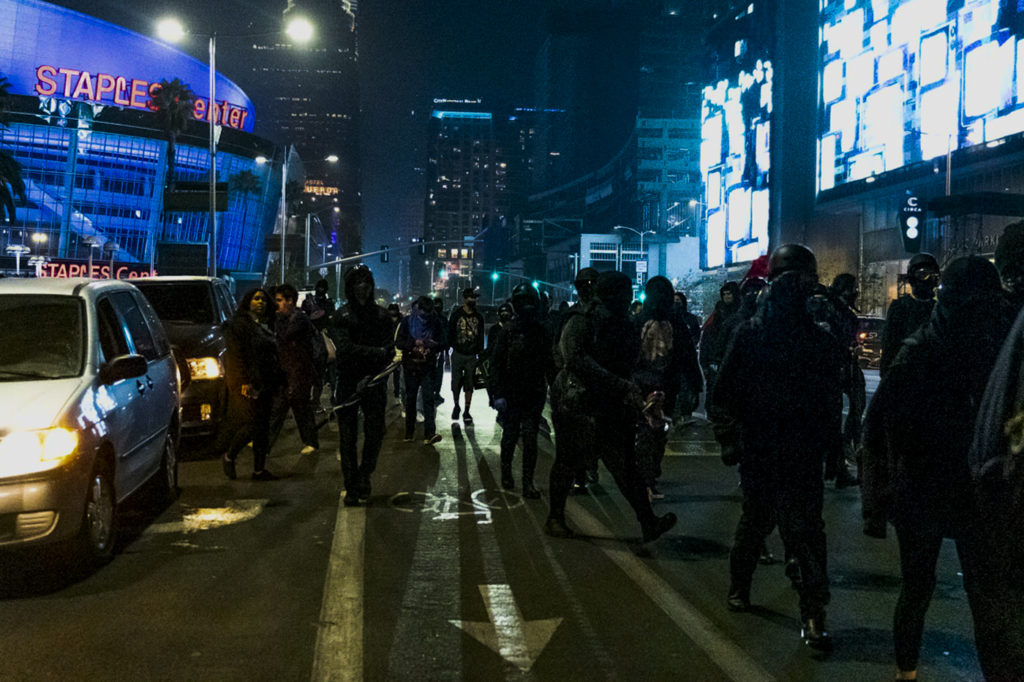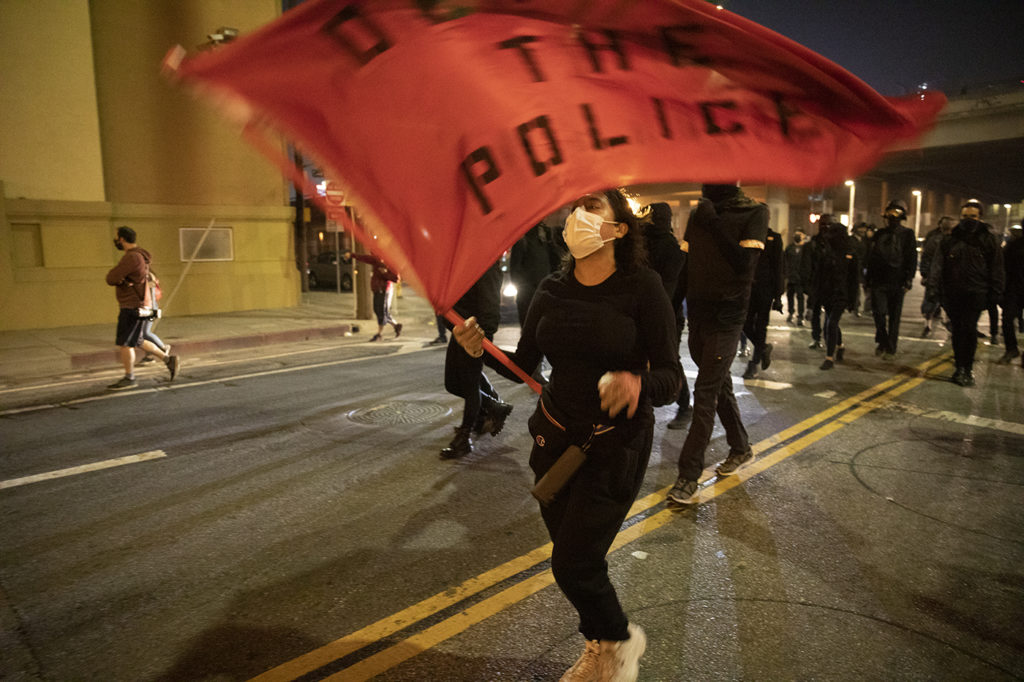 Protestors clad in all black crossed the 10 freeway on South Grand Avenue, led by a demonstrator holding a "Defund the police" flag.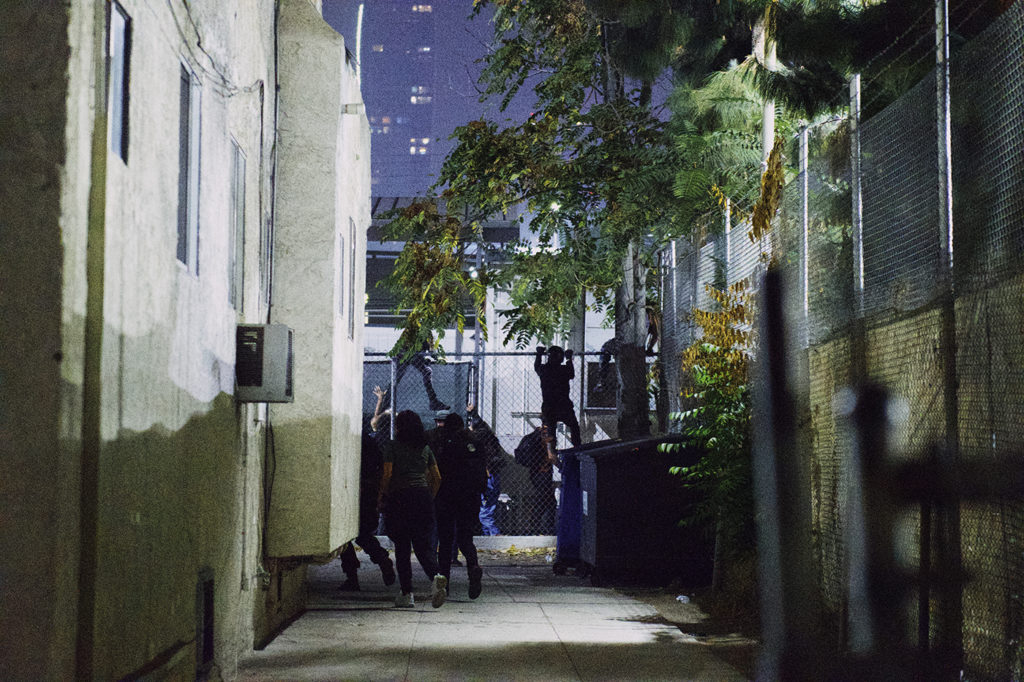 After being edged in on both sides of 18th Street, protestors in Downtown LA discarded their riot gear and fled the scene to avoid approaching LAPD officers.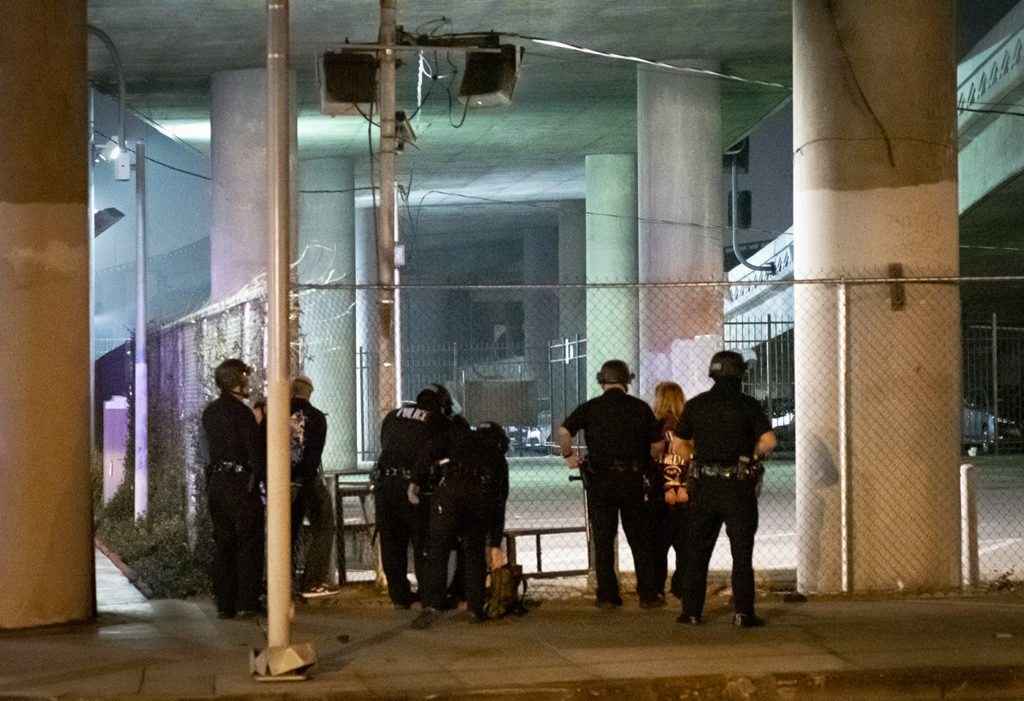 Anti-Trump protestors were handcuffed and searched by LAPD officers underneath an Interstate 10 overpass. The protestors marched from Staples Center and disrupted traffic flow around Figueroa Street and Grand Avenue, disobeying the dispersal order issued by LAPD.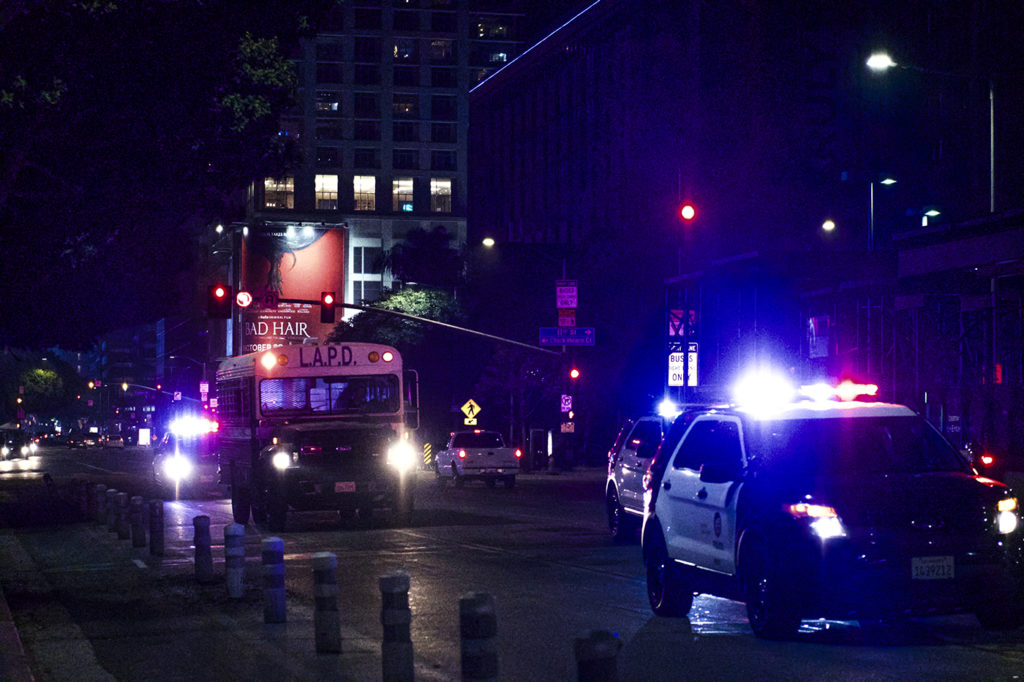 Several arrests were made just blocks from the Staples Center. A swarm of LAPD vehicles and detainee vans sped down Figueroa Street toward the scene.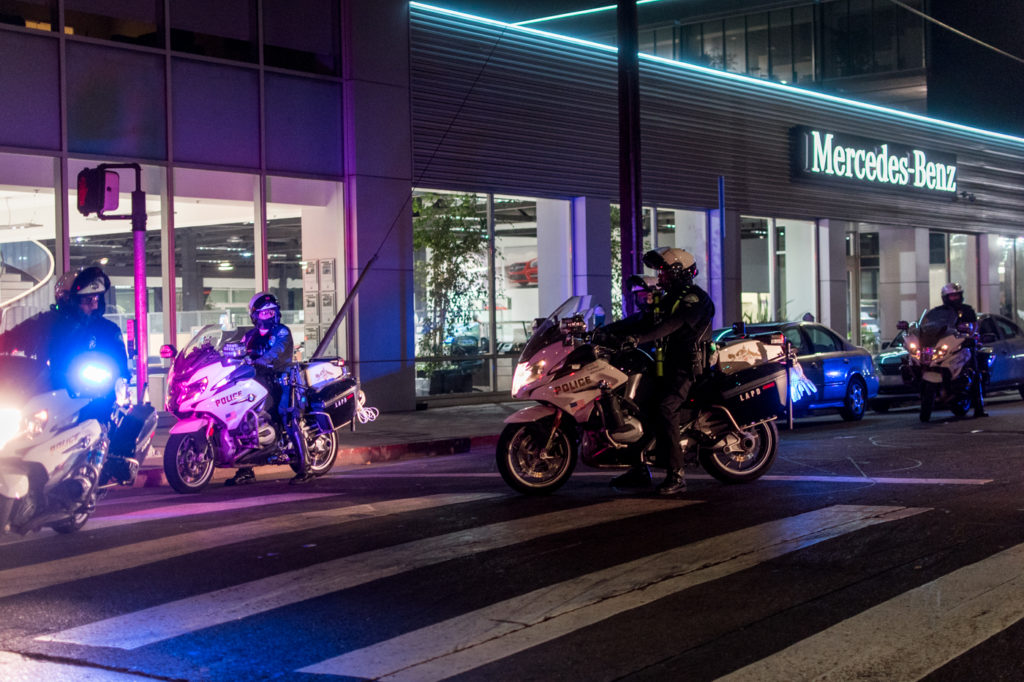 As LAPD's presence intensified in Downtown LA, officers on motorcycles patrolled the area.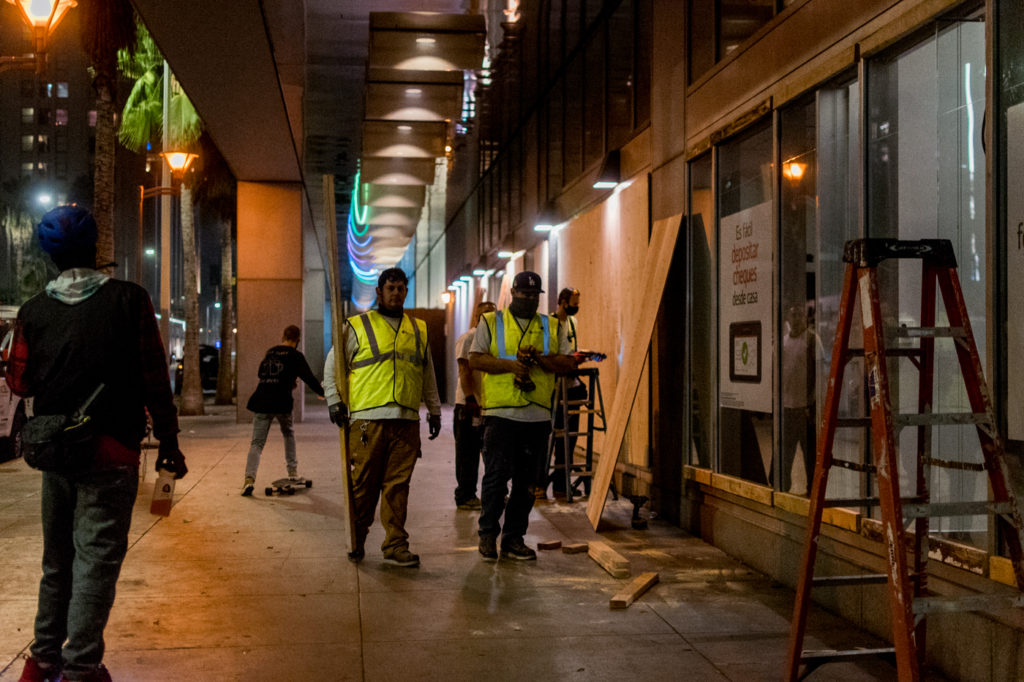 By midnight, protestors had largely dissipated. A majority of the storefronts surrounding Pershing Square had also been boarded up in anticipation of civil unrest.