Jordan Chiles never shies away from the spotlight. An Olympic medalist with endless energy and eye-catching swagger, she has Hollywood written all over her.
But don't count on her to follow a script.
The 2020 Tokyo Olympics came and went in a flash. Chiles checked off a lifelong dream and added an Olympic silver medal to her trophy case back home. It was supposed to be the storybook ending to her time as an elite gymnast.
"Jordan was adamant she was done," said Gina Chiles, Jordan's mom. "She was like, 'Nah, I'm done done. After the Olympics, I'm going to go and do UCLA and then I'm done.'"
So much for the swan song.
Two years with UCLA gymnastics later, Jordan is hitting pause on everything else to rehearse an act that was initially bound for the cutting room floor: a shot at the Paris 2024 Olympics.
"I'm doing it for me," Jordan said.
Her first shot at the Olympics hadn't exactly gone to plan. Jordan – coming off 24 straight hit routines in elite competition – fell twice in qualifications, eliminating her from the all-around finals. And when four-time Olympic gold medalist Simone Biles bowed out of the team finals, Team USA, the heavy favorite, was forced to settle for silver.
"I got a phone call from Japan right after qualifications, and it was heartbreaking, to be honest," Gina said.
This was the same Jordan Chiles who, at 5 years old, would routinely challenge her elders at the Scrabble table. The same Jordan Chiles who would make her classmates cry as a kid because she would tell them, "I'm about to win this thing."
For Jordan, silver might as well have been a consolation prize. She knew she could've done more.
The bindings were slowly coming undone. The script needed a rewrite.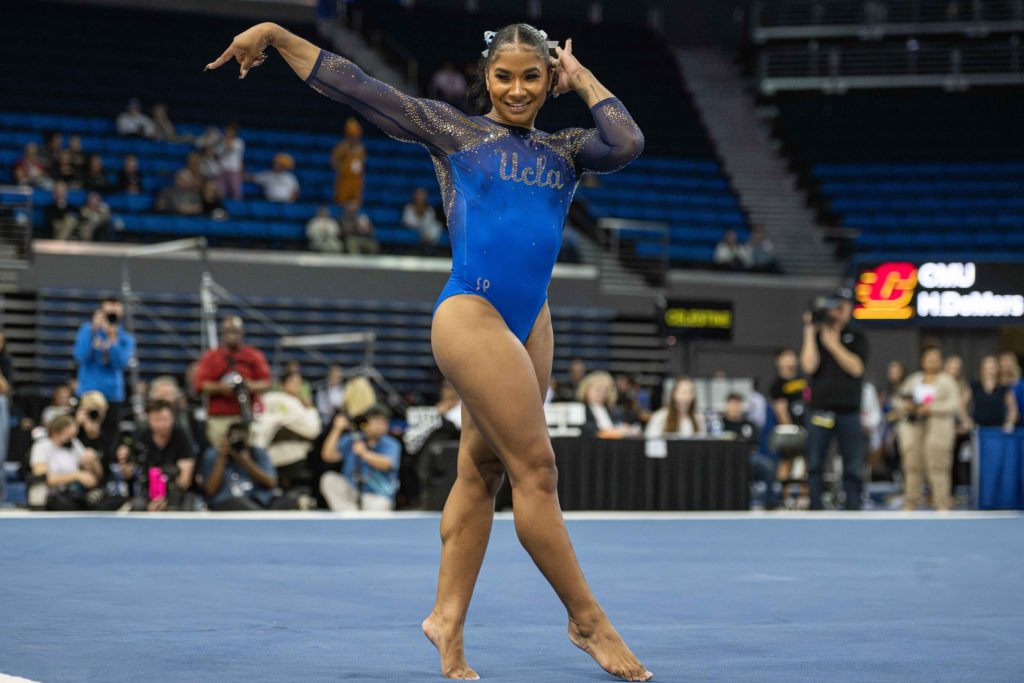 Competing for UCLA was always supposed to be the cherry on top. Name, image and likeness legislation came at the perfect time for the Olympian to capitalize on her newfound fame, but Jordan would've come to Westwood anyway. This is what she had wanted since she was a kid.
She wanted a chance to experience NCAA gymnastics – a far cry from the strict and unforgiving nature of elite gymnastics. And although Jordan never dimmed her personality as an elite gymnast, she never shined brighter than she did as a collegiate gymnast.
"In college, I was able to actually show more of my personality," Jordan said. "It was really cool just to enjoy that and just to show people there's more than just you being yourself in your sport, but also you being yourself in the real world as well."
And even as she made the potentially permanent transition to college gymnastics, she still played around with her elite skills in the gym. A month into her time as a Bruin, doubt started to creep in – maybe the transition wasn't permanent after all.
Jordan's freshman season at UCLA didn't match her expectations. The Bruins missed out on qualifying to nationals as a team for the second year in a row, the consistency that defined Jordan in elite gymnastics hadn't translated to college and coach Chris Waller had resigned by the end of the year.
But as UCLA ushered in new head coach Janelle McDonald and the tides began to shift in Westwood, Jordan was already turning the pages – searching for the next act for her to star in.
She still felt like a capable elite gymnast. And while she already achieved the ultimate dream of reaching the Olympics, Jordan had never made a World Championships team despite numerous attempts.
"It just started to kind of nag at her like, 'Maybe I want to just give that a shot,'" Gina said.
So she did. Jordan and Team USA teammate Jade Carey became the first gymnasts to go from elite to NCAA gymnastics and back again. And by the time the 2022 World Championships wrapped up in November, Chiles won team gold and individual silver medals on vault and floor.
This time, the ad-libbed script in 2022 had a theme: "I'm not done yet." Jordan still had unfinished business in elite gymnastics.
The gymnast who fell out of love with the sport in her elite years had all of a sudden rediscovered the passion of the little girl who couldn't be taken out of the gym. The door to retirement had opened, but Jordan couldn't walk through it.
"She just was like, 'Yeah, I'm not done yet. I have some unfinished business,'" Gina said. "To her, that was World Championships, and now I think for her, it's performing the way she knows that she can perform at an Olympic Games."
Yet all the while, she was doubting a return to UCLA for her sophomore season. With the convincing of her elite gymnastics coaches Cecile and Laurent Landi, Jordan decided to give it another shot.
"Superhero status. That's just how I felt," Jordan said. "Just being able to be me, being that competitive, outgoing, high-energy self of mine."
Not only did Jordan set individual records with the top all-around score in the country this season and national titles on both floor and bars, but she also helped lead UCLA back to the NCAA championships for the first time since 2019.
A lot of that credit goes to Jordan, her coach said, for proving that a competitive attitude and an ability to laugh at yourself didn't have to be mutually exclusive.
"It just really brought a lightness that our team needed," McDonald said. "It really helped our team show up as the best version of themselves."
That same uber-competitive Jordan will strive to right the wrongs of the 2020 Olympics and claim gold in Paris, but it will be a different Jordan too – one shaped by two years in an atmosphere unique to UCLA and NCAA gymnastics.
And when her second Olympics are behind her and the elite chapter begins to close, Jordan could still come back to UCLA for her last two years of eligibility.
"Jordan is a Bruin. She is part of our family," McDonald said. "The door is open for her to come back when she decides to."
Gina said the desire to return to UCLA is certainly there, but only time will tell if Jordan dons a Bruin leotard again.
"It's more so being able just to leave a legacy beyond the legacy I'm already leaving now," Jordan said. "If I can do more than what I've already done, then I think that's something that would really, really be like, 'OK, I'm going back.'"
For now, the cameras are rolling on Jordan's journey to Paris 2024 – a chance at Olympic redemption and the storybook ending she dreamed of. But Jordan's post-Paris story could go a number of different directions, and maybe the final act even takes place in Westwood.
Just don't check the script.