This post was updated May 9 at 4:18 p.m.
The Geffen Academy at UCLA for years touted its state-of-the-art makerspace. But behind closed doors, the program was rife with safety violations that endangered the academy's teenage pupils, according to students, faculty and public records.
​​Inspection reports obtained through the California Public Records Act reveal that, since 2018, the Geffen makerspace repeatedly violated multiple state and university safety regulations. Makerspace educators and school administrators ignored concerns about machinery and safety practices, according to public records and a former Geffen educator.
"The machinery was unsafe," said the former Geffen teacher, who wished to remain anonymous out of concern for future employer retaliation. "If somebody had an accident with that, we're probably talking about the loss of a digit."
The Geffen Academy is an independent secondary school that belongs to UCLA. It opened in Westwood Village in 2017 following a $100 million gift from music industry mogul David Geffen. The academy, with annual tuition of $38,600, serves more than 600 students from sixth through 12th grade. Around a third of the student body are children of UCLA faculty or staff, according to its website.
An eight-month investigation by the Daily Bruin uncovered a host of safety violations in the Geffen makerspace from 2018 to 2022. Issues ranged from missing protective safety guards on power tools to a lack of proper safety signage. UCLA's Environment, Health & Safety inspectors flagged one problem in their report as serious enough to require emergency remediation, ordering the school to address the problem within 48 hours rather than the usual 30 days.
Bill Kisliuk, a UCLA spokesperson handling all media requests about the academy, avoided direct questioning about safety concerns and instead only said there have been no reported accidents or injuries associated with the makerspace.
"The safety of our students is the highest priority for Geffen Academy," Kisliuk said in an emailed statement. "Geffen Academy has responded fully to safety inspections, and has a robust safety training protocol for supervisors and users of the Makerspace."
The makerspace is a central component of what the academy calls its I-Track curriculum, which teaches students creative approaches to problem-solving and emphasizes skills such as physical prototyping, woodworking and computer programming, Kisliuk said.
Geffen administrators declined all requests for interviews and a tour of the makerspace.
However, the former Geffen educator, who taught the I-Track curriculum, said the department had safety issues from its inception. The shop was always cluttered, she said, which resulted in trip hazards and the blocking of fire extinguishers. Around the start of 2021, tools were ordered online and incorrectly installed without the oversight of EHS, she added.
"Everything was so casual as if we were just in our garage," the former teacher said.
Prior to a position at the academy, the former Geffen educator spent around 20 years in K-12 classrooms in Los Angeles, including 14 years as a director of technology at several public and private schools. Despite this, she said her experience at the makerspace was characterized by a slew of safety issues and a school that left them unresolved.
One of her first alerts to Geffen administrators came just months after the makerspace first opened, when she emailed school administrators to let them know that the space was substantially cluttered. In other emails, she warned of improper electrical safety practices, missing safety guards and blocked emergency exit access.
She also documented multiple incidents in which sixth-grade students were allowed to use soldering irons and the scrollsaw without standard personal protective equipment such as safety goggles.
Because she did not have regular access to the makerspace, she said she lacked the authority to intervene and fix certain issues herself. But she grew increasingly worried about what she called the academy's casual approach to safety.
"Right now we've got about a 5in blade showing," she said in a 2021 email. "One bump in the wrong direction and a finger is coming off."
The former Geffen educator wrote yet more emails and scheduled more meetings with school officials, a total of at least 30 notes and conferences about safety during her five years at the school. Despite this, she said the academy failed to implement necessary safeguards.
"Every time I went in there, unfortunately, I felt really uncomfortable," she said. "I felt really nervous because I felt like if I'm not looking at every kid all the time, there are way too many dangers."
EHS inspection records going back to the makerspace's inception showed more than half of the 17 safety violations identified in an initial 2018 inspection remained unaddressed two months later, despite a clear 30-day remediation deadline. In the months following the initial inspection, the former Geffen educator identified many of the same problems with debris as well as additional hazards. This included the permanent use of linked extension cords and missing safety guards, as the space acquired more dangerous machinery.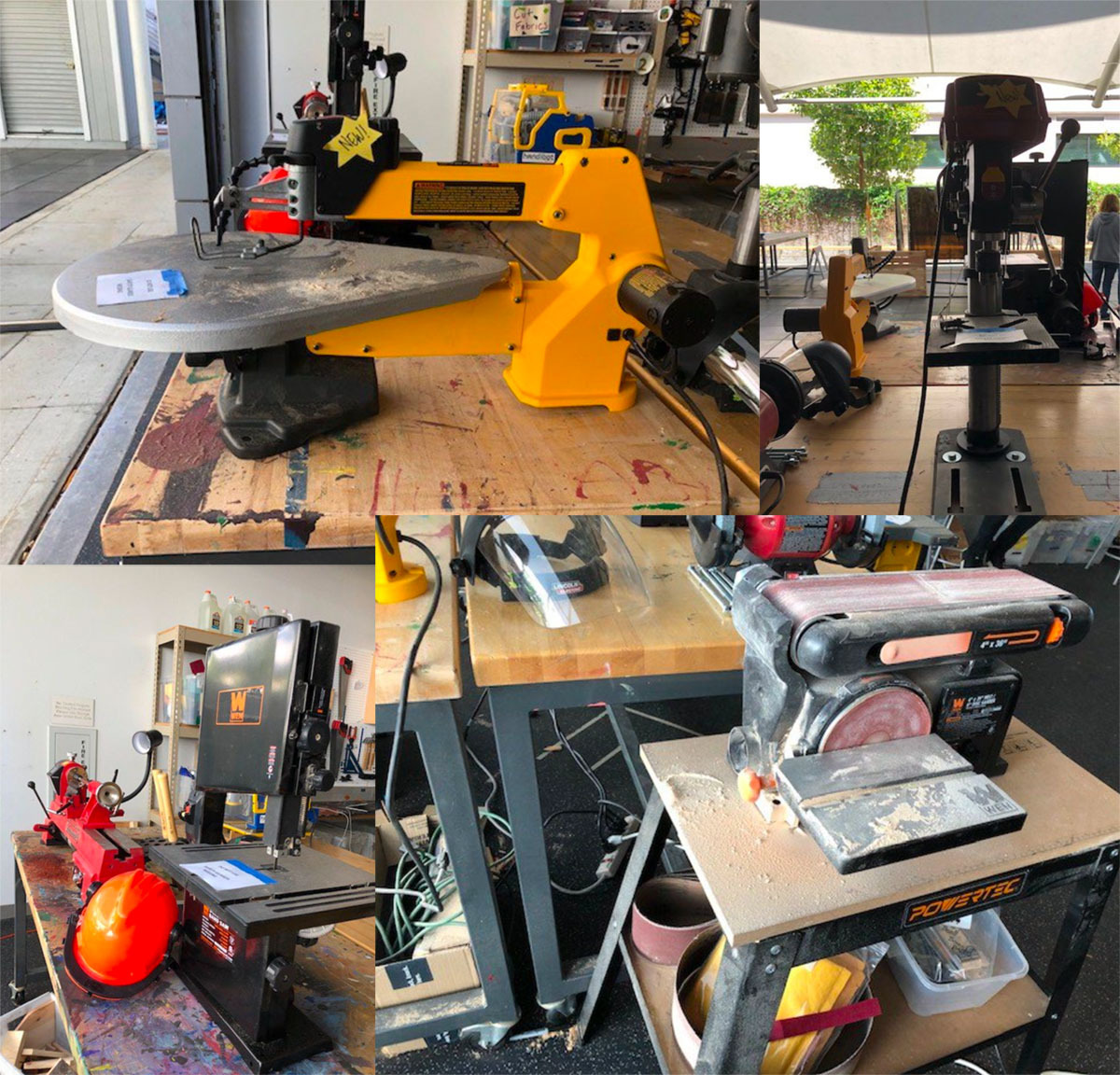 The fact that there were no injuries, the former Geffen educator said, was luck. It wasn't just the administration that didn't act on her warnings. Other makerspace teachers ignored her safety concerns, leading her to file a whistleblower report with UCLA in May 2022.
"This has been going on for years now. This is beyond, 'I forgot,'" the former teacher said. "This has, in my opinion, crossed over into mismanagement."
EHS inspected the makerspace five days after the filing of the whistleblower complaint, the first time it had been inspected since 2018, records show.
The inspection report confirmed the concerns the former Geffen educator had voiced for years. Several power tools, including the bandsaw and the drill press, were in violation of several state regulations, inspectors found.
"Multiple pieces of equipment were not restrained to prevent moving," the report said. "Multiple pieces of equipment were missing shield guards at points of operation."
The report also noted hazardous electrical safety practices, including the use of daisy-chained extension cords and power strips as a permanent supply of power. The problem was so urgent that inspectors ordered it fixed within 48 hours, instead of the typical 30 days.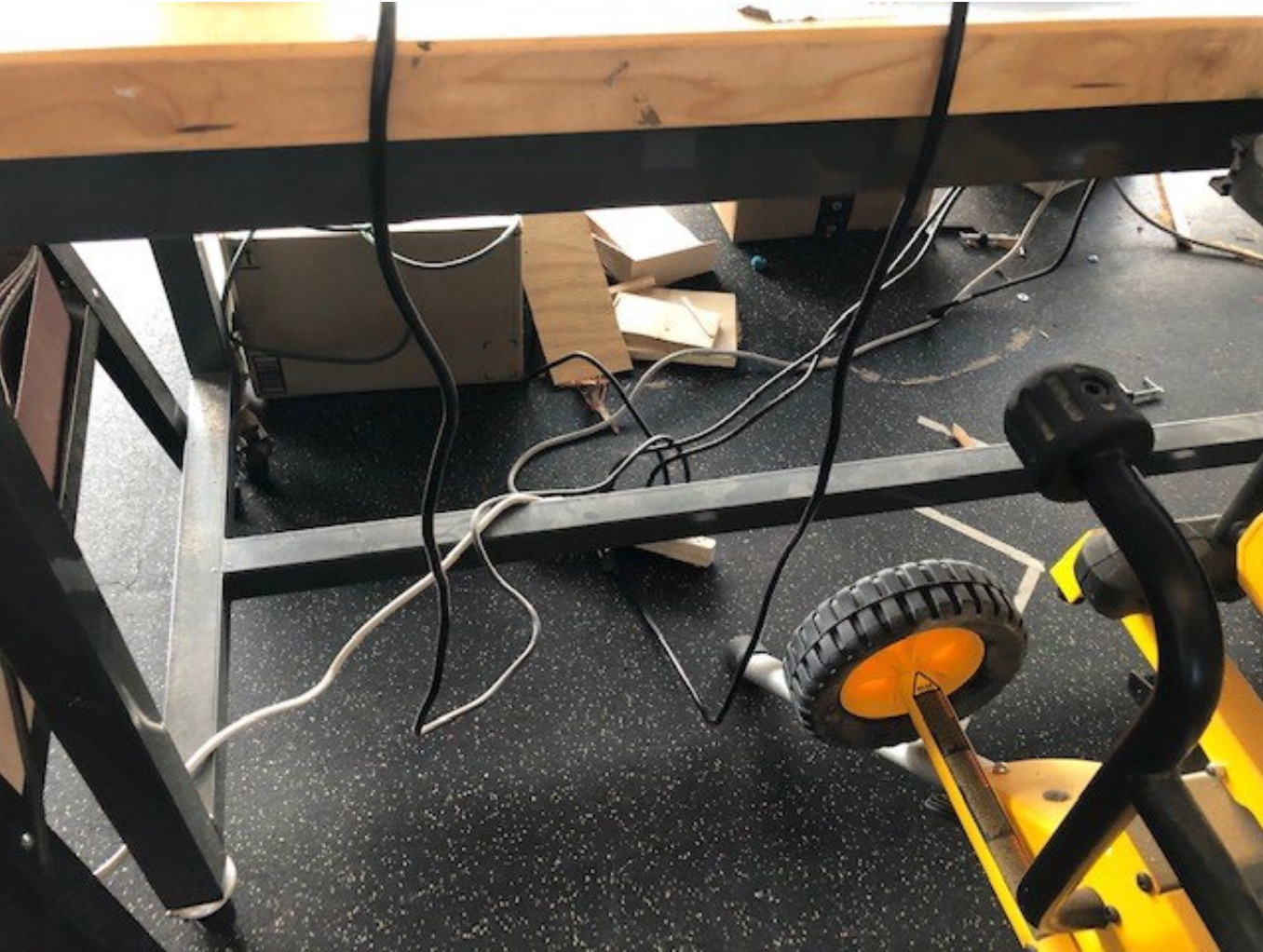 The UCLA EHS Shop Safety Manual states that machinery should never be used without the appropriate guards and provides specific guidelines for each piece of equipment. Photos provided by the former teacher confirm that safety guards were missing on machinery, including the drill press, band saw, lathe, scroll saw, belt sander and table saw.
In total, inspectors identified 11 breaches of state safety regulations, and multiple power tools were removed from the Geffen makerspace.
Kisliuk said in an emailed statement that campus procedures only require inspections of makerspaces used by university employees. Spaces used by students are not subject to the same regulations, the statement said.
It was later confirmed in March that the changes suggested by EHS were addressed.
"Geffen Academy has appropriately and fully resolved any concerns raised during inspections by Environment, Health & Safety," Kisliuk said in the emailed statement.
The academy terminated the former Geffen educator's employment days after the whistleblower report, she said, despite years of positive performance reviews and a clean UCLA work record. According to the educator, the academy said the department was "moving in a different direction." She has since sued for wrongful termination.
UCLA declined to speak about the former Geffen educator's dismissal, saying that the university doesn't comment on personnel matters.
Phoebe Lee-Spera, a 10th-grade student at the academy and former student of the former Geffen educator, said her class was largely left unattended for several weeks in 2022 after the educator received her dismissal notice.
"We were very unsupervised," Lee-Spera said. "We had power tools up in our room that weren't confiscated."
Lee-Spera said the class was reassigned to another teacher who was teaching a concurrently scheduled course. She said the other class often took priority, and the former Geffen educator's ninth-grade students were left alone. The teacher felt comfortable leaving the group of teenagers alone with power tools because he trusted them, Lee-Spera added.
Rachel Lee, Lee-Spera's mother and a UCLA professor of English, gender studies and the Institute for Society and Genetics, said she knew the class had been reassigned. However, until the time of her interview alongside her daughter, she had no idea that Lee-Spera's class was left unsupervised in a classroom with power tools.
The Geffen Academy Employee handbook requires that students not be left alone. "Educators may not leave students unsupervised during instructional time in the classroom/other facilities or school activities," the handbook said.
UCLA's own campus MakerSpace also requires supervision, even though users are adults.
Fourth-year mechanical engineering student Abinav Ramachandran Kamalakannan, a student technician in the Olympic Hall MakerSpace on the Hill, said having skilled personnel is critical when students work with potentially dangerous machinery. When training students on tools such as the bandsaw, Kamalakannan said, he is especially attentive.
"I'm hovering like a hawk around them," he said. "We do not shy away from talking about all of the horrible things that can happen if you don't follow safety rules."
But at the academy, Lee-Spera's lack of classroom supervision was not an isolated incident, according to emails sent between instructors. In January 2022, for example, another Geffen educator acknowledged a lack of supervision following a series of complaints about students destroying makerspace tools and projects.
"If this continues to be a larger problem I'll need help supervising my classes," the other educator said in an email sent to the I-Track team. "There is just not enough eyes on all of the kids at once and I have to focus on the students using tools, not the ones walking through the space."
The whistleblower educator also noted a consistent lack of supervision in the Geffen makerspace. She said that just walking past the space, she noticed unsupervised students multiple times a month. The problem became so severe that the risk management team decided to change the lock on the makerspace door in April 2022, she added, to make sure students would not be in the room without a teacher.
Robert Pianta, a professor and former dean at the University of Virginia School of Education and Human Development, has conducted research on teacher-student relationships. He said supervision in a makerspace is particularly important, and teachers need to model how students should be engaging with the space, including with dangerous equipment such as power tools.
"One question that educators would want to ask themselves," Pianta said, "is what choices they're making around those spaces to ensure kids' safety."
A few miles away from the Geffen Academy, students at the Milken Community School also work on personal projects in their makerspace, using tools such as a vinyl cutter to print posters or a 3D printer to turn their designs into reality. Milken, a 31-year-old private school with a multimillion-dollar endowment, also boasts a shop space designed to provide experiential learning and encourage students to "roll up their sleeves and create."
Unlike those at Geffen, Milken's administrators and shop space director welcomed The Bruin to tour its makerspace. They said their space is evaluated and approved by the international Fab Lab Network, an outside organization that certifies approximately 1,500 fabrication laboratories around the world. The Fab Lab Network requires that its spaces have a specific, uniform set of equipment and supplies available, said Deborah Orlik, Milken's innovation and fabrication integration instructional leader.
Orlik said she employs rigorous, individual student safety training, similar to the process Kamalakannan described for UCLA's Olympic Hall Makerspace. Additionally, Milken's machine shop – which houses higher-liability machinery such as its woodworking equipment and metal lathe – is a separate room within the larger Fab Lab. It is equipped with a doorbell, Orlik said, which allows her to be constantly aware of who is entering the space.
Milken's table saw is also equipped with SawStop technology, which detects electrical conductivity in the human body. Thus, if a finger gets too close, an aluminum brake stops the blade, Orlik added.
Photos of the Geffen makerspace taken by the former educator prior to the May 2022 EHS inspection appear to show a table saw without the required blade cover, let alone any additional safety technology. Neither the academy nor UCLA officials commented directly on the lack of safety guards. The school denied repeated requests to see the shop space or interview faculty members.
The former Geffen educator said she feels there are infrastructure changes that still must be made to the makerspace to make it safe, as well as adjustments to what she called its relaxed culture and teacher training. She said she hopes the academy she left behind can eventually fulfill its promise of allowing students to safely explore and create engaging projects.
"Take the fabulous people you have working there and tell them what the rules are," the former Geffen educator said. "Give them the training and the skills to thrive."
Have a tip? Contact the Daily Bruin Enterprise team at [email protected] to share additional information related to the Geffen Academy.