This post was updated May 2 at 10:07 p.m.
Raised by two collegiate athletes, Merrick McHenry had his pick of sports.
As his father, Metrick McHenry, played football at Texas Tech and his mother, Jennifer McHenry, played volleyball for the Red Raiders, Merrick was born into an athletic, sports-loving bloodline.
"I owe all my athleticism and everything sports-wise to my parents," Merrick said.
Ultimately, McHenry's candidates were track and volleyball. And the now-redshirt junior middle blocker for UCLA men's volleyball knew just which avenue he wanted to traverse.
"I knew it was going to fulfill me the most," McHenry said. "I love the team aspect of things and not just being an individual like it was with track. So I stopped playing everything but volleyball."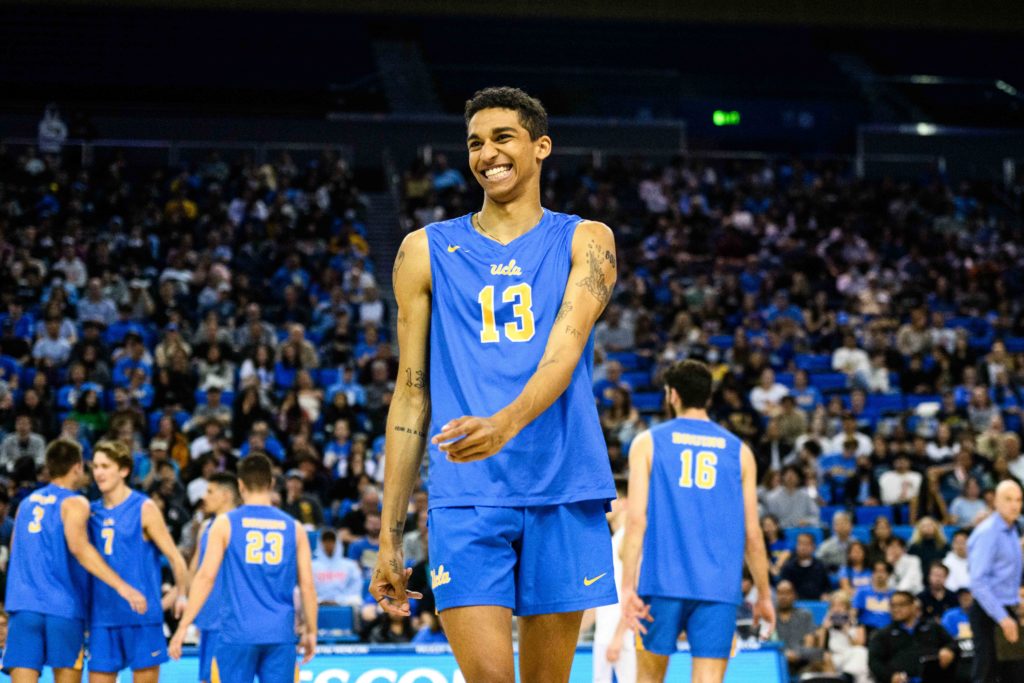 Striving to emulate his parents' ability to reach the collegiate level, Merrick could've easily let the pressure infiltrate his sporting endeavors, creating unrealistic standards to measure up to.
But his journey was self-driven.
"My parents didn't force anything on me. It was just more of like, 'Do you want to play this? Or do you want to do this?'" Merrick said. "And I was always, 'Yeah. Yeah, I do.'"
Merrick's height, agility and athleticism allowed him to find success on each ball he kicked, each basket he shot, each race he ran and each ball he served.
And yet, it wasn't the goals he scored, the shots he made, or the races he won that struck a chord. It was his explosive kills and his fierce blocks. It was volleyball.
"One hundred percent, the reason I love volleyball so much is my mom," Merrick said. "She showed me the sport and let me do what I wanted. She showed me what it was, guided me along the way and supported me in getting me to tournaments and paying for everything I needed."
After Merrick set his sights on volleyball, Jennifer put him into his school's tryouts and let him take control from there.
"He went to tryouts, made the team. His first tournament, he made a highlight tape, and here we are," Jennifer said. "It's been so much seeing your child's dreams come true."
Sports and its related lessons were in the foreground of Merrick's upbringing. These messages took shape in two very different manners, with one building on the like-minded mentality that comes with a common zeal for sports and the other highlighting a mutual love for volleyball and, specifically, the role of a middle blocker.
Like Merrick, Jennifer was her college team's starting middle blocker, a position that demands athleticism, height and competitiveness – three attributes that Merrick said define the McHenry family.
With the shared understanding of the same sport and same position, Jennifer doesn't miss a single UCLA men's volleyball game. She spams her son with messages to read after his matches as she analyzes and comments on his performance. A similar stream of messages and routine pregame FaceTime calls is ingrained in Merrick's game rituals.
Alongside technical advice, Jennifer always emphasized the mental side of volleyball, ensuring Merrick doesn't allow a negative psyche to dictate his performance on the court.
"The biggest lesson my mom has taught me from a volleyball standpoint is not to be too hard on myself and to give myself grace," Merrick said. "When I have done that to myself, I play so much more freely."
Even though Metrick donned the Texas Tech colors in an entirely different sport, playing at the collegiate level is demanding and unique in and of itself. And while he can't provide the same volleyball guidance as Jennifer, Metrick imbues the same diligence, toughness and aggression that he learned donning the black and red in his son as he wears the blue and gold.
"My dad is so tough," Merrick said. "With this sport that is so masculine and tough, playing football made me a lot tougher than I would've been. … My dad really taught me how to work hard and be tough."
With Merrick's upbringing came unmatched exposure to athlete and character development. Merrick managed to pick apart his mom's style of play as he developed his own and acquired the immersion and guidance that athletes his age pine for.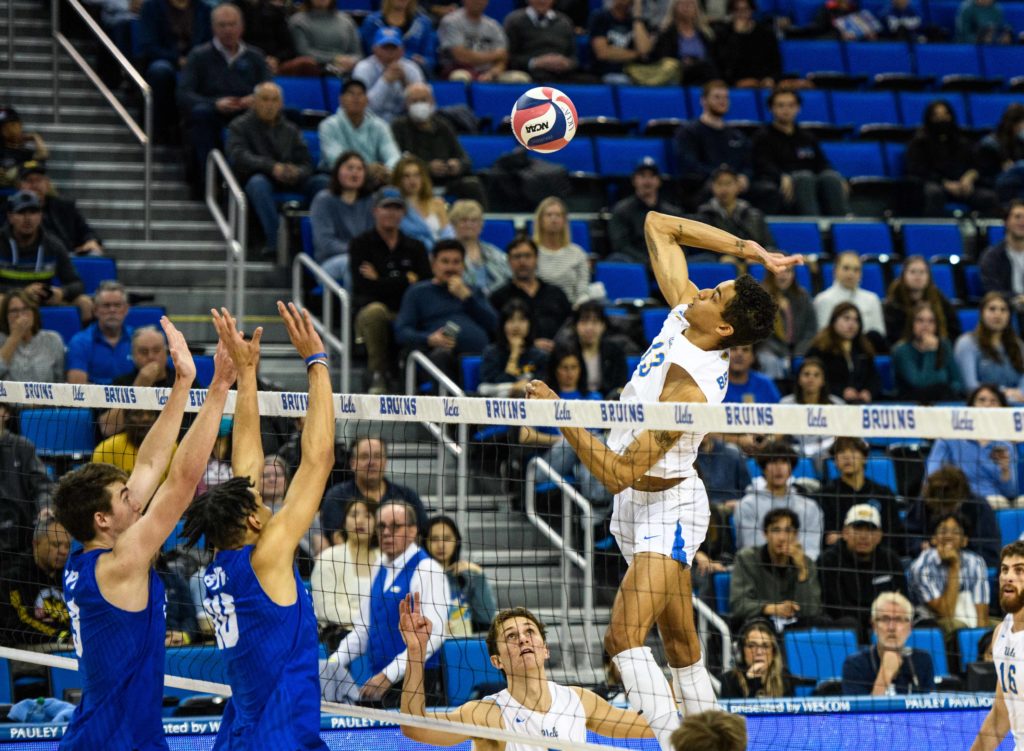 As coach John Speraw said, the benefits Merrick reaped from his parents are evident on the court.
"You can really see that he is a very competitive guy and confident in the athletic arena," Speraw said. "He developed all the skills at a young age."
Perhaps Merrick's greatest strength on the volleyball court is his sky-high vertical. The elevation he gains from his spring makes him a player teams don't want to see through the net.
To add to the mentorship Jennifer and Metrick imparted on their son, the sheer athleticism and agility of the 6-foot-7-inch middle blocker is a product of his genetics.
"Don't get me wrong, I work out. I work hard," Merrick said. "But, my parents, I had really good genetics. … The natural athleticism I have is something that, by the grace of God, I was given."
When Merrick began getting interest from collegiate programs, it wasn't because of how hard he swung, how well he blocked, how accurate his serves were, or how many digs he had in a game. It wasn't the fundamentals that enticed the recruits. It was simply his jump.
UCLA coaches saw a video of Merrick's elevation, and they were sold.
"We didn't see Merrick until his junior year of high school when we got a video of him, and it really was just him jumping," Speraw said. "It was enough to get our attention."
From childhood to college, McHenry's parents have instilled in him a drive that wouldn't have gone the lengths it did had it not been for the exposure and guidance they offered.
But through all the training sessions and lessons, there is one thing Jennifer McHenry repeats in her son's ears.
"Just be Merrick," Jennifer said. "People love Merrick."