At the sound of the whistle, David Singleton sprinted toward his coach.
Mick Cronin had been assessed a technical, much to his displeasure. But not one member of Cronin's coaching staff left their seat on the bench to cool him down.
Instead, it was Singleton who stepped in, clapping at his coach while pleading with him not to get a second technical.
It was almost as if Cronin had his own assistant coach on the floor already.
"We need you to win this game," Singleton recalled yelling at his coach. "So just go sit down. Take a breather."
Just like that, Cronin stopped barking at the referees.
"Dave thought I was going to lose my mind," Cronin said with a laugh. "He was like, 'Don't get thrown out, Coach, don't get thrown out.'"
Cronin has said it before: Singleton has future coach written all over him. But the UCLA men's basketball fifth-year guard is still far from trading in his jersey on the court for a suit jacket on the sidelines.
For now, Singleton is simply known as a leader to his teammates. And had the veteran not started eight straight conference games in place of freshman guard Amari Bailey, who was out with an injury, he would've been a frontrunner to win Pac-12 Sixth Man of the Year.
He averages nearly 10 points a night off the bench on elite shooting splits, but his contributions on the stat sheet dwindle in comparison to the impact he has off it.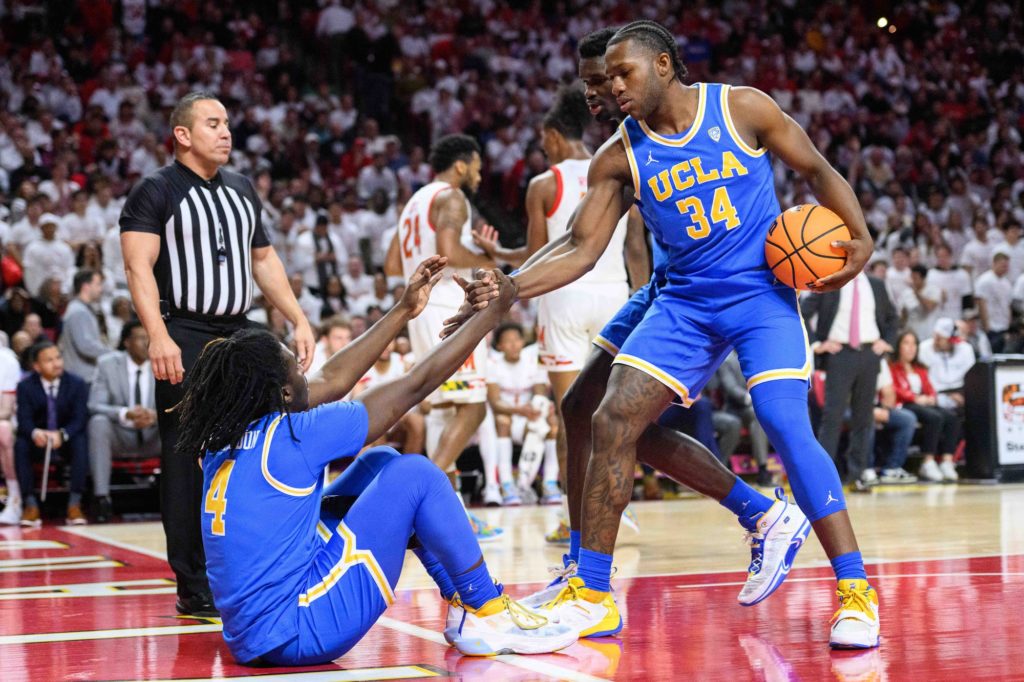 When freshman guard Dylan Andrews jumped a pass in Tempe and threw down a two-handed slam over an Arizona State defender, Andrews picked himself up and jawed at the defender before running back on defense. The obvious technical foul call ensued, but not before Singleton could reach Andrews, grabbing ahold of him by the jersey.
A series of stern words followed from the fifth year to the freshman.
"That's why you need leadership to remind them, 'Hey, you got to act like you been here before,'" Singleton said. 'That's not going to be the last time you get a steal and a dunk.'"
Cronin had no words for Andrews. Singleton had already done the talking.
Hearing those words from a player's perspective is invaluable, Singleton said, because the players have to want it more. Cronin understands.
"You got to get a few guys that are on your side, that are mature enough to realize, like, 'This dude ain't crazy,'" Cronin said.
For Singleton, that instinct comes naturally. It's not a concerted effort to be a coach on the court or a leader to his teammates, but rather a product of his desire to win. Cronin's demeanor may paint him as the most competitive man on the court, but in Singleton's eyes, no one else in the gym craves winning like he does.
"Coach wants it bad. He's a very intense guy. He wants to win. But I feel like I want it more," Singleton said. "I'm from LA, playing for UCLA. I want to win. I want to be the guy that leads us to another national championship."
Now, Singleton is on the cusp of an opportunity to do just that. The top option off the bench for the nation's No. 2 team, Cronin calls him the best sixth man in the country.
And although he might not put the team on his back the way senior guard/forward Jaime Jaquez Jr. often does or command the floor like redshirt senior guard Tyger Campbell, Singleton is UCLA's vocal leader, according to Cronin.
Whether it's stretching in practice at the Mo Ostin Basketball Center or running sets in a game at Pauley Pavilion, Singleton's voice reigns supreme.
That wasn't always the case, however.
"Sophomore year, junior year, even senior year, I'd have stuff to say, but I just wouldn't say it. It was a confidence thing," Singleton said. "But now it's my fifth year, it's my last year, so if I feel like I have to say something, I'm going to say it. People started respecting that over time."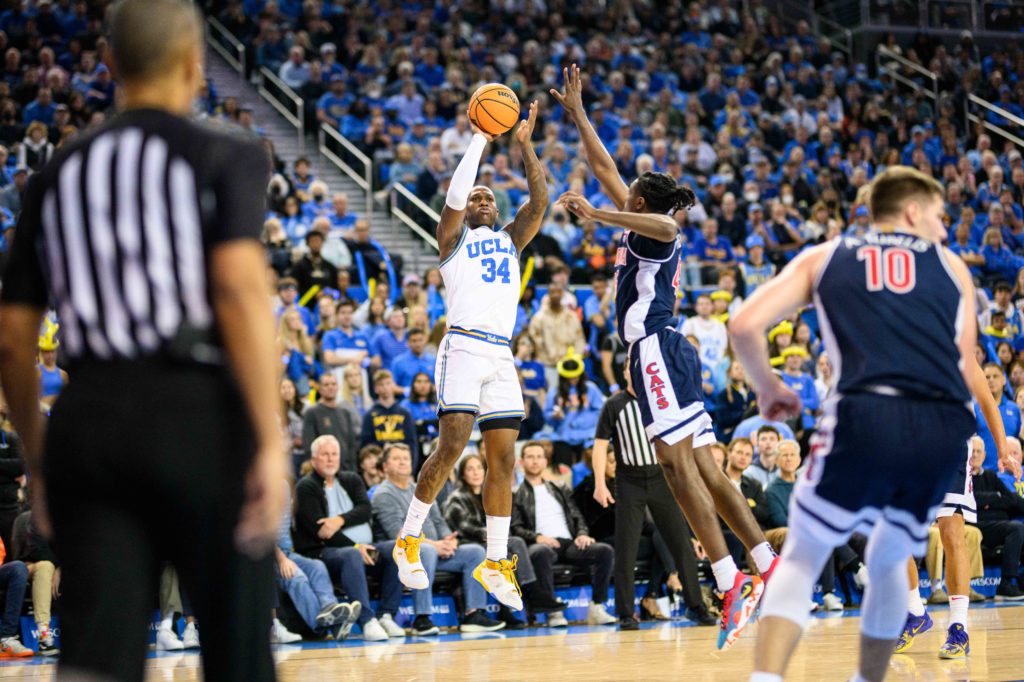 And while he might not have always said what he was thinking in his first four years with the program, the maturity level was always there; his high school basketball coach had seen it long ago.
When Singleton was tasked with picking which high school he would attend, he came to Bishop Montgomery coach Doug Mitchell with an unusual request. Just a middle schooler at the time, Singleton asked to meet with Mitchell one-on-one – no parents involved. He just wanted to talk about basketball.
"I've been at Bishop Montgomery for 34 years – I've been coaching for near 40 now, and I've never had that situation come up," Mitchell said. "But I think that's kind of who David is."
Singleton would go on to have a storied career at Bishop Montgomery, culminating in a ​​Gatorade California State Player of the Year award in 2018 after a senior season in which he averaged 23.8 points per game. The four-star recruit didn't think twice before picking his dream school.
It wasn't, however, a dream start to his collegiate career. While Singleton contributed as a 3-point marksman for the Bruins his freshman year, he broke his foot in the Pac-12 Tournament.
The following spring, UCLA hired Cronin – removing the staff that recruited Singleton in favor of a new one. Singleton, then sporting a cast on his foot, recalled Cronin cracking jokes in his direction.
"I was like, 'Dang, that's how we greeting each other?'" Singleton said.
But then Singleton eventually got back on the court, and Cronin had the chance to really coach him. Above all, Cronin believed in the sophomore. And just like that, Singleton started to believe too.
"Everyone has their struggles in their transition. But eventually, I've gotten to a point where I've started to accept it and embrace it and use it as fuel to get me better," Singleton said. "Once I started doing that, that's when my game started to elevate to another level."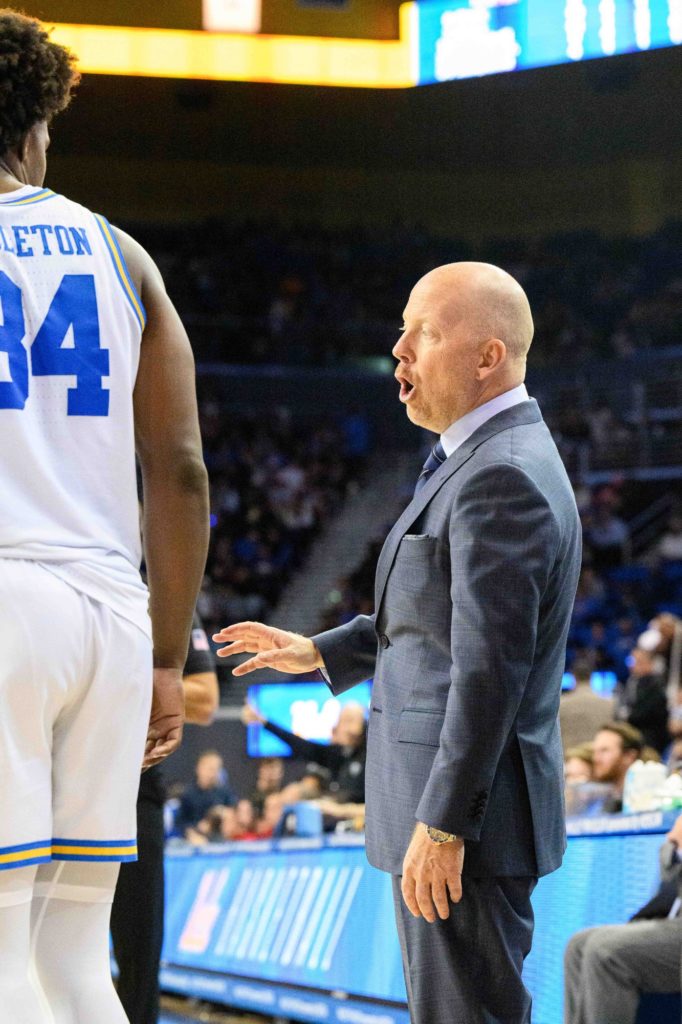 Singleton started nearly half the games he played his sophomore year, but shot a career-low 37% from behind the arc in a season in which he said his confidence took a hit. But the next year, he shot 47.6% from deep before connecting at a 45.1% clip his senior season. Yet, Singleton still wanted more.
Now, the fifth-year guard is averaging career highs across the board, nearly doubling his previous career best at 9.4 points per game while playing 27.2 minutes a night.
He may be one of the top sixth men in the country, but to Cronin, he's just a starter that doesn't start all the time.
And to Singleton, it makes no difference. He said starting or not starting, the objective doesn't change: He just wants to win.
"I do what it takes to win," Singleton said. "I don't do it for stats. I don't do it for personal achievement awards."
His freshman-year squad barely cleared .500 and didn't make an NCAA Tournament appearance. Four years later, Singleton has helped lead UCLA to its first regular-season conference title since 2013, with the Bruins on the verge of earning a No. 1 seed in the NCAA Tournament for the first time in 15 years.
No matter how his last postseason run ends, there's only one way Singleton will remember his five years with the blue and gold.
"With a smile," Singleton said. "I feel like I was really a part of something that really brought back the true tradition and pride of UCLA basketball."
But if it's up to him, that won't be the last time he represents UCLA basketball.
"Hopefully 15 years down the line, maybe I can coach here," Singleton said. "I would love to do that."
He may be the first off the bench for the Bruins now, but one day he might find himself in the first seat on the bench. He can be the coach that, to some, he always has been.