This post was updated Nov. 6 at 10:17 p.m.
With No. 8 UCLA men's basketball kicking off its season Monday night, Sports senior staffer Jon Christon breaks down the roster – from guards to wings to bigs – and predicts the Bruins' rotation.
Guards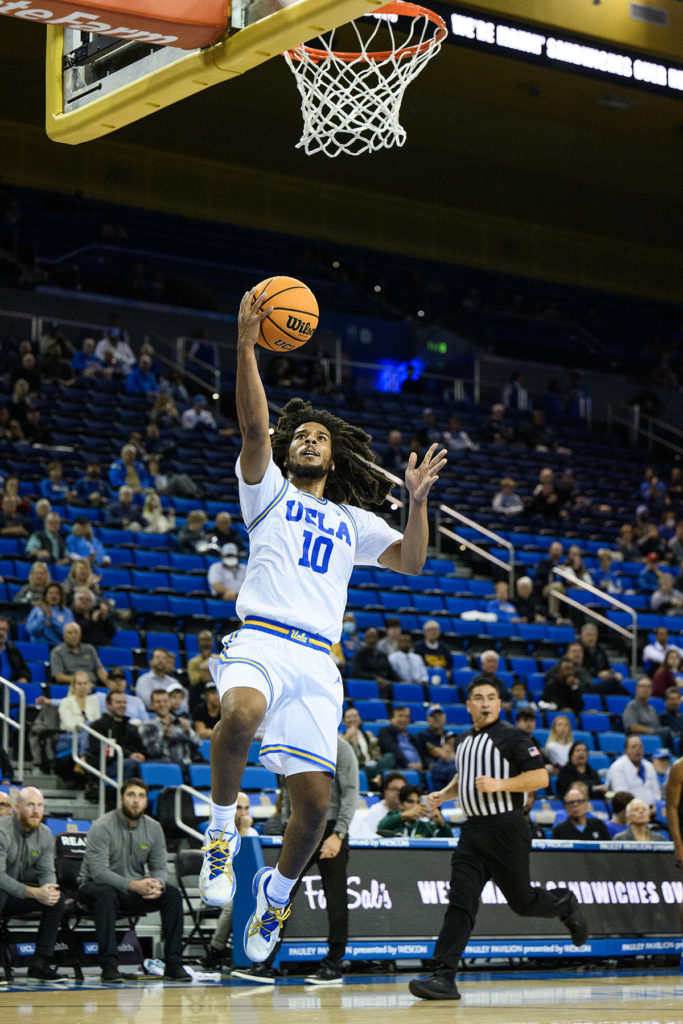 Tyger Campbell is the undisputed leader of UCLA's backcourt.
Entering his fifth year with the program, the redshirt senior guard has done everything asked by coach Mick Cronin. In an age of score-first guards, Campbell has been a game-managing distributor.
But Campbell will have to change his ways entering the 2022-2023 campaign. With UCLA's personnel this season, the guard will have to modernize his game and score more than ever before.
The offseason departures of guards Johnny Juzang and Jules Bernard – and their combined 28.4 points per game – leave a scoring hole in UCLA's backcourt. While a few newcomers may help lessen the load, the burden will be on Campbell to take the next step.
Campbell is already coming off his best offensive season as a Bruin, averaging 11.9 points per game on 44.4% shooting from the field. After years of being a subpar shooter from deep, he connected on 41% of his 3-point attempts a season ago – good for fifth in the conference.
The only thing missing from Campbell's offensive repertoire was volume: He shot fewer than 10 attempts per game from the field and fewer than four from 3-point range. Cronin wants his guard in "Steph Curry mode" this season, so expect those numbers to increase drastically as UCLA finds a way to fill the void left behind by the departures of Juzang and Bernard.
Highly touted freshman guard Amari Bailey will help supplement Campbell. The 6-foot-5 Bailey was a prolific scorer in prep play, averaging more than 20 points per game across his junior and senior seasons at Sierra Canyon School, with his tall frame allowing him to shoot over smaller guards and also survive against bigs in the paint.
Bailey should also help relieve Campbell of some playmaking responsibilities as a secondary ball handler in the starting lineup. Despite his numbers falling as a senior, Bailey showed the ability to be a distributor at Sierra Canyon after averaging 6.2 assists per game his junior year.
The top guard off the bench to start the season will be freshman Dylan Andrews. Andrews is a bit less polished than Bailey as a recruit, but he still should be a spark-plug type of player in nonconference play at the very least. Cronin called the freshman the fastest player with the ball he's seen in his 27 years of coaching.
Lastly, redshirt freshman Will McClendon rounds out the guard rotation. McClendon missed the entirety of the 2021-2022 campaign after tearing his ACL and won't be ready for the start of this season, but should provide bench depth upon his return. A four-star recruit two years ago, McClendon represents the type of hard-nosed, defensive guard that Cronin loves.
Wings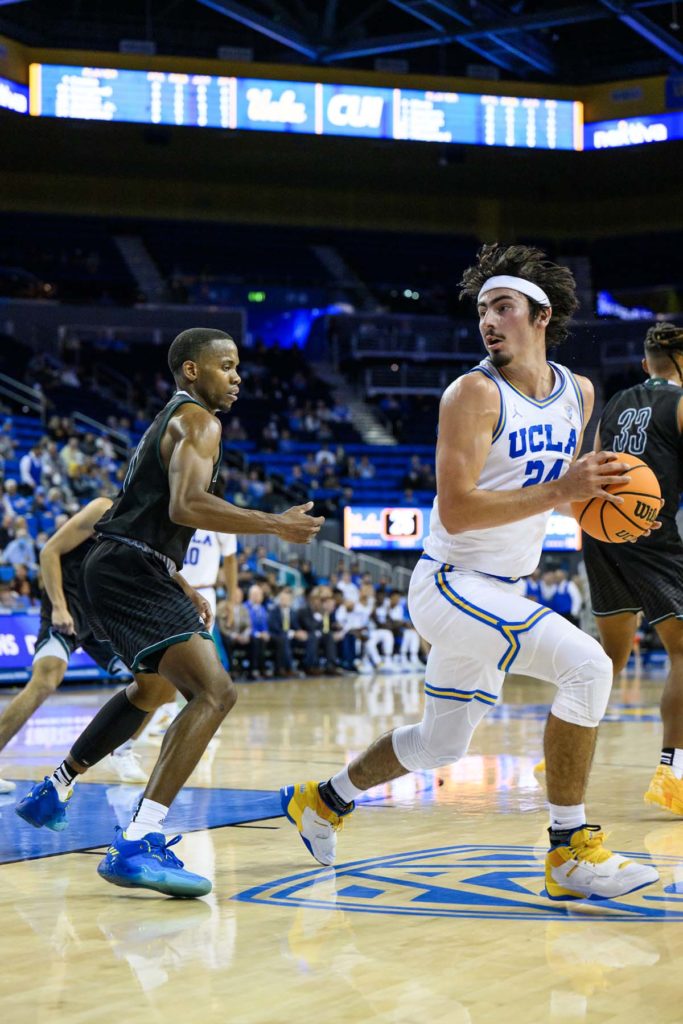 Like Campbell in the guards room, the Bruins have one obvious leader on the wing: senior guard/forward Jaime Jaquez Jr.
Named a preseason All-American by numerous outlets, Jaquez will be UCLA's focal point on both offense and defense. As Campbell initiates from the perimeter, Jaquez will serve as a central hub from the high post.
Jaquez's versatility creates endless amounts of two-man possibilities. He finishes like a big, allowing him to dive to the rim as a screener or a cutter. He's improved enough as a ball-handler to create mismatches and again get into the paint, and he has just enough juice as a shooter to pop out beyond the arc and catch the defense off guard.
It will be interesting to see how Jaquez adjusts as the team's No. 1 option offensively. Since arriving in Westood, he's always had players like Juzang or former guard Chris Smith ahead of him on other team's scouting reports. Now, defenses will key on him as he tries to become a more well-rounded scorer.
Defensively, Jaquez is still a force to be reckoned with. He's one of the best help-side defenders in college basketball, and while his on-ball defense slipped a bit last year because of injuries, he's still UCLA's most switchable defender.
Outside of Jaquez, though, UCLA's wing depth is fairly shallow. In fact, Jaquez marks UCLA's only scholarship wing 6 feet, 7 inches or taller after the Bruins had five such players a year ago.
Though a little undersized, junior guard Jaylen Clark plays bigger than his 6-foot-5 frame would suggest. He is pound-for-pound UCLA's best defender, and while his offense has been hit or miss so far in Westwood, he's shown flashes when given the opportunity.
Clark averaged 14.2 points per game on nearly 60% shooting from the field in six starts a year ago. He showed the ability to get to the rim at will – especially as a cutter – and flashed some skills as a ball-handler. He'll need to improve as a shooter, but that should be mitigated should Cronin utilize Clark in the right lineups.
Behind Jaquez and Clark is fifth-year guard David Singleton off the bench. Singleton, again undersized at 6 feet, 4 inches, plays the role of a 3-and-D wing. Though his shorter frame limits his ability as a defender, his shooting more than makes up for it. He is the best shooter on the team, with his 45.1% mark from deep ranking second in the Pac-12 a year ago. Like with Campbell, the Bruins need Singleton to be a bit more willing to open up the offense this season.
Freshman guard/forward Abramo Canka rounds out the scholarship wings. An intriguing long-term prospect from Italy, Canka probably won't see the floor too much once conference play rolls around.
Bigs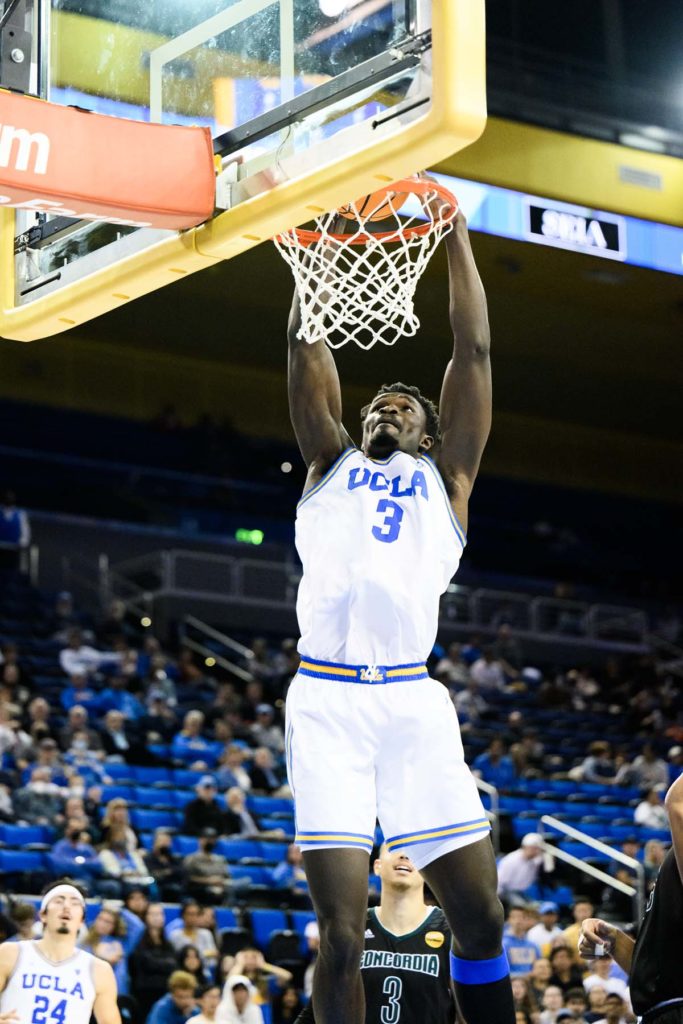 Unlike at guard and wing, UCLA lacks experience down low.
But that doesn't mean the Bruins don't have a star in the making in the post.
Freshman forward Adem Bona has the potential to be the most dynamic big UCLA has had in ages. While the Bruins will miss the experience of former bigs Cody Riley and Myles Johnson, Bona will give the Bruins a completely different dimension on both ends of the court.
Bona will first make an impact defensively. He is a true rim protector – as evidenced by his five-block performance in UCLA's exhibition win – and his 6-foot-10, 235-pound frame will make him a monster on the glass.
It'll take some time before Bona has a similar impact on offense, though he should immediately provide vertical spacing as a lob-catching rim runner for an offense lacking just that in the past few years.
Redshirt senior forward/center Kenneth Nwuba will back up Bona at center. Nwuba has played sporadically so far as a Bruin but should get some extended runs for the first time in his career with redshirt freshman forward Mac Etienne out to start the season.
If Nwuba can be in the right spot on defense and protect the rim without fouling – something easier said than done for the redshirt senior – his minutes should remain stable into conference play.
Etienne missed all of last season with an ACL injury, but will be a critical depth piece upon his return. He'll battle Nwuba for minutes at the five, though he could get some time behind Jaquez at the four as well.
Rotation and predictions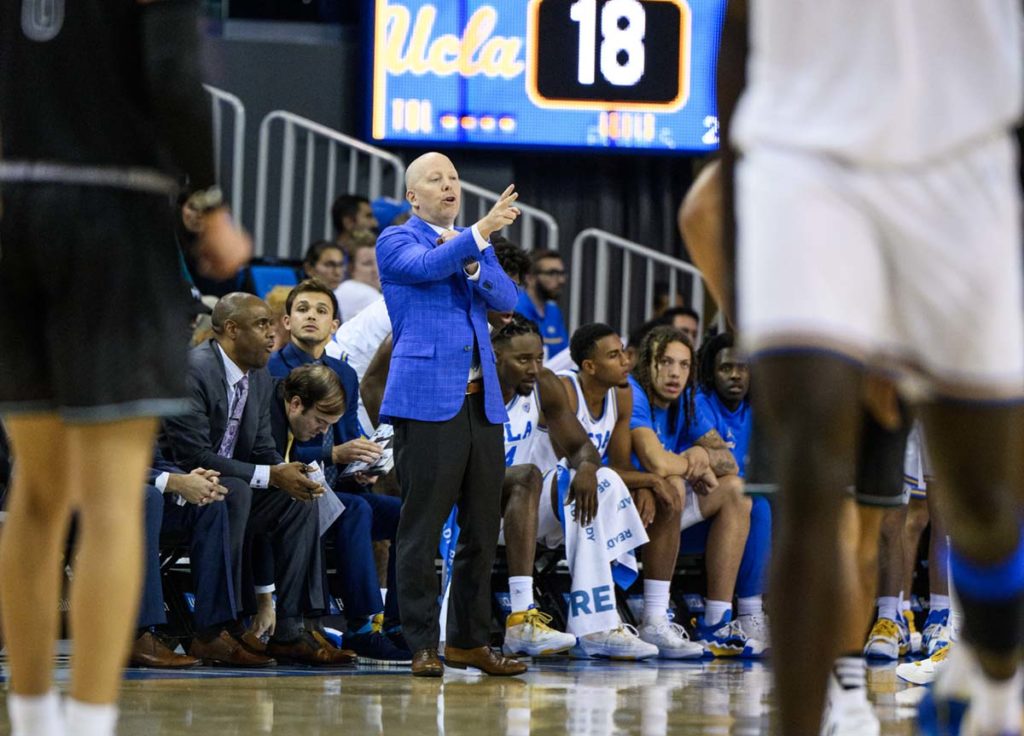 PG:
Tyger Campbell: 33 minutes, Dylan Andrews: 5, Amari Bailey: 2
Campbell will likely lead the team in minutes played for the second consecutive season.
Expect his per-game numbers to increase while his efficiency drops with more attempts both from the field and from deep. He'll need to score somewhere in the range of 15 points per night to help keep UCLA afloat as it finds its footing with a new roster.
Andrews will spell Campbell in the early season, though he may be the odd man out once Cronin shrinks the rotation in conference play. Bailey – and possibly McClendon – will mop up occasional point guard minutes from time to time as well.
SG:
Amari Bailey: 25, David Singleton: 8, Will McClendon: 7
Bailey will play alongside Campbell in the starting lineup, though either could be the lead ball handler on any given possession.
While Cronin has raved about Bailey's decision making and poise as a driver, don't expect the freshman to be too efficient in his first – and likely only – collegiate season. Bailey will have to adjust to the improved competition, though he should still average double figures. How he fares as a defender will likely determine if he finishes games.
Once healthy, McClendon should receive a fair amount of backup shooting guard minutes. In the meantime, though, expect Andrews – and Singleton – to fill in the gaps.
SF:
Jaylen Clark: 25, David Singleton: 15
While it says small forward next to his name, Clark is about as positionless as they come.
He'll play primarily at forward, though he should see some guard minutes and maybe even some center minutes, as fans have been clamoring for for the past two years.
Playing on the wing, Clark will have to develop a little more of a 3-point shot than he's displayed so far. He's only a 24.3% career 3-point shooter, but if he can creep his way into the 30s, that'll open the floor up in a big way for Campbell and Jaquez.
Singleton will be the team's sixth man, playing the most minutes off the bench and providing a boost with his shooting when the team starts flat. He'll play some guard, but he'll also be a nice contrast to the hard-charging Clark at the three.
PF:
Jaime Jaquez Jr.: 30, Mac Etienne: 5, Clark: 5
Jaquez is really the only guy on the roster who looks the part of a power forward, though his offensive and defensive roles will have him all over the court.
He'll handle the ball on the perimeter and work with his back to the basket in the paint. He's never averaged more than 14 points per game as a Bruin, but it's fair to expect his totals improving somewhere into the high teens with an increased role this season.
There are a number of different lineup combinations that Cronin could utilize with Jaquez on the bench. The coach has talked about putting Etienne in two-big lineups when he's healthy, but Etienne may not be able to hang on the perimeter well enough for that to be a long-term solution.
The most likely answer – especially in the early season – is for Cronin to stagger Clark and Jaquez and make sure one of UCLA's two bigger wings are always on the court.
C:
Adem Bona: 25, Kenneth Nwuba/Mac Etienne: 12, Jaylen Clark/Jaime Jaquez Jr.: 3
Despite being a freshman with a coach that rarely relies on freshmen, Bona will receive the lion's share of the minutes at the five this season.
He'll average somewhere in the neighborhood of a double-double if his minutes are consistent, and he'll have a good case to lead the conference in blocks as well.
Nwuba's minutes could fluctuate based on Cronin's mood and based on Etienne's availability, but they should average out to just over 10, which would be a career high for the redshirt senior.
The most intriguing and modern lineup Cronin could run out would be one with either Jaquez or Clark at the five. While the team would lack a true rim protector, they could switch everything and give vast driving lanes to Campbell and Bailey. Cronin has been reluctant to play small lineups consistently in the past because of rebounding concerns, but I think Jaquez and Clark are good enough on the glass collectively to mitigate those concerns.