"Normal people probably think these are torture positions," said Elsa Dubil, hanging upside down with her feet knotted in lavender aerial silks.
Indeed, the fourth-year bioengineering student's posture looked extreme – her head a couple of inches from the ground – but I was impressed with how simple she made the technique seem to her students. All the performer needs to do is pull themselves up, use their feet to knot the thick fabric around their ankles, then slide their hands down the silks and let go.
Voila. An ankle hang.
Dubil is one of the founding members of Cirque de 'LA, the first and only circus arts club at UCLA. The organization began when fourth-year biology student Seneca Rubianes sought to find other students who shared an interest in circus arts. During her freshman year, Rubianes wanted to learn more about aerial arts after performers on the beaches of Santa Monica piqued her interest.
Because circus arts classes are often expensive, Rubianes hoped to find experienced students she could learn from and practice with on campus. In her search for such students, Rubianes turned to social media. It was there she stumbled upon Dubil.
On Facebook, Dubil had posted about her circus artistry, and as the two began talking, Rubianes proposed starting a circus club together. Dubil, whose experience with aerial silks began at 14 years old, teamed up with Rubianes and became her impromptu coach. Together, they began gathering other circus-oriented students at UCLA, officially forming Cirque de 'LA in 2019 in the hopes of teaching circus arts to people at a much more affordable and accessible level.
A month's worth of classes at The Vertitude LA, a studio that teaches aerial arts, costs $99. However, Dubil said she aims to keep fees around $40 for an entire quarter's worth of instruction. Although the sport is relatively niche, Rubianes said there is a growing interest in aerial arts that their club can provide a space for. The organization now boasts around 40 students who consistently attend classes, Rubianes estimated.
When it comes to circus arts, Katie Shanahan, a Cirque de 'LA board member and third-year economics and psychology student, said there are certain misconceptions the sport carries. For one, Shanahan explained that people often associate circus arts with clowns, not silks. Outsiders also perceive aerial arts as an impossibly difficult feat.
"People look at that (circus arts) and think it's completely unattainable, and it's this otherworldly thing," Shanahan said. "I'm a firm believer that if you're willing to put in the work to build the strength, anybody can do it."
In Cirque de 'LA's classes, Dubil said instructors reel beginners in by helping them perform exciting tricks such as hanging upside down or spinning on silks. Once they've experienced the thrill of aerial arts, she said people are more willing to keep up with the art form, even though it takes effort to build the strength necessary for certain skills.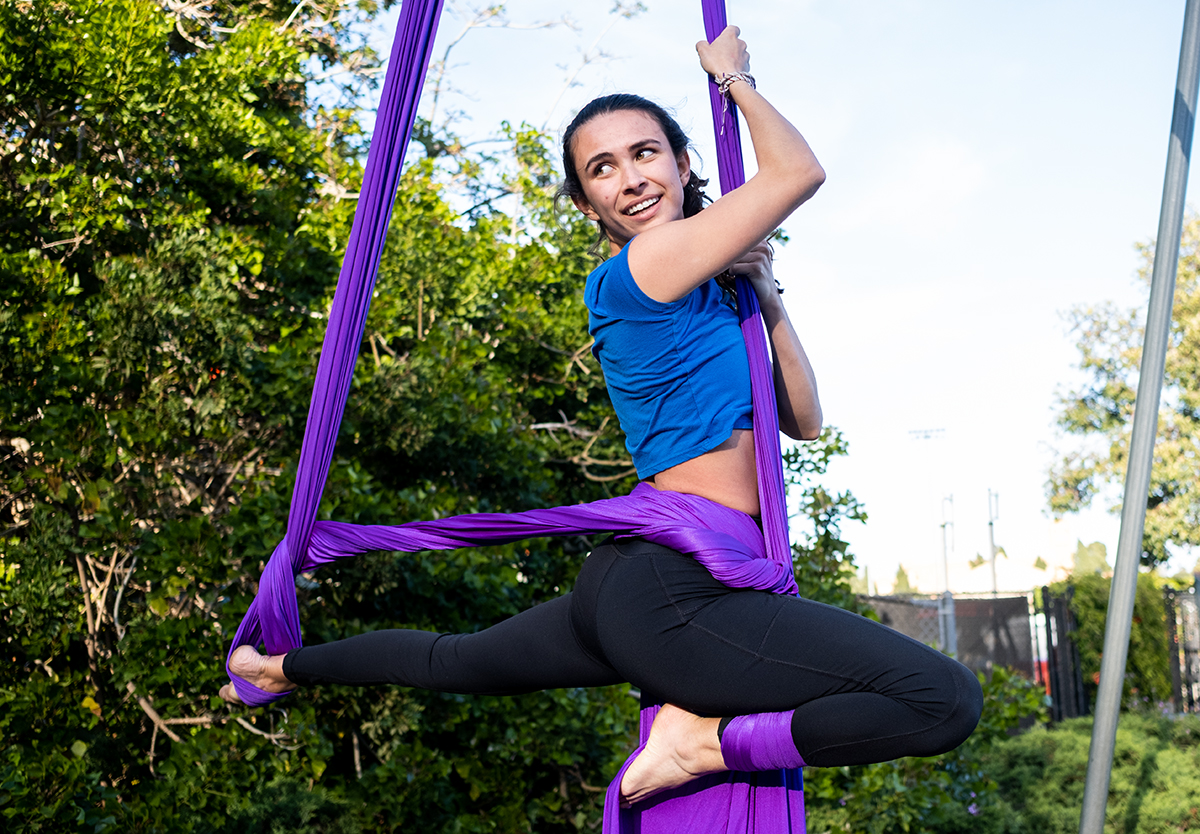 While specific body types are seen as ideal for some sports, such as gymnastics, circus arts is inclusive to everyone, Dubil said. Standing at 6 feet tall, Dubil felt too tall for gymnastics but found that her physique was not a barrier for circus.
"What circus is, is taking people on the outsides of society and showcasing their uniqueness," she said. "You are the best circus performer if you are as unique as possible and you can do something that no one else can do."
I sat in on Dubil's class for intermediate cirque students one Tuesday evening. The night began with upbeat music floating out of Dubil's speakers as participants rolled out their yoga mats. She, Shanahan and her students warmed up by running laps around the Broad Art Center, dropping to the floor for burpees and stretching out their shoulders and hips.
"This is therapy for people," Dubil told the class as she stretched into a split position.
For Dubil, practicing aerial arts as a teenager helped tremendously with her own mental well-being, as it provided an outlet for her to meet new people and stay physically active. By teaching her own classes, she hopes to spread the healing effect of the sport to others, she said.
Circus arts has become a way for Dubil to find community with other aerial artists and express herself beyond spoken words. In the fall, Dubil gave what she described as the most powerful performance in her career as an aerial artist. Performing to the song "Praying" by Kesha, Dubil dedicated her routine to victims of sexual assault and directed donations from audience members to the Rape Treatment Center in Santa Monica. Her heartfelt performance left the audience and herself in tears, she said, and their support that night was unlike anything she ever expected.
"It was the most I've ever been able to connect with an audience and with this community," she told me.
This spring, Dubil held her first classes since December. Dubil felt it would be safest to avoid practicing in large groups during winter quarter because of the spike in COVID-19 cases fueled by the wave of the omicron variant. But that was not the first time the organization's operations had come to a screeching halt – the pandemic had put nearly all club activities on pause during the previous school year. While classes were suspended, Cirque de 'LA members in the area were restricted to unofficial small-group practices.
Despite the nearly two-year hiatus, Dubil's students effortlessly practiced pull-ups and other aerial skills as I watched, turning out flips I thought looked practically painless. In one skill, a student hung from their arms wrapped in silks then lifted their legs up and over their head into an upside-down pike position. Watching each student practice, I saw the concentration in their faces as they focused on controlling their lifts, their whole bodies in motion.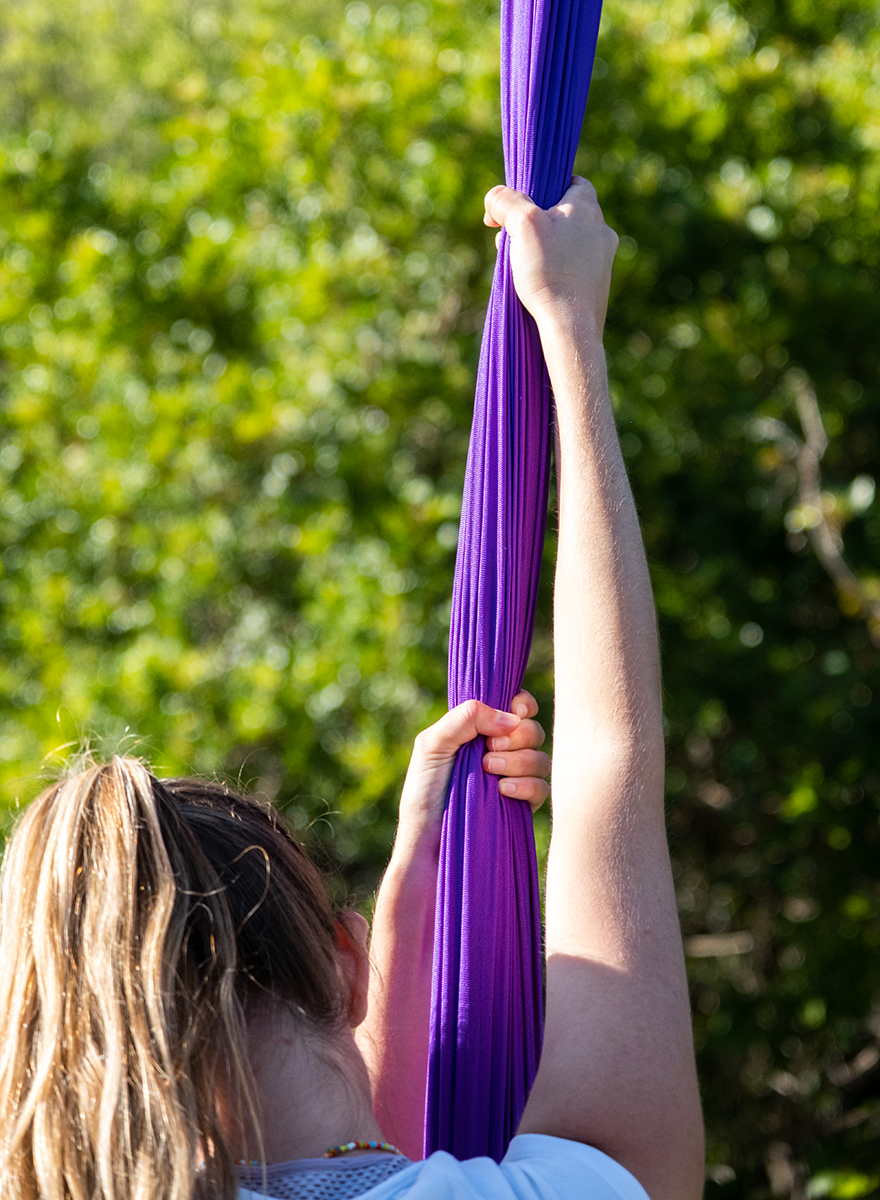 Teaching silks is far different from practicing it herself, Dubil said. When performing a skill or routine, she explained she must stay attentive to her own body, minding its limits. But when teaching, Dubil said she must tailor her lessons to explain techniques as clearly as possible without confusing her students – all while ensuring no one gets hurt.
"We really don't do anything super scary until we've done it 100 times on the ground," Dubil added.
Shanahan said the appeal of aerial skills is that they appear dangerous, but they are safe when done correctly and under supervision. As a coach to eight beginner-level students, Shanahan hosts her classes at Drake Stadium's calisthenics course, but the variability of weather has made the outdoor location inconvenient. Sometimes, rain makes the ground too wet or wind blows the silks out of reach.
"Our priority at this point is we really want to make our club as accessible to as many people but still safe," she said. "And the best way for us to do that would be to get a space in the Wooden Center."
The effort to secure a practice space is as old as the club itself. Rubianes said a major obstacle for the organization has been getting through to unresponsive administrators within UCLA Recreation. Alongside trying to secure a practice space, Cirque de 'LA considered becoming a part of UCLA Recreation so circus arts classes could be more accessible to the student body. Because of a lack of response from UCLA Recreation, the plan has come to a standstill.
Johnny Tu, a fourth-year human biology and society student and Cirque de 'LA board member, said he has led the club's advocacy efforts by helping set up meetings with UCLA Recreation. But a common misconception administrators hold is that circus arts are particularly dangerous relative to other sports, even though performers use safety equipment such as crash mats, Tu explained.
Circus artists frequently implement hazard reduction strategies to prevent injury, Rubianes said. Personally, she holds back from attempting advanced skills if she has no spotter or feels she lacks the strength. With an apparatus such as the trapeze, safety lines and nets offer protection to performers. The most common injuries in circus arts typically include fabric burns and bruises, she explained.
To prove the safety of the apparatuses to administrators, Dubil said she had to climb a telephone pole in Sunset Canyon Recreation Center, improperly rig her silks from a bungee cord on the ropes course and hang several feet in the air.
"That's not how you rig a fabric whatsoever," Dubil said. "But I said, 'I'll sacrifice myself if it's for circus at UCLA.'"
In an emailed statement, UCLA Recreation maintained that indoor spaces such as Yates Gym are unsuitable for circus arts and that it would require an engineering study to determine whether the building can safely house aerial arts. Regardless, UCLA Recreation said they are still making good-faith efforts with Cirque de 'LA leaders to explore the possibility of offering aerial arts as a recreation program in the future.
Now after four years, Cirque de 'LA's board members have finally gathered the momentum to move their plans off the ground. Dubil said after multiple meetings, approvals, budgeting and safety checks, the club is in talks to establish a space for circus arts. Their progress was slow-going, but Dubil said she finally feels administrators are willing to cooperate with the organization as it has grown in size.
"Everyone would blow us off constantly because they've never seen it before. They don't know what it is," Dubil said. "Now, I really have an army behind me."
This year, Cirque de 'LA landed a spot in UCLA's annual Spring Sing. Shanahan and Tu performed a duet, marking the first time Cirque de 'LA performed in the showcase. With Spring Sing, Shanahan had the chance to share the sport she loves with a large audience, she said.
But following the high of Spring Sing, the club hopes to keep the momentum going. For the summer and fall, Dubil said she'll still be around on campus hoping to find students who can take over her intermediate classes once she graduates. And in the coming years, Shanahan hopes a permanent, safer training space will keep the spirit of circus alive at UCLA. Once that is achieved, Cirque de 'LA will be able to welcome more students than ever before.
"We're all upperclassmen now," Shanahan said. "(We're) trying to find someone to carry on that legacy to make sure that what we've established here so far stays for future Bruins."