The University of California has its eyes set on expansion.
In September, the UC Board of Regents introduced a plan to add 20,000 student seats across the system by 2030 – enough to fill a new campus.
In a July interview with the Los Angeles Times, former UC Board of Regents chair Cecilia Estolano emphasized the importance of expanded enrollment to boost the state's economy and provide opportunities for California residents.
Stett Holbrook, a spokesperson for the UC Office of the President, said in an emailed statement that 16,000 of the 20,000 additional seats will be allocated to in-state undergraduates. The remaining 4,000 seats will go to both in-state and out-of-state graduate students, Holbrook added.
UCLA plans to add 300 resident freshmen and 300 resident transfers to its incoming fall class while reducing its nonresident enrollment by around 400 students, UCLA spokesperson Ricardo Vazquez said in an emailed statement.
Some of the key discussions on expansion involve the state budget, in-state versus out-of-state enrollment and student housing.
The need for expansion
The UC has failed to meet the higher education demands of the state's student population for decades, said Ozan Jaquette, an associate professor of education. Jaquette added that according to the California Master Plan for Higher Education of 1960, the UC was expected to select its applicants from the top 12.5% of the state's senior class.
However, Jaquette said the current supply of highly qualified students exceeds the capacity of UC campuses.
"There are far too many qualified, talented Californians who have done all the right things, checked all the right boxes, took the right classes in high school, and to no fault of their own, are being shut out from the UC," said Joshua Hagen, the policy director of The Campaign for College Opportunity. "You have to be, in a lot of ways, on paper, better than perfect if you even want a shot."
According to the UC website, UCLA admitted 10.8% of its freshman applicants and 19.1% of its transfer applicants in the fall. The median weighted GPA of admitted students was 4.54 for freshmen and 3.92 for transfers.
While the UC has implemented different admissions practices to try and meet student demands, not all of them have been effective, Jaquette said.
Many have raised concerns that the statewide guarantee, which promises admission to the top 9% of California graduating seniors, directs low-income applicants and students of color to less prestigious campuses, Jaquette said.
How to expand
The UC Board of Regents has yet to determine the exact percentage growth projected for each campus, said Alexis Atsilvsgi Zaragoza, the UC student regent and a fourth-year geography and political science student at UC Berkeley. However, Zaragoza added that she expects each campus to grow at different rates over the next several years.
For example, she said that while UC Merced and UC Davis have the capacity to grow outward into their surrounding cities, other campuses may face greater building constraints amid crowded streets and high land prices.
The UC may also use UC Merced's expansion capabilities to enroll more students from the Central Valley, which typically has lower college enrollment rates and could benefit from expanded higher education opportunities, Zaragoza added.
Patricia Gándara, a research professor of education and co-director of the Civil Rights Project at UCLA, said the administration could better use summer sessions and move some classes online to account for growing class sizes.
Jaquette added that he thinks the UC will try to reach its enrollment goals by increasing its transfer population – a cheaper option that allows the University to only pay for the final two years of its students' education.
Many community college students transfer to UCLA through the UCLA Transfer Alliance Program, Jaquette said, which ensures priority admission to students in community college honors programs. However, he added that these transfers do not represent the typical community college population of students who tend to have access to fewer academic resources, less robust honors programs and fewer insights about how to transfer to a UC.
Thus, it would be more beneficial – albeit more expensive – for the UC to enroll these students as first-years to account for some of the educational inequalities that persist in community college, Jaquette said.
On the other hand, others would like to see the UC increase its commitment to the transfer student population.
According to the UC website, the University's 2-1 freshman to transfer student ratio only applies to its in-state population. However, Zaragoza said the UC should account for its entire undergraduate population when calculating and maintaining this ratio throughout its expansion efforts over the next several years.
Past and present: UC and the state
In order to expand, Jaquette said, the UC requires long-term investments from the state.
In past years, compared to other U.S. public universities, the UC has received much less in state funding as a percentage of its overall operating costs, said Tolani Britton, an assistant professor at UC Berkeley's Graduate School of Education.
Between the 2000-2001 and 2019-2020 fiscal years, state educational appropriations as a percentage of UC revenues fell by 14%, even as the system grew by more than 100,000 total students, according to a 2021 UCOP accountability report.
As state funding for the UC declined, campuses turned to other forms of revenue, such as student tuition fees, Britton said. International and out-of-state students, who currently pay an annual supplemental tuition fee of more than $30,000 at UCLA, became a viable alternative for raising more money, Britton added.
According to the UCOP website, nonresidential students made up 23.6% of UCLA's undergraduate population in fall.
Enrolling more out-of-state students comes at a cost, Jaquette said, adding that his research found enrolling more out-of-state students at public universities, such as the UC campuses, results in reduced in-state enrollment. Meanwhile, universities also may be hesitant to increase their incoming class sizes because of prestige or space limitations, he added.
Daniel Mitchell, professor emeritus at the UCLA Anderson School of Management and Luskin School of Public Affairs, said parents have put greater pressure on the state legislature as their children are rejected from their top college choices, making UC in-state undergraduate enrollment an increasingly visible political issue.
The 2021-2022 state budget aimed to limit the proportion of nonresident students to 18% of UCLA, UC Berkeley and UC San Diego's undergraduate populations by 2026-2027.
According to the Governor's Budget Summary, the 2022-2023 budget provided $31 million to UCLA, UC Berkeley and UC San Diego to replace 902 nonresidential students with in-state students in their incoming freshman classes. The proposed budget also enables UC campuses to accommodate an additional 6,230 resident students, resulting in an overall growth of 7,312 undergraduate residents across the system.
However, according to an analysis from the Legislative Analyst's Office, while the budget calls for the University to expand its residential population by more than 7,000 undergraduates in 2022-2023, the UC only plans to increase this population by 2,000 students.
The UC said it plans to use some of the state funding to cover the costs of enrollment from 2018 to 2021, when the University enrolled 5,000 more students than were covered in the state budget, according to EdSource.
Holbrook said the UC plans to continue to work with state leaders in the budgetary process to advance common goals of expanding student enrollment while also ensuring the University has adequate resources to address capacity concerns.
The proposed budget also establishes a 5% increase in base funding through the 2026-2027 fiscal year, provided that the UC meets certain state requirements regarding accessibility, affordability and more. Hagen said this base funding increase can help meet the UC's enrollment goals and provide resources for the UC's expanding population.
While it is a good sign that the state has prioritized UC funding in its budget over the past two years, it is difficult to predict if the state will continue its high levels of support in the long run, Jaquette said.
"I just don't know if legislators and governors really understand the extent to which those investments are necessary to increase enrollment capacity," Jaquette said.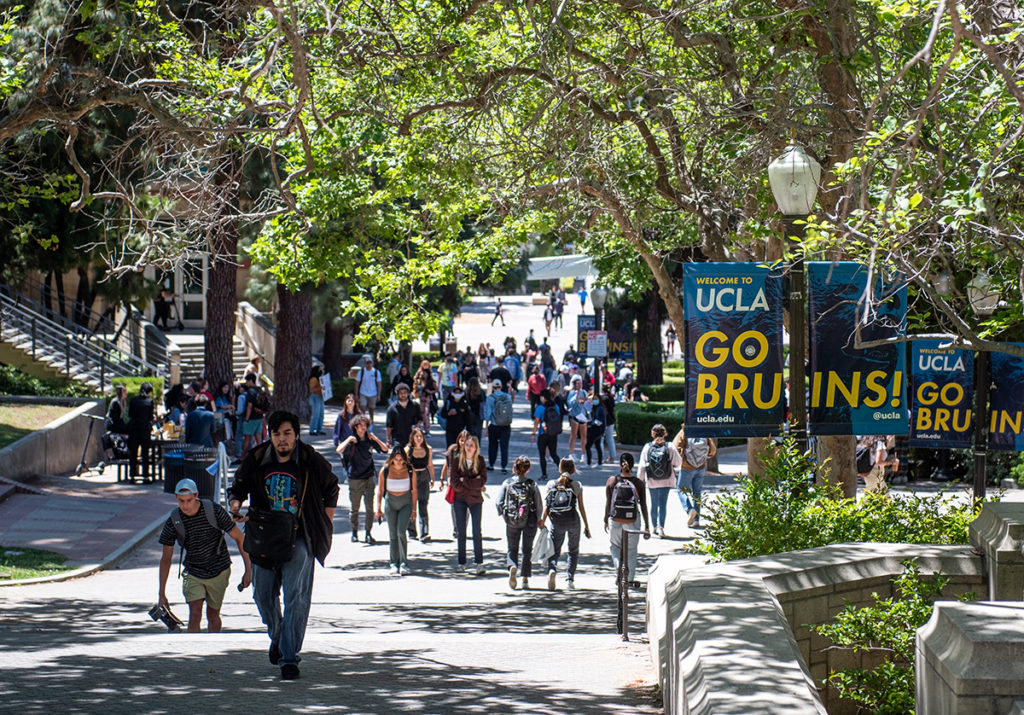 More students, more resources
To meet its 20,000-seat goal, the UC needs to put considerable resources toward expansion, which may create concerns about inadequate housing and classroom spaces, Britton said.
The UC's expansion plan may put a strain on lecturers in particular.
Victor Narro, a lecturer for the UCLA School of Law and in the Department of Labor Studies, said he has felt inequities in the provision of resources, such as the office spaces lecturers receive compared to those of professors.
Narro added that he has taught large classes with 150 to 200 students before and he feels like the class dialogue is only informational. Narro added that his labor studies classes have approximately 30 to 60 students on average, and that teaching is much more effective when a university has a low student-to-professor ratio.
"When you find a relationship with a professor, that's often your first point of contact for many other needs related to the class, the syllabus or outside of the syllabus," Narro said. "When you have a bigger class, it's harder to maintain that kind of access and kind of relationship building."
In regard to housing, Zaragoza said the UC is currently on track to meet the needs of its increased student population because of the additional number of housing projects it will complete over the next five years.
However, some students are currently facing extreme challenges in finding housing, which only raises concerns about what will happen as the campus population expands, Zaragoza said.
For example, while UC Santa Cruz meets its on-campus housing targets to fulfill the demands of those with guaranteed university housing, students struggle to find off-campus housing – to the point that some temporarily live in hotels, Zaragoza said.
She added that she believes it might be best for the UC to wait to bring in additional students until 2028 after it has completed many of its housing projects.
Vazquez said in an emailed statement that if UCLA were to receive a $35 million affordable housing grant from the state legislature, it would use the money to create a new facility offering housing to 350 students. The state legislature and governor must approve the grant by June, he said.
Even with the challenges of providing adequate resources to the expanding population, Hagen said he believes the UC and California leaders will find a way to expand college opportunities across the state.
"I believe that California … is full of innovators," Hagen said. "If there's anybody who's up to the challenge, it's us."